A piece of public art and a huge clean-up operation have transformed an entrance to a local canal – with the aim of attracting more people to use it again.
The entrance to the Grand Union Canal in close to the Southall Army Reserve Centre, in Bank Side, had become a bit of an unloved corner and a magnet for anti-social behaviour.
However, a community-led project #OurSouthall has changed it almost beyond recognition, with a clear-up of rubbish dumped there and the addition of a striking mural.
The project used the council's Do Something Good community website and the Spacehive crowdfunding site to raise money – and volunteers got behind it in their droves, including cadets from the centre.
Several litter clean-ups have taken place, in fact, including by the residents' group called LAGER Can and community groups like the Friends of Grand Union Canal.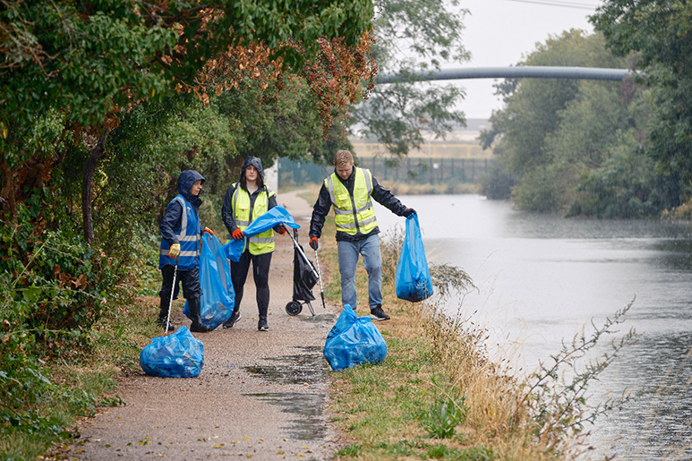 'Attractive and usable again'
Soline Malik, chairperson of the #OurSouthall group, said: "This entrance to the canal had become heavily littered and unwelcoming, deterring people from enjoying the Grand Union Canal and using its towpath. This project has taken years in the making, partly because of the disruption caused by the COVID-19 pandemic, but the intention was to make the pathway attractive and usable again for all residents and visitors. We wanted to promote the canal's use for pleasure, exercise, environmental education and recreation.
"The mural looks great and art was always an important part of what we were doing here. It has the power to make people feel happy and welcome. People can now feel able to enjoy walking, cycling, running and connecting to nature here – all of which are critical to wellbeing. We are really pleased and want to thank everyone who played a part in making it happen including Ealing Council and the Canal and Rivers Trust, to community groups, local businesses and residents."
'An expression of communities coming together '
Council leader Peter Mason was there to watch the unveiling, as was mayor of Ealing, Councillor Mohinder Midha, and several Southall ward councillors.
Councillor Mason said: "Southall's identity as a town has been shaped for generations because of industry and entrepreneurialism. Its history as a town is interwoven with the Grand Union Canal, the Great Western Railway, and now Heathrow bringing jobs and people into a very special part of west London.
"As Southall changes, we've got to hold on to what makes it special. The mural is a bright, colourful, and lively expression of communities coming together, taking ownership of public spaces, and using them to tell the story of Southall, with pride and creativity. I'm so pleased we were able to support residents and artists who made this happen."
Wellbeing way…
The mural unveiling follows work done by the council and its partners on the Southall Wellbeing Way project to open up the area's green spaces and canal towpaths.
The route will connect Spikes Bridge Park on the Grand Union Canal's Paddington Arm to Glade Lane Canalside Park and the Hanwell Lock Flight. The route will also link Southall Recreation Ground, Bixley Field, Havelock Canalside space and Norwood Top Lock.