A successful collaboration between the council and the local community has transformed parcels of derelict or unloved land into a linked, blossoming green ribbon of public space that snakes through the borough and boasts fruit harvests and wildflower meadows. This includes a site called The Piggeries.
Dedicated locals who are part of the Hanwell and Norwood Green Orchard Trail (HANGOT) group have worked with council park rangers on parts of the trail project for years, as it grew along the route of the Grand Union canal from Osterley lock to the Three Bridges in Southall.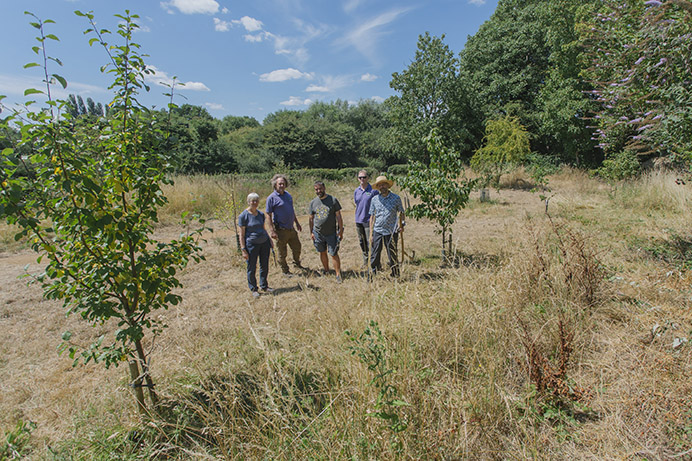 And now, as the council's ambitious climate and biodiversity programme kicks into gear, the trail is offering the perfect example of what can be achieved by working together.
The Piggeries
One site along the trail, next to the canal in Hanwell, is called The Piggeries. Back in 2015 the group of volunteers, backed by council funding, began on work to create a waterside wildlife haven for creatures like hedgehogs, beetles, birds and bats. The result today is a beauty spot with wildflower meadows, wetland space and, of course, native trees providing fruit foraging for local people – where once stood an unused builders' yard and general eyesore.
Park ranger James Morton explained: "We are improving how we manage open spaces in the borough for the benefit of both wildlife and people.
"We focus on various types of habitat – meadows, grassland, woodland, wetlands, and the Piggeries is a place that exemplifies all of these.
"It has got newly planted fruit trees mixed in with an area of wildflower meadow and a little wetland area, so it has got habitat for all sort of different creatures. We also have had real success with reptiles and amphibians – slow worms, newts, frogs, for example, are present because they like a mixture of habitats."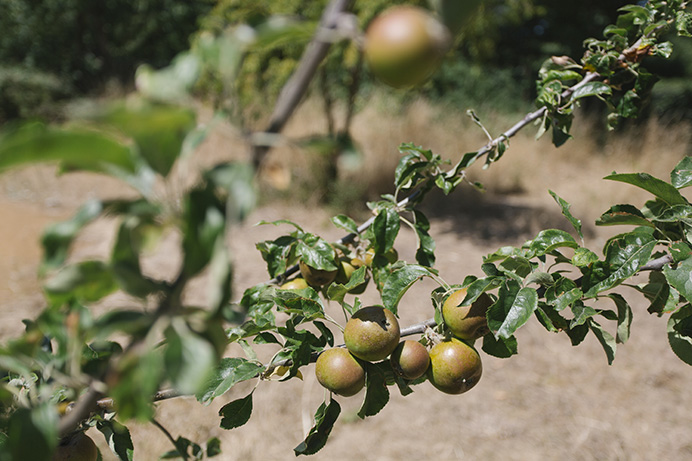 Great for people, and for wildlife
Community involvement in the borough's climate and biodiversity programmes is central to achieving success – and, at the Piggeries, the HANGOT volunteers are making real progress.
James continued: "Our philosophy is to work with partners, residents and local organisations to try to manage these places, so they are better for people and better for wildlife.
"The local group here comes here and they do all the regular work – it is all carbon neutral, with no power tools involved, it is about using more sustainable methods such as scything the grass and using shears on the hedges and bushes.
"One of our aims at the Piggeries is to grow fruit trees for people to enjoy and also attract wildlife as well. Work extends to the hedges here, which provide great habitat for birds to nest and berries for them to eat.
"For the council, helping create an area like this has been a bit of an easy win as we have such great community support. We have provided some funding, and working together, we have turned somewhere derelict into a really enjoyable place for people to visit and a great place for wildlife."
Creating extra diversity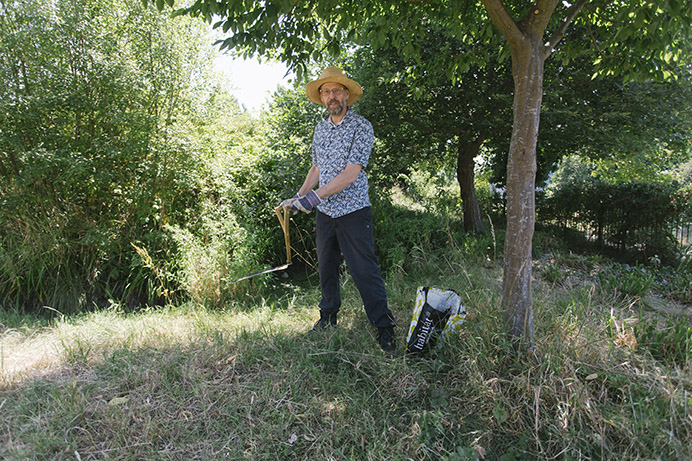 Frank Beemster of the Hanwell and Norwood Green Orchard Trail added: "We work closely with the council's park rangers, who support us a lot as we work at the Piggeries.
"One of the main things we do here is cut and manage the grass to ensure the wildflowers get enough space to grow – this also leads to extra diversity.
"Of course, we have got the trees that we planted here a couple of years ago. We aim to give them a little extra help with watering as they do tend to struggle over the summer if the weather is drier."
'We are all part of one big ecosystem'
The council has a biodiversity action plan, launched last year, which is part of its wider climate action strategy. It is working to improve parks across the borough by expanding wildflower meadows and changing the way land is managed to help boost pollinating plants and insects, vital to the local ecosystem.
James explained: "We are in the middle of a biodiversity emergency and a climate emergency and there is a lot we know we can do to work on both of those.
"With our open spaces, we are doing everything we can to manage them more ecological and environmentally friendly way to improve biodiversity and this can help us all. We are all part of one big ecosystem and that interconnects – we can't live as humans without a healthy ecosystem.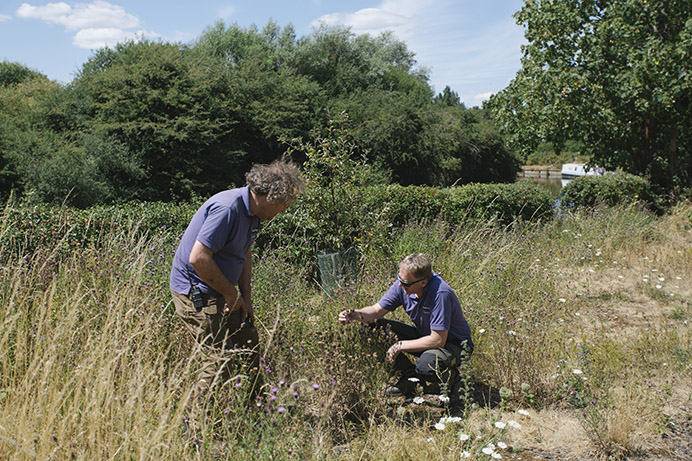 "We are also looking tree-planting to increase the canopy cover in Ealing and that helps lock up carbon dioxide to help climate change and also creates more cool and pleasant places for people to use."
'Only possible with hard work of local people'
The council is investing millions of pounds to support its programme to fight climate change and enhance biodiversity.
Councillor Deirdre Costigan, the council's cabinet member for climate action, said: "Whether it is planting 50,000 trees to help expand our canopy, increasing our meadowlands to boost wildflowers and insects, or supporting walking, cycling and scooting to help create a carbon neutral borough by 2030, we are taking urgent and decisive action now.
"Of course, tackling the climate emergency is only possible with the hard work of local communities, residents and volunteers – I would like to thank the Hanwell and Norwood Green Orchard Trail group for its wonderful efforts."
Greening: 2022-26
37,000 trees have been planted since 2018. By 2026, another 50,000 will be planted and, by 2030, 25% of the borough will be covered by tree canopy
A tree nursery has been set up with the Friends of Horsenden Hill
10 new parks and open spaces planned, including at Glade Lane, Southall
800,000 sq m of land will be given back to nature – the size of 130 football pitches – through rewilding and reintroducing wildlife. For example, a beaver project in Greenford
10 new growing spaces will be created in housing estates and new developments – with the first in Acton
Wildflower meadows created and roadside planting of wildflowers continuing.