An art project to celebrate the stories of older people living in the borough has gone on display at an exhibition in Ealing.
Eight local artists joined forces with Age UK Ealing for the work on a series of portraits aiming to tell the inspiring stories of nine people. Such as in the photo above, of artist Alex Ebdon with the subject of his piece, Age UK Ealing service user Patrick.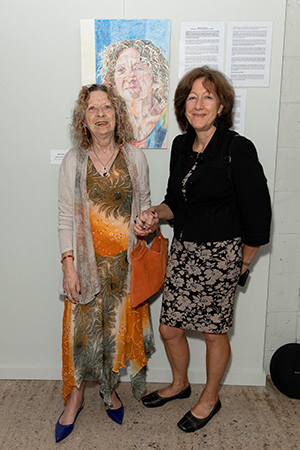 The exhibition of the artwork began this weekend (3 September) at the recently opened Ealing Project in central Ealing – which we featured in a recent article and video. It will remain there until tomorrow (Wednesday, 7 September) before moving to a new site for public viewings across the next two weekends.
A Life Well Lived is the culmination of a summer-long collaboration between the members of Age UK Ealing and the artists, who are all from the Borough of Ealing Art Trail (BEAT).
BEAT is an annual art trail each September that spans the whole of the borough. Founded in 2016, it aims to showcase the work of local artists to the public. After the A Life Well Lived exhibition has been at the Ealing Project, it will move to the London School of Film, Media and Design as part of this year's BEAT trail across 10-11 and 17-18 September.
Each BEAT artist was paired with an older person who has a connection to Age UK Ealing – whether as a volunteer, a day centre visitor at the charity's Greenford Community Centre base (owned by the council), or someone who has used its befriending or advice services. The artists were asked to create a piece of artwork to tell their partner's story.
Artist and Age UK Ealing trustee Kerry Kent said: "We're thrilled to be working on such an incredible project. It is a joy to be able to highlight some of the wonderful stories our staff hear regularly from our community members.
"A Life Well Lived is a real celebration of the older people who live in and around Ealing, so we are also very grateful to the partners and sponsors helping us shine a light on these marvellous individuals."
Alex Ebdon, chairperson of BEAT, said: "We are really excited about this project and working with Age UK Ealing to unleash the power of art for social good.
"Art is so powerful in the way it can connect people emotionally to different ideas. We can't wait to see how the connections between our artists and their partners unfold, and the stories they will bring."
The project came about with the help of Everyone Active, which manages a number of the council's leisure centres and is commissioned to provide several health services; along with the University of West London, sponsor Tetley's, and Bread Street Café Ealing.
More about BEAT
For this year's BEAT trail, more than 200 artists will display their work across 68 venues. To find out more, visit its website, view the map of venues, or contact the BEAT organising committee at info@ealingbeat.org.uk
Just one part of BEAT this year will be a gallery showcasing of the artwork of the young people who attend the council's Westside Young People's Centre and Young Adult Centre.
It is open to the public to attend, at the Westside Young People's Centre, during the following dates/times:
Saturday, 10 September 12noon-3pm
Tuesday, 13 September 3-8pm
Wednesday, 14 September 3-8pm
Saturday, 17 September 12noon-3pm.
Volunteering for Age UK Ealing
Read more about volunteering at Age UK Ealing in our recent article.