Boogie to Bollywood beats in Southall on Saturday, 30 October as performance company, Nutkhut, presents 'Nutkhut Dance,' a free Bollywood inspired performance and interactive dance-along.
You're invited to join the fun, learn the moves, and experience the joy of Bollywood with 15-minute performance and dance-along sessions starting from 12pm on the paved area outside Southall Manor.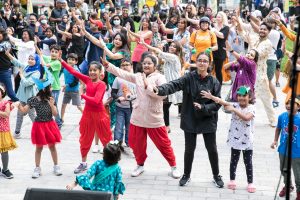 Nutkhut are an ideas-led, art focused performance company who pride themselves on featuring a distinctly British comedic sensibility and eccentricity in their work, this is an opportunity to watch and learn from professionals, whilst connecting with the wider community, in a celebration of Bollywood.
Part of the Love Ealing, Love Local events programme provided by Ealing's High Street Task Force, the event will take place from 12pm to 4pm with sessions repeating every 40 minutes.
A limited number of tickets are available to book for each slot, with plenty of space available for walk-ins. Please visit our Eventbrite listing to register your interest to receive a reminder email and final event information the day before the event.
The event will also feature an al fresco eating area, where visitors can grab a seat and enjoy the wide range of food on offer from local businesses. Guests will have access to a digital restaurant directory, featuring suggested take-away favourites from local restaurants.
Helping the high streets
The Love Ealing, Love Local event series is delivered by Ealing's High Streets Task Force, as part of its work to bring the bustle back to our high streets and support local business to recover from the pandemic and thrive.
By choosing to support local businesses, residents are supporting local jobs, community businesses also generate money to support local charities and fund local services, such as libraries, parks and roads that benefit everyone.
Welcome back funding
The free events are provided thanks to funding that Ealing's High Streets Task Force has received from the Reopening High Streets Safely Fund and the Welcome Back Fund from the England European Regional Development Fund, as part of the European Structural and Investment Funds Growth Programme 2014-2020.
The Ministry of Housing, Communities and Local Government and the Greater London Authority is the Managing Authority for European Regional Development Fund.
Established by the European Union, the European Regional Development Fund helps local areas stimulate their economic development by investing in projects which will support innovation, businesses, create jobs and local community regenerations.
Other Love Ealing, Love Local events
Photo credits: Nutkhut – Kois Miah