Throughout the month of October, residents are invited to tap into their creativity with a series of free family-friendly art workshops. Come out and join one of a series of Creature Mobile Workshops hosted by Pitzhanger Manor & Gallery or make your mark as part of the Community Art Canvas Play Project led by local artist Komal Madar.
Part of the Love Ealing, Love Local event programme provided by Ealing's High Street Task Force, the events take place in high street locations across the borough with the majority of places available for drop-in with no booking required.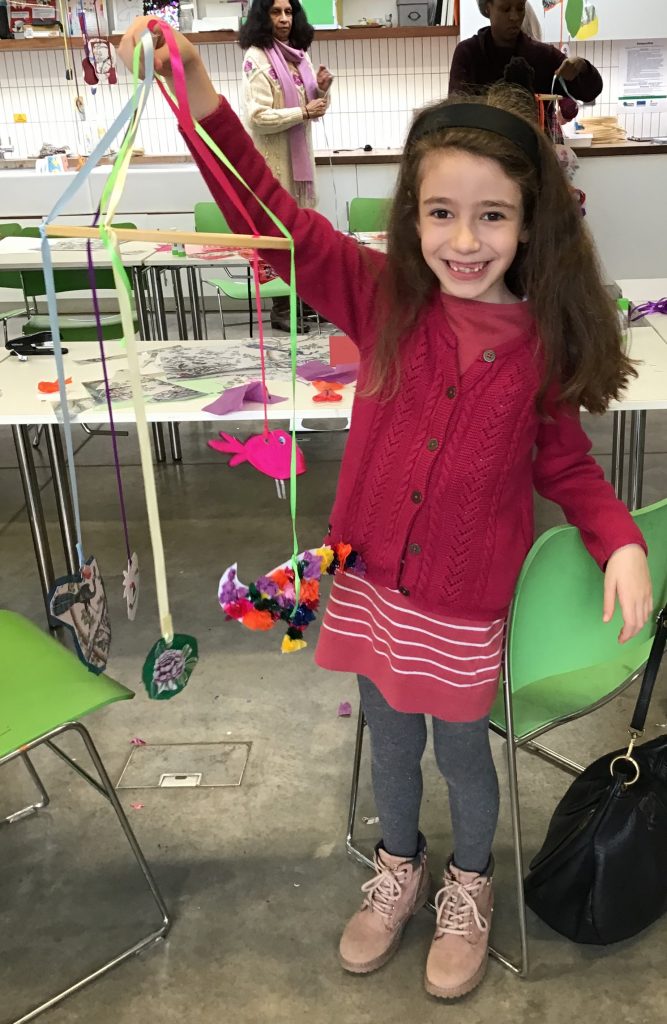 Creature Mobile Workshops
Birds, bees, eagles, lions! Get creative making a mobile inspired by the creatures inside and outside Pitzhanger Manor & Gallery and its surrounding home in Walpole Park. Once created, the mobile is yours to keep!
Facilitated by the team at Pitzhanger Manor & Gallery, these free family sessions are suitable for children aged 5+. Smaller and older siblings always welcome and all materials provided.
Limited numbers of tickets are available on each date for pre-booking, with the majority available on a first-come, first-served basis for drop-ins.
Saturday 16th October, 11am to 2.30pm – Oldfields Circus, Northolt
Monday 25th October, 11am to 2.30pm – Boston Manor Road, Hanwell
Tuesday 26th October, 11am to 2.30pm – The Avenue, West Ealing
Community Art Canvas Play Project
Led by local artist, educator and therapeutic art coach Komal Madar, the free sessions focus on creating a community artwork, where visitors are invited to doodle, draw, scribble and sketch what they love about Ealing's high streets and area.
Aimed at children, but open to all, this activity is Inspired by the Uniqlo TATE Play programme and the Gutai group of radical Japanese artists who sought to change the world through painting, performance and children's play.
Saturday 16th October, 11am to 3pm – Pitshanger Lane, Ealing
Friday 29th October, 11am to 3pm – Southall Sq, Southall
Saturday 30th October, 11am to 3pm – Horn Lane, Acton
After the sessions the there are plans to display each work locally, and as a collection in a central location in the borough.
Visit our Eventbrite pages for full details of the Creature Mobile and Community Canvas sessions, to reserve a place and register for updates on final event locations.  
Helping the high streets
The Love Ealing, Love Local events are delivered by Ealing's High Streets Task Force, as part of its work to bring the bustle back to our high streets and support local business to recover from the pandemic and thrive.
By choosing to support local businesses, residents are supporting local jobs, community businesses also generate money to support local charities and fund our services such as libraries, parks and roads that benefit everyone.
Welcome back funding
The free events are provided thanks to funding that Ealing's High Streets Task Force has received from the Reopening High Streets Safely Fund and the Welcome Back Fund from the England European Regional Development Fund, as part of the European Structural and Investment Funds Growth Programme 2014-2020.
The Ministry of Housing, Communities and Local Government and the Greater London Authority is the Managing Authority for European Regional Development Fund.
Established by the European Union, the European Regional Development Fund helps local areas stimulate their economic development by investing in projects which will support innovation, businesses, create jobs and local community regenerations.
Other Love Ealing, Love Local events