This year marks a decade since Ealing Hockey Club was created, and in that time, its number of members has grown to more than 400.
Club chairman Jeff Moores founded the club in 2013, after a surge of interest shown in the sport following the London 2012 Olympic Games.
Jeff said: "My involvement with hockey in the borough dates back 15 years, when I started supporting Ealing's London Youth Games hockey squads. Back in 2008, many of the children involved played for clubs located in neighbouring boroughs because there was not a club in Ealing itself."
The legacy of Ealing Hockey Club dates back to the 1880s, when the original club was formed. It gained notable success in the 1980s when members won the National Ladies' Championships 3 times, but later it closed because of lack of proper facilities.
Jeff continued: "After a 30-year gap, and with invaluable support from St.Benedict's and St.Augustine's Priory Schools, I launched Ealing Hockey Club as a junior academy.
"Ealing Hockey Club has made significant strides in the last 3 seasons with its Goalkeeper Academy, and Talent Pathway programme. Over the next 12 months, working with England Hockey, Ealing HC hopes to attain National Talent Centre accreditation."
Last year, the club, based in Perivale Lane, Greenford, launched its community engagement programme, starting with a pilot after-school club at Fielding Primary School. As a result, it aims to extend this programme to other primary schools and, eventually, secondary schools.
This season, the club has added to its coaching team and is open to new members from the age of 5 to adult. The club has more than 20 junior teams catering to all abilities, as well as 3 adult squads.
Ealing Hockey Club has won several accolades, including the 2022 Outstanding Contribution to Sports and 2023 Sports Club of the Year at Ealing Sports Awards The club's adult and junior volunteers have been awarded Volunteer of the Year on several occasions.
Jeff said: "I am particularly proud that the club I launched 10 years ago is now member-owned, volunteer-run, and an integral part of the local community. Here's to the next 10 years."
'Try something new'
Hockey is a sport that can be played in lots of settings, such as on an outdoor field, on ice or indoors in a sports hall.
Perhaps a lesser-known version of the sport is ball hockey, a ground-based version of ice hockey. And the borough, with its wealth of open spaces, sports facilities and clubs, is also home to Ealing Eagles Ball Hockey Club. Members play at Elthorne Sports Centre in Westlea Road, Hanwell and Greenford Sports Centre, in Lady Margaret Road, Southall.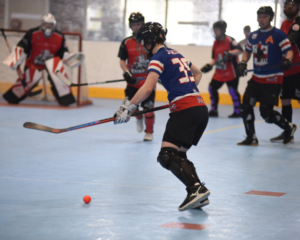 Jeremy Samways, club coordinator for the Ealing Eagles, said: "Ealing's strength lies in its diversity, and this extends to its sports culture. Ball hockey is just one of the many unique sports offerings in the borough. It's a fantastic way for residents, both juniors and adults, to step out of their comfort zones and try something new."
Free sessions
If you or your children fancy giving ball hockey a go, there's a special offer for our readers. If you contact the club and mention Around Ealing, you can get 3 sessions, for free. Valid for non-members. Offer ends 31 December 2023.
The club welcomes new players of any skill and ability.
For more information go to: www.ealingeaglesballhockey.co.uk or email westlondonballhockey@gmail.com