Six local residents were presented with honours on Thursday evening (17 February) honouring their contributions to life in the borough, including England star, Greenford-born Bukayo Saka.
There were five Freedom of the Borough honours and one Honorary Alderman honour.
The event was hosted at Pitzhanger Manor and Gallery by the Mayor of Ealing, Councillor Munir Ahmed and Clare Gough, director of Pitzhanger Manor and Gallery.
Councillor Mason introduced the evening by saying: "If this pandemic has taught us anything, it is that we are a borough of community, of neighbourliness, of shared sacrifice and of a million acts of love and kindness bestowed onto each other, of friends, of family, of perfect strangers.
"In this wonderful gallery of Pitzhanger Manor, meeting formally as the Council of the London Borough of Ealing, we are openly honouring six individuals who have make the kind of contribution to public life and to their fields of public service here and beyond that put joy in our hearts and pride in our bones."
Clare Gough, Director of Pitzhanger Manor & Gallery said: "We are thrilled for Pitzhanger to host this very special ceremony to create five honorary freemen and one alderman for the Borough of Ealing in recognition of their achievements and contribution to Ealing. In celebration of Bukayo Saka's nomination, we have been showing his portrait by Matt Small in our small drawing room where John Soane, architect of Pitzhanger, would have displayed his contemporary art 200 years ago."
Honorary Alderman
The Honorary Alderman award was made to Swarn Singh Kang, a former Ealing councillor for Southall Green. He received the honour for his work dedication and work towards bettering his community, years of voluntary service and his passion for education. In nominating him, Councillor Peter Mason, leader of Ealing Council noted that: "He spent many years working hard to make sure that schools and the school curriculum in Southall were reflective of the entire community. He worked tirelessly to persuade school authorities across Ealing to teach community languages at schools in Southall, so that students could learn more about the many languages surrounding them."
The five Freedom of the Borough honours were made to Bukayo Saka, Maggie Pound MBE, Sir Sherard Cowper-Coles, Marion Garnett and Hugh Mather.
Freedom of the Borough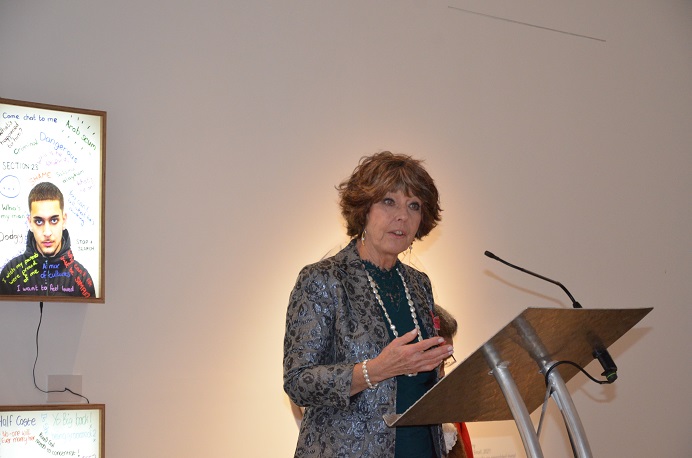 Bukayo Saka was nominated for the pride, poise and dignity he showed when facing a backlash of racism following the 2020 Euros football competition. In nominating him Councillor Peter Mason said: "You will be the youngest ever recipient of this honour in Ealing and I hope this sends the message that hate has no place in football, in society, and least of all in the London Borough of Ealing.
"But most importantly, for the message it sends to every pupil at Edward Betham and Greenford High, of every school in our borough, every team that plays in our parks, and every family that watches you play, and that you have inspired: That honour, pride and community spirit don't just come toward the culmination of a life's work – but these are the perpetual, redeeming qualities that we take with us together, throughout our lives. Ones that we will nurture as we watch with pride your professional career go from strength to strength, in each season and at each competition."
Councillor Mason also proposed Maggie Pound as an Honorary Freewoman. He highlighted Maggie's commitment and dedication to education in the borough, as a selfless volunteer and as a pillar of the justice system. He also congratulated her on the MBE she received for her services to education in the 2021 new year's honours lists.
Councillor Gareth Shaw proposed Sir Sherard Cowper-Coles for his honour and highlighted his work in Ealing in the arts and culture area and specifically in spearheading the refurbishment and development of Pitzhanger Manor and Gallery, making it a true gem in the crown of Ealing as Queen of Suburbs.
Marion Garnett was nominated by Councillor Ranjit Dheer for her work with raising awareness for the better treatment of animals and the dedication and commitment she has made to the safety and wellbeing of animals in the borough.
Councillor Julian Gallant proposed Dr Hugh Mather in recognition of his work on diabetes at Ealing Hospital and also for his contribution to classical music through arranging and hosting concerts at St Mary's in Perivale. And for continuing with the concerts through the lockdown period, providing income to musicians and bringing musical pleasure to many.
In closing, Clare Gough invited those attending to view the portrait of Bukayo Saka and also commented: "We are also particularly proud to see the nomination and honour of Sir Sherard Cowper-Coles who made such a significant contribution to Pitzhanger during his nine years as Chair of the Board of Trustees."
The evening was livestreamed to the council's FaceBook page.