With amazing animals from across the globe and fun for all the family, Hanwell Zoo is well known to most as one of the best days out in the borough – but did you know that behind the scenes it plays a vital role in conservation and education too?
In the last year, the zoo has not only welcomed more visitors through its doors than ever before, it has also reached several thousand people with its education programme, which is helping shift the focus to climate change – a vital part of its wider role in the conservation of internationally vulnerable species.
'Making a positive impact'
Jim Gregory, manager at the zoo, explained: "Although we are a small zoo we are part of a larger network and can have an influence in the larger picture when it comes to climate action.
"We want to help illustrate the effect this crisis is already having on many of the species we have right here.
"Highlighting our conservation work is vital, but we also are emphasising other important things like just how important recycling and reusing is to helping the planet.
"We can have a positive impact if we amplify this message to visitors and the success of our education programme has helped us to push our climate change message."
International conservation
This ambitious conservation programme is offering some of the most threatened species vital support whether they are found in the British countryside or in tropical rainforests thousands of miles from our shores.
Jim added: "Our work with dormice has been one of the most successful projects in a long time. We released eight young dormice into the wild this year and have taken another pair recently that will hopefully produce youngsters to be reintroduced into the wild in the UK this summer.
"We are also looking to start a similar project with water voles – another charismatic rodent which, unfortunately, has seen drastic declines in its population in the last few decades."
The zoo is also playing host to some more exotic species as part of its conservation efforts. Two beautiful and enigmatic Margays, small cats which live in South and Central America, are part of a population of just 25 in British zoos and they are sadly critically endangered in the wild.
It is hoped that the male and female may be able to produce young in the future, as Jim explained: "These amazing tree-dwelling cats are elusive and spend the majority of their life in the trees hunting for birds, small mammals and monkeys.
"We are part of a European breeding programme and we are hopefully going to help in stabilising this species with a view to reintroducing young cats into the wild in the future.
"One of our biggest breeding successes this year has been the black-cheeked lovebird – one of Africa's rarest parrots that have been decimated by the pet trade – but we have gone from 30 to 50 individuals here. They are going to be part of a programme that is reintroducing this beautiful bird back into its native homeland."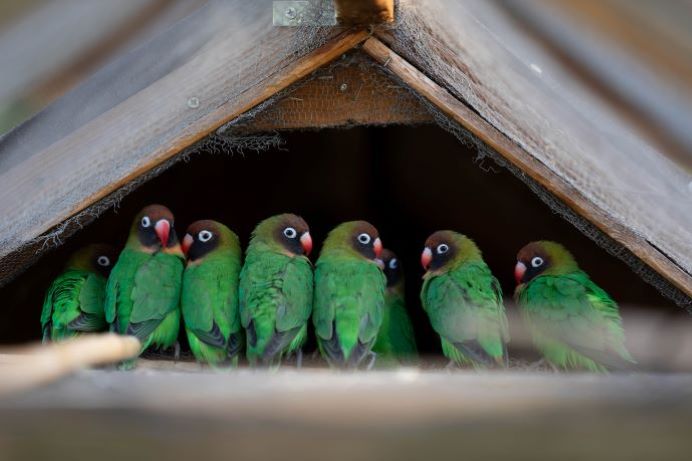 'All of us can make a difference'
Ealing Council published a biodiversity action plan last year, which includes support for local wildlife and for rewilding native species where possible.
Councillor Deirdre Costigan, the council's cabinet member for climate action, said: "Hanwell Zoo is doing fantastic work, not only in providing a wonderful local day out for visitors, but in running vital education programmes, especially for the borough's school children, and in playing an impressive role in internationally important conservation efforts. Preserving animal species, and our world's biodiversity, in the face of the climate emergency is a difficult but critical task.
"It might be a small zoo in west London, but it is packing a big punch. It goes to show that all of us can make a difference to the climate emergency if we play our part, however big or small."
Fancy a visit?
Visitors can meet a huge cast of animals from across the globe at the zoo – from meerkats and ring-tailed lemurs to a loris; and from capybaras and red-crowned cranes, to flamingos and colourful troupes of exotic birds.
Entrance fees start at just £4.50 for adults and £2.50 for children, with under-threes admitted for free. Annual season tickets are available and entrance money essential in funding the running costs of the zoo.