The Windrush flag flew high above Ealing Town Hall as the borough marked 75 years since the HMT Empire Windrush arrived in the UK.
On 22 June, celebrations took place at Soane's Kitchen, Pitzhanger Manor, with Ealing pioneers of the Caribbean community, councillors, and other local people joining to celebrate the Windrush generation, who have contributed so much to British society.
Uplifting sounds and percussion from the Urban Fox Orchestra steel band greeted guests, creating a buoyant and celebratory atmosphere. The warmth of this welcome was matched by Auntie Bonnie's Jerk Pit Caribbean Food.
A night for celebration and reflection
Marcia Gordon, a spoken word artist and learning and development consultant who hosted the evening, dedicated the event to those who came before and invited Ealing's Cabinet Aide for Windrush 75, Councillor Callum Anderson to open proceedings. Councillor Anderson spoke about a generation who answered the British Government's call for help with the post-war reconstruction of the UK. He also spoke of the discrimination and prejudice many faced on their arrival, but highlighted their strength, perseverance and contribution, saying: "They answered the call and helped build our NHS and run our public transport. They were pioneers who worked in factories and started businesses of their own."
"Each and every one of them played a crucial role in shaping building modern Britain's society and economy. 75 years on their contributions deserve our everlasting gratitude. That is why we are here tonight, to celebrate the courage, determination, and the achievements of this special generation, especially those who are no longer with us."
Councillor Anderson also shared a sense of pride in all the communities that live in Ealing, and the commitment of political leaders in the council "to make sure all of us are heard, seen and represented, and that we tackle inequality wherever we find it."
A showcase of talent and achievement
The evening was a snapshot of the talent and achievements of the Caribbean community in Ealing, and the journey they have taken since the first generation stepped onto British shores in 1948.
Poetry and spoken word performances were scattered throughout the evening, inspired by social, political, and personal events and experience, recited by Adenike Tilleray, Jackie Sear and Vean Ima.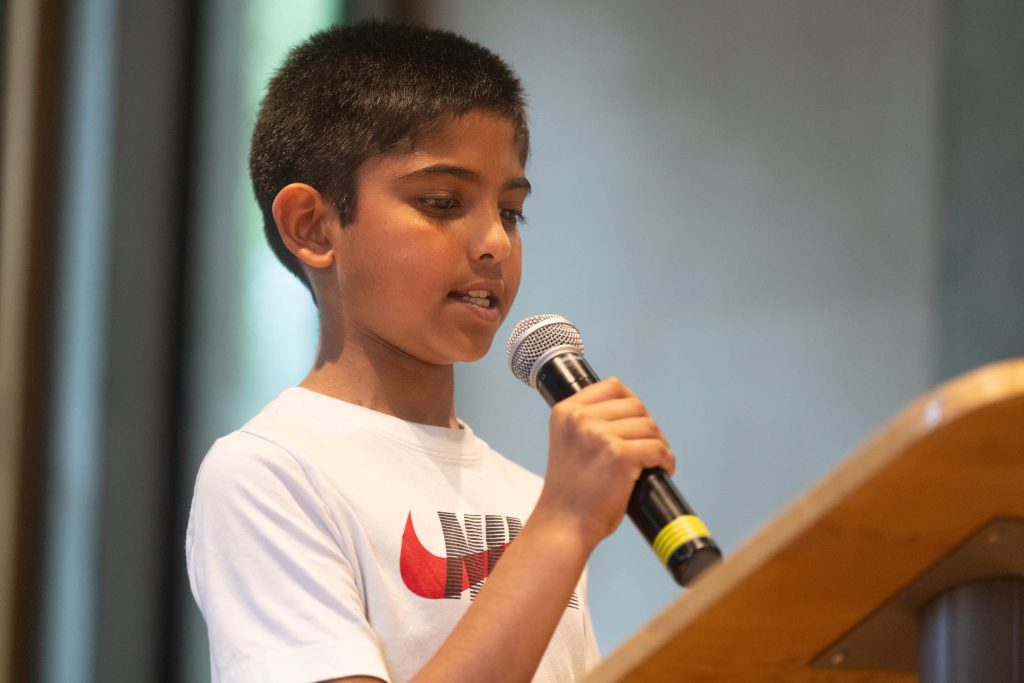 There were incredible, uplifting, and soulful performances from the Freedom Worship Choir, and borough archivist Dr Jonathan Oates provided an in-depth understanding of all the pioneers that first arrived in Ealing, and their invaluable contributions across many fields, including society, science, sports, and culture. A panel of Ealing's pioneers and influencers also shared their stories of growth, commitment, and achievement in race equality and progress, that would pave the way for a future generation.
An exhibition of Traditional Carnival Mas costumes was also on display from the first print material of Windrush Generation, presented by R Consultancy and Windrush 19.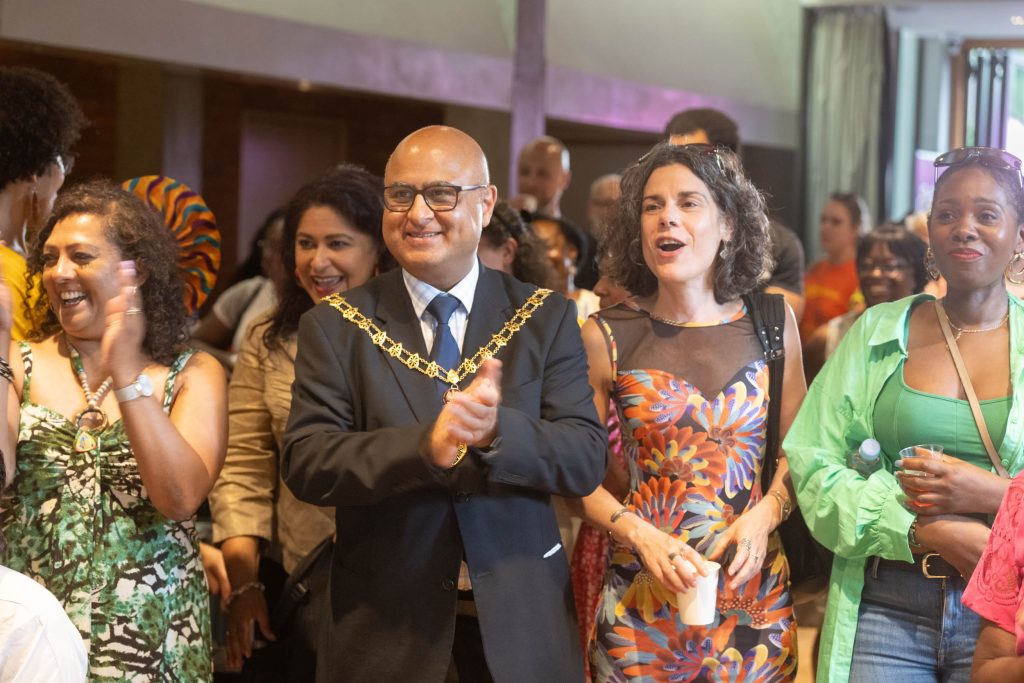 Celebrating the next generation
Schools were invited to enter a poetry and drawing competition, to celebrate the contributions and achievements of the Windrush generation and their descendants.
Of the 42 entries, a judging panel including Councillor Grace Quansah, Sarah Thompson and Fiona Oakley selected two winners, who recited their powerful and moving poems. Hamad Nazar read, Windrush Family's Journey and Douaa Al-Shamari shared her poem Resilience in the Face of Adversity.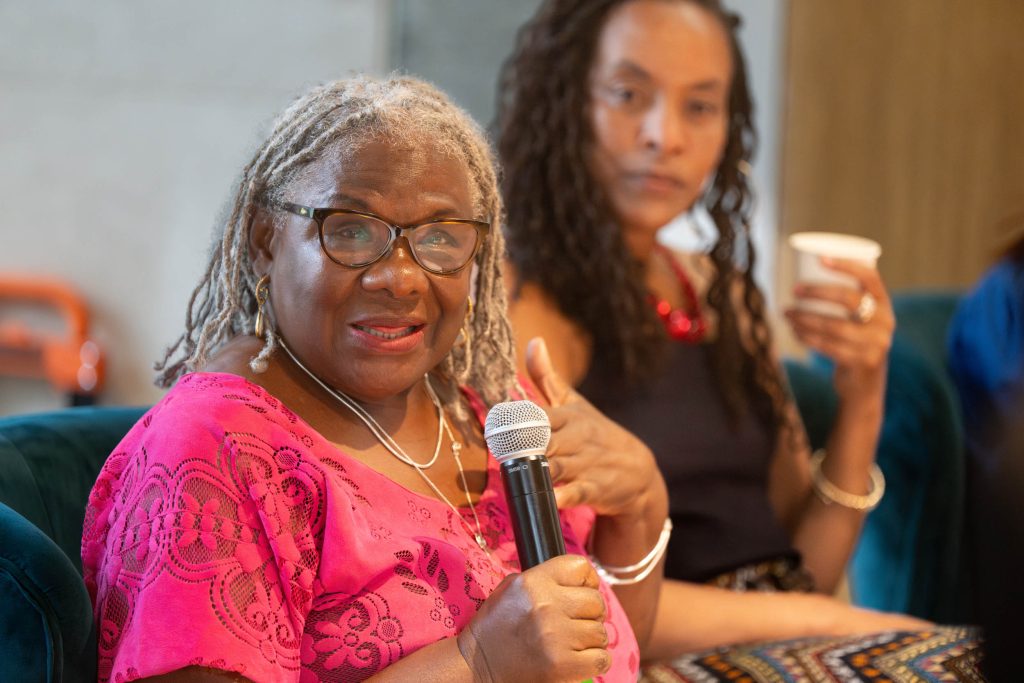 Panel of Pioneers
The panel of pioneers who joined the event and shared their stories and inspiration of progress and achievement included:
• Cathy Simeon, Chair of United Anglo Caribbean Association
• Collette Noel – on behalf of Margaret Noel – Descendants
• Judy Welington former Principal of Lifeline Learning (Hanwell)
• Blossom Jackson Author @ Multicultural Books, educator, school governor, Life Fellow of the Royal Society of Arts & professional speaker
• Carl Gabriel Internationally acclaimed carnival sculptor.
Celebrating the successes of the past
Cllr Varlene Alexander closed the event with a speech reflecting on her journey, the journey of her family, and the stories like it across the country saying, "I stand here proud that I am African, Caribbean and British, I'm equally as proud that my family and many other Windrush pioneers left the Caribbean and came to England to contribute to rebuilding Britain after World War Two."
She then went on to discuss the welcome the people of Ealing had given her family on arrival in the UK:
"How lucky is Ealing? This great place where many pioneers and their descendants from Ealing have excelled in their professions."
A final performance from the Freedom Worship Choir and performance from the Urban Fox Orchestra, played people out, leaving guests uplifted from a vibrant, moving, and educational event.
Government must do more
Following the event, Councillor Anderson spoke of the Windrush Scandal and the injustices still faced today, mentioning the letter that the Leader of the Council, Councillor Peter Mason, along with 20 other leaders of London councils sent to the Prime Minister, demanding that all recommendations of the Wendy Williams Review be delivered in full as soon as possible.
Councillor Anderson said: "It's a painful reminder, that despite immeasurable contributions many were wrongfully treated, denied access to housing, pensions, and healthcare. It is therefore our collective responsibility to rectify those injustices and make sure that no mistakes like this are ever repeated."