"In my opinion, a good employer in a 'great company' would have a happy team, who were proud of working for their company and this would be measurable by them having a lower staff turnover rate than their competitors."
These are the words of Barry Bassett, managing director of VMI.TV – which is based in Acton as well as Bristol, and hires out camera and digital equipment to TV and movie productions. You can watch a video about Barry and the company above.
The company makes sure it pays all of its staff at least the London Living Wage, takes on apprentices, and strongly believes in ongoing training and development for all its staff. It has committed to becoming carbon neutral by 2022 and entirely net zero by 2030 to help the environment and is publicly reporting all of its emissions – this has included taking a whole range of energy efficiency measures, some of which were implemented with the help of a grant from Ealing Council. And, as you will see below, Barry is now one of the borough's designated climate leaders. The company also helps to raise money for charity.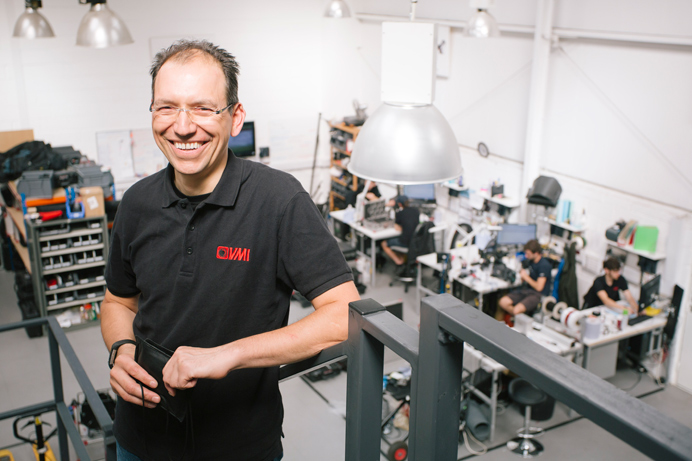 This all tallies with the council's desire to create good jobs, with good employers.
Council leader Peter Mason said: "We want employers to work with us to achieve our priorities of creating good jobs, tackling the climate crisis and fighting inequality. They are uniquely placed to do so. By being a 'good employer', local companies can play a key role in helping our borough achieve these aims. We want as many businesses as possible to commit to the London Living Wage and to securing good terms and conditions for workers, as well as building for their future in a sustainable way."
'Staff feel good about working here'
Barry said VMI has learned to change over the years and, by striving to be environmentally responsible and good to its staff, the company has brought itself multiple rewards.
He said: "Staff feel good about working for VMI and this aids staff retention. Not only are our staff proud of VMI and all of its environmental innovations, but they also share in its success, because I insist on sharing some of the profits out with all of my staff, too. Our staff turnover rate today is the lowest that it has ever been."
As you can see in the video above, he also said: "It's really important to invest in your staff. I had the idea a long time ago that if you pay people well, then they stay.
"And, if people stay, then you get much more out of them, you get much more experienced people, their productivity increases, you can invest more into them and, ultimately, we are only ever as good as the people that are within the organisation. And it has worked extremely well."
Local climate leader
Barry has been recognised by the council for his environmental efforts by being named as one of the borough's local climate leaders.
And the recognition went national in November when VMI.TV won a Heroes of Net Zero competition at the COP26 international climate change summit in Glasgow.
More than 160 businesses entered the competition, run by Intuit, making a commitment at the UK Business Climate Hub to achieve net zero by 2050, in line with the government's own climate commitment.
VMI.TV won in the small business category by demonstrating a range of measures taken on its journey to net zero, including installing solar panels and insulation, electric vans, recycling and reusing, and sending no waste to landfill in 15 months. It resulted in prizes worth more than £4,500 from competition partners BT, NatWest and SSE.
"We are incredibly flattered and really pleased that our efforts are being recognised," said Barry. "This will spread the word more widely about the benefits of companies making decarbonising efforts."
'It also helps the bottom line'
Indeed, the commitment to reach net zero carbon can have far more benefits than meet the eye.
"More recent research has shown that 52% of youngsters won't take a job in an organisation that isn't adopting sustainable policies," explained Barry.
"It also helps the bottom line. Apparently, a recent Harvard study demonstrated that companies that have good ESG (environment, social, governance) policies are more curious and thus more creative. It demonstrated that curious, innovative companies make better returns and more money, so there actually is a commercial reason to adopt a net-zero strategy.
"Over time, as we've done more and more things – invested in electric cars and solar PV etc – our staff have become much prouder of what we do, our staff turnover has reduced but, as well as our staff, our clients are more engaged as well. And they prefer coming to us because of what we do in the industry for the environment.
"As a consequence, our revenue has increased, our profitability has increased; so, instead of it becoming a cost on the business, it has actually helped us to become a much more profitable company, which is actually also much better for the environment, too.
"Of course, above all else, it is the right thing to do.
"We all have a responsibility to the local and the wider community and employers and people in general are all becoming much more aware of this."
'An exemplar business'
Councillor Bassam Mahfouz, the council's cabinet member for decent living incomes, said: "VMI.TV Ltd is an exemplar business here in our borough.
"Barry shows that you can be a fantastic employer by being a London Living Wage employer and also really making sure you focus on the green, sustainability of where you go. That's not only great for the employees, but also great for the employers and improves profitability."
Find out more about the council's Plan for Good Jobs.