A trio of talented young artists have been selected as the winners of Greener Ealing's truck art competition.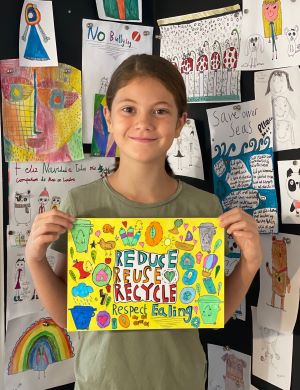 Greener Ealing, Ealing Council's refuse, recycling and grounds maintenance contractor, invited school pupils across the borough to take part and scores of young people entered. Entrants had to submit a piece of art that shared a positive environmental message to people in the borough.
The winners will see their artwork reproduced to appear on the Greener Ealing trucks later this year. Each winner will also receive a goodie bag and voucher, and their school will receive a selection of art supplies.
The winners are:
Lolita Phelan-LLorca, age nine (Hobbayne Primary School)
Rida Habib Raza, age 12 (Villiers High School)
Holly, age five
Councillor Deirdre Costigan, cabinet member for climate action, said: "I loved looking through the entries, we have some very talented young people in the borough. It was particularly interesting to see the type of messages they chose to share. I was very impressed with the thought that had gone into them. It's so important to understand how our behaviours can have such a huge impact on the environment and the world we live in. I really hope people appreciate the messages from our younger residents and do their bit to bring positive change."
Winner, Lolita Phelan-Llorca said: "When I was making my entry I thought about everything I would recycle and what bins you should put them in, it's important to put the right things in the right bins. Recycling is a good choice to make to help the environment."
Tackling climate action is one of the council's top three priorities. It's leadership team wants to make the borough a greener and healthier place to live by cutting reducing waste and carbon emissions. It adopted a Climate and Ecological Emergency Strategy earlier this year and it is committed to using its influence to combat the threat of climate crisis.
The competition was judged by Greener Ealing's interim managing director Kevin O'Leary, Councillor Costigan and Ealing artist Jessica Rose.