Cars that were parked illegally, or untaxed, or not roadworthy were taken off the streets this week in a special daytime operation.
A joint patrol of Ealing Council's parking enforcement officers and the police targeted Hanger Hill on Monday (6 March).
It followed a night-time operation by council officers in November, which led to 21 vehicles being towed away. But business owners and residents have continued to complain to the council about the area being a hotspot for the anti-social behaviour of garages and car owners, so the joint daytime operation was planned with the police. And more will follow in other hotspots.
Towed away
In this week's operation, 12 vehicles were towed away – including a Range Rover and trailer parked illegally, a large van that was not roadworthy but left on the road to store tools and car parts for months at a time, and an untaxed car that was parked illegally on the road.
The day was not without incident.
A man claiming to be the owner of the untaxed car jumped on to its bonnet and sat there in an attempt to prevent it from being towed. And several other people quickly attempted to shift illegally parked vehicles into the garages.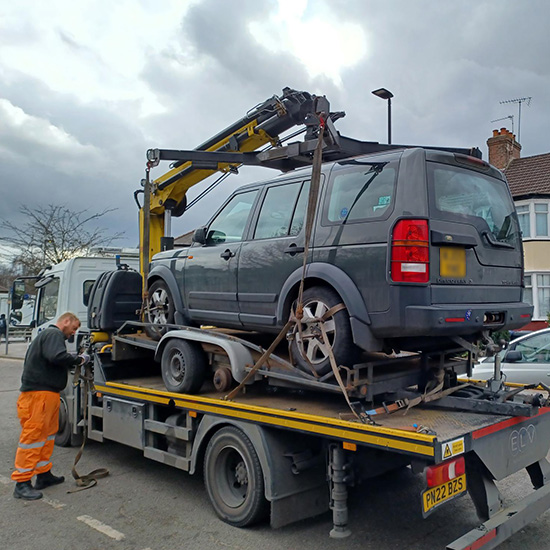 However, police officers kept the peace while the council officers took the vehicles away and issued 42 penalty charge notices (PCNs) which will have to be paid up by the owners or the council will look to get warrants issued to collect any outstanding debt. No one was hurt or arrested.
First joint operation
Councillor Peter Mason, the leader of the council, said: "This was the first time that the council has attempted this sort of joint enforcement with the police for tackling both illegally parked vehicles and towing away abandoned vehicles at the same time. It will not be the last time, though, because local people and businesses should be able to go about their everyday lives and should not have to worry about being blocked and obstructed by anti-social and unlawful behaviour. These types of hotspots will be targeted again, both in the day and at night.
"To park in a public place, a vehicle must have valid tax, it must have valid and legible number plates, it must be roadworthy, and it must be parked legally. If a vehicle has received a PCN and remains parked in contravention, it can be towed. If a vehicle has multiple unpaid PCNs, it can be towed. And the council will not hesitate to do so."
Unlawful behaviour
The main reason for these operations is that some garages have been breaking the law. This unlawful behaviour includes:
Carrying out repair works on vehicles on the public highway
Using the public highway to store vehicles being used for parts
Removing or obscuring number plates in an attempt to avoid parking enforcement
Parking vehicles on or overhanging the footpath.
Another common practice to try and get around the law is to buy a car or van at an auction and then not register the new owner, or 'keeper' with the national agency, the DVLA. The lack of a registered keeper can mean that a vehicle receives multiple PCNs that are never paid. But the lack of a registered keeper will not prevent enforcement action from being taken because it can still be towed away and even destroyed.