You might recognise comedian Shappi Khorsandi from her regular stints at Ealing Summer Festivals and may have even seen her on stage at the Ealing Comedy gala night at Walpole Park this summer?
Or, perhaps, you have seen her in one of her many television appearances, including I'm a Celebrity and Celebrity Masterchef?
But when she's not on stage or television, or enjoying some leisurely time in her local park with her dogs or children, this author and Ealing resident is putting her talent for writing into action.
Her fourth book, Scatterbrain, was released in July. It's an insightful, funny (and heart-breaking in places) biography about how undiagnosed Attention Deficit Hyperactivity Disorder (ADHD) made her life a frustrating rollercoaster.
'Like the lights had been turned on'
Since receiving a diagnosis in her 40s, Shappi says it was like the 'lights had been turned on after a lifetime in the dark' and found writing this latest book to be a cathartic experience.
"The book was a way for me to connect with other people who either live with, work with or know people who are neurodivergent," she said.
"I hope the people who read the book that don't have ADHD enjoy the humour and chaos. But also, if they're neurotypical, or there's the likelihood they are, that they find understanding there and people can relate."
As a reader, it really is quite a revelation to read. It's likely many will find a connection in some way or another, even if only to laugh along and say to yourself, 'I've done that' (held on to an electric fence, yep, I have) or 'yes, I've felt like that'.
Blowing raspberries
Shappi writes in depth about her struggles at school, hiding the difficulties she faced, at a time when no-one really knew what ADHD was and how people with the condition could be supported.
She used to find herself blowing raspberries at the school in defiance, often as she ran past during the Ealing Half Marathon races she would take part in.
But in later life she had a chance encounter with a former teacher who recognised the failings Shappi had experienced. After that she decided to revisit the school despite the bad memories.
She was over the moon to meet with a new headteacher there and see how far the school and education system had come since the 1980s. Shappi was taken aback by the quality of pastoral care and special educational needs (SEN) provision.
She said: "I used to blow raspberries at that school when I went past it, now I blow kisses.
"It makes my heart sing because there's going to be support for those children and they will know that there is nothing wrong with them. They need support and understanding, and there's no shame in that."
Adding to the strings she has already has in her bow, Shappi is set to start training as a psychotherapist this month. Read more about her rollercoaster life and the sense she can now make of the chaos in Scatterbrain.
Win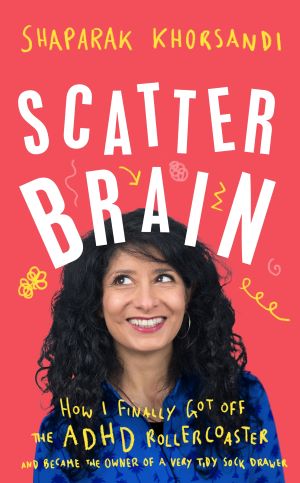 You could win one of 3 copies we are giving away in this competition.
To stand a chance of winning, all you have to do is answer the following question correctly and send your answer in by email to aroundealing@ealing.gov.uk by the deadline of 11.59pm on Monday 23 October.
Question: What is 'ADHD' short for?
Make sure the subject line of your email is 'Scatterbrain competition'. Once the deadline has passed, three winners will then be randomly drawn out. Only the winners will be notified – and these must respond by email in a stated period of time, or alternative winners may be drawn in their place.
Employees of Ealing Council are excluded from the competition and may not take part. No monetary alternative is available.