A local charity, whose team of volunteers has been helping people with disabilities to stay active and enjoy sports for almost two decades, has been given a prestigious national award.
PACE Charitable Trust will be given The Queen's Award for Voluntary Service next week (27 September) – the highest award a voluntary group can receive. Not only that, but the award has been given a special designation to commend the charity's work in providing impactful support to local people during the coronavirus pandemic.
Since it was set up 17 years ago, the charity has supported more than 8,000 disabled and non-disabled people to participate in adapted sports, physical activity programmes, leisure and social activities with their peers in a fun, safe and inclusive environment.
Through its programmes of competitive sport, PACE aims to develop skills such as confidence, communication, co-ordination, strength, leaderships and social skills, empowering members to take greater control of their lives. It holds regular sessions for young disabled people with an extensive range of physical, learning or sensory impairments. It also runs sessions in day centres for disabled adults – and at schools and colleges for students with physical or learning difficulties. PACE also has two Boccia squads which compete in the National Boccia League and the PACE A Team won the National Boccia Championships in 2017. It has also helped set up satellite boccia clubs in schools.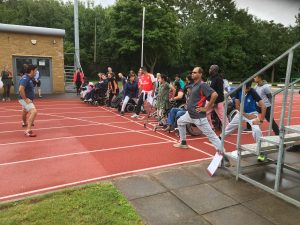 Ealing Council's Active Ealing service has worked closely with PACE since it was set up in 2004 – and nominated the charity for the Queen's Award.
PACE representatives will be receiving their award at a ceremony in Westminster Abbey on Monday (27 September). There will then be a local celebration event held for PACE volunteers on 9 October, when the award will be formally presented again by the Queen's representative in the borough – The Deputy Lieutenant for Ealing, Richard Kornicki – with the mayor of Ealing, Councillor Munir Ahmed, and other councillors also attending.
Empowered to change lives
Krishna Birdy, founder of PACE, said: "We are so thrilled that all our volunteers have been recognised for the support they have given the club over the years. It is this support that has provided opportunities for our members to change their lives, empowering them to become more independent. Although the pandemic meant we were not able to deliver our sessions, PACE volunteers still managed to keep our members engaged by providing online support for their emotional and physical well-being and the special designation is recognition of this.
"Our members represent that section of the community which experiences isolation and marginalisation in any event and this pandemic only exacerbated this problem. However, by setting up PACE Pals, we have been able to provide an online platform for members to talk to each other, feel comfortable to discuss whatever is on their mind, have fun and socialise. We have also been delivering online exercise classes, adapted for all ability levels, and I'm pleased to say that there has been attendance by day centres for adults with complex health conditions. Dealing with mental health is just as important as dealing with physical health and I am delighted that PACE has managed to successfully address both, particularly in these difficult times – another testament of our wonderful volunteers."
The Queen's Award for Voluntary Service aims to recognise outstanding work by volunteer groups for the benefit of their communities. It was created in 2002 to celebrate The Queen's Golden Jubilee and is held each year.