In March 2023, young people experiencing care in the borough and staff who support them, hosted the first Care Summit where 101 pledges were made by those attending.
The pledges were made to support young people who experience care in the borough and were made by the leader of the council, businesses, council departments, the Metropolitan Police, voluntary organisations, accommodation providers, landlords, and the Department for Work and Pensions.
'Our duty'
The council's cabinet member for a fairer start, Councillor Kamaljit Nagpal, who is also a corporate parent, said: "It is our duty to provide care leavers with the support, resources, and opportunities necessary for growth. There are some days that live long in the memory, and the care leavers summit was such a day. Hearing from young people who are currently experiencing care, and some in the room who were themselves care leavers when younger was truly educational and heartwarming. These pledges were made to support our young people in the ways any parent would to support their child."
Working with young people experiencing care, council officers honed down the pledges as some were already in practice, and amalgamating some that were very similar, for instance 7 pledges that related to work experience in the construction industry.
A total of 64 distinct pledges were identified and out of those, 30 have been achieved to date, 29 are in progress and 5 are having action plans put in place to ensure progress.
Protected characteristic
At the Care Summit, the leader of Ealing Council, Councillor Peter Mason, pledged to make the experience of care a protected characteristic throughout the council, and at a full council meeting in April 2023, this was delivered.
Councillor Mason said: "Parenting in any circumstances is a responsibility and a challenge. But to become a parent to young people who have lived through often extraordinary trauma, to begin that relationship in circumstances which are often chaotic and institutional at the same time, and to co-parent with colleagues, some of whom are perfect strangers to us, is a challenge unlike any other. Making the experience of care a protected characteristic helps us improve the way that we approach this challenge. It helps us to honestly acknowledge the additional barriers that being part of the care system can throw up."
Making experience of care a protected characteristic means that the council will work towards a fairer start in life and an equitable future for those that experience care. An example of is this is in housing where a 'flag' is on the database so that staff know they are working with a care leaver who may need extra or different support.
Leisure pass
Also delivered is the care leavers leisure pass, which allows free access to Everyone Active Leisure centre gyms for care leavers with a friend of their choice, promoting physical well-being and forging connections. This initiative is a step towards creating a sense of belonging and combating the challenges that young people, who have experienced care, face in their social lives.
Ealing Cares app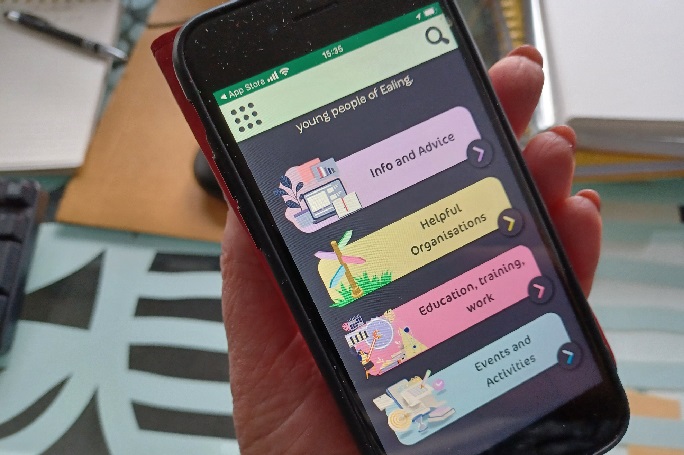 Last week, at a celebration event attended by young people experiencing care, Councillor Peter Mason, Councillor Kamaljit Nagpal, council officers and a representative from FOCUS GOV, another pledge was fulfilled with the launch of the Care Leavers App 'Ealing Cares'.
The app has been designed by young people currently in care and provides direct information relevant to those experiencing care and who have left Ealing's care. It includes FOCUS GOV offering real time apprenticeship opportunities, the Local Offer, education, employment and relationship support, messaging facilities, links to policies, procedures, and joint protocols.
The event was a huge success receiving a multitude of positive feedback from young people, council officers, and many partners. A representative from FOCUS GOV described Ealing as "pioneers in this space, the vision, and dedication from Ealing and the young people involved is different to what I've seen in the work we do with authorities elsewhere."
Councillor Nagpal expressed her "pride and excitement" in the app, saying: "Our young people have been the very heartbeat of this initiative, they not only provided their insights, but also named the app Ealing Cares. Their fingerprints are all over this digital platform, making it truly transformative."
Angel, a young person directly involved in the development of the app, said: "It's important for us to have an app because nowadays a lot of information is online, and it will be very easy to access. When we start to move to independence it can be overwhelming, and we need to access information in an easy manner. An app also acknowledges the struggles we face and can help us to feel heard.
"Ealing Cares provides everything that a young person needs from a touch of a button. We thought about features might be needed – accessibility and a wide range of languages for those who don't have English as a first language."
Take over day
Of the 29 pledges in progress, the 'Care Leavers Take Over the Council' day on 17 November was a pledge made by Ealing's chief executive, Tony Clements. Up to 30 young people will shadow roles across the council, from Councillor Nagpal and the chief executive to heads of service and those on the frontline. This will be followed by a 'Take Over the NHS' day in the February half-term 2024.
"Everyone is looking forward, maybe with a little bit of trepidation, to 17 November," said Councillor Nagpal. "Throughout the day we will be keeping you updated on what's happening through our social media channels – so watch this space."