Ealing Council has declared that experience of care would be made a 'protected characteristic' throughout the council.
It follows a pledge made at the recent care leavers summit in March by council leader Peter Mason.
And, at a meeting of the full council on Tuesday, 25 April, this pledge was delivered when it was proposed by the Labour Group and agreed by both the Ealing Conservatives and the Ealing Liberal Democrats.
It is against the law to discriminate against someone because of age; disability; gender reassignment; marriage and civil partnership; pregnancy and maternity; race, religion or belief; sex; or sexual orientation. These are known as protected characteristics of a person.
Councillor Mason, said that Ealing is now committed to making experience of care a protected characteristic for young people in the borough.
Providing support to care leavers
Before the debate two young women who have experience of care in Ealing addressed all those in the council chamber and eloquently identified that people with experience of care face significant barriers that impact them throughout their lives. They often face discrimination and stigma across housing, health, education, relationships, employment and in the criminal justice system.
Young people in Ealing with experience of the care system also recorded a poem which was shown in the meeting, directly expressing what they needed to support and care for them from the council and others. The overarching theme of that poem was that, as well as practical things like secure housing, young people with experience of care need to be listened to and taken seriously.
Responsibilities as corporate parent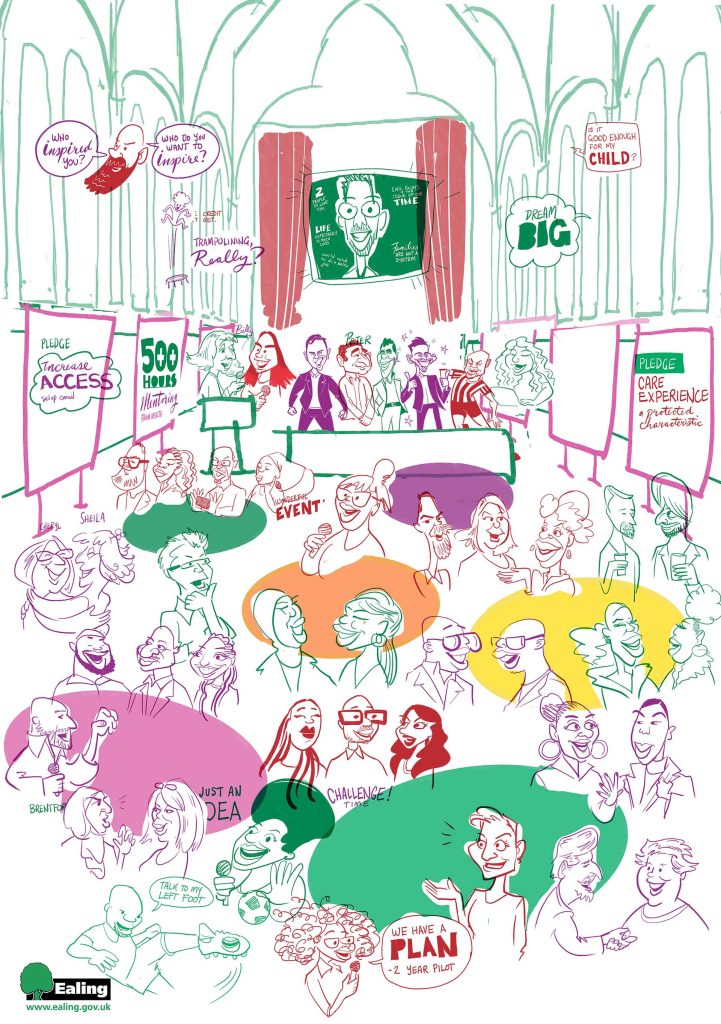 Speaking at the meeting, Councillor Mason said: "First can I start by saying to Tina and Shannon, thank you for taking the time to come and share your experiences with us. We're truly grateful.
"As leader I know, and I'm sure each and every one of us as councillors also knows, that we hold many responsibilities and duties, and we also have some privileges too. Being a corporate parent is one element of the job which is both a duty and a privilege in equal and abundant measure. But also contains within it, like every parent, challenges, fears – to know that we are doing a good job.
"Taking on the responsibilities of a corporate parent doesn't necessarily sit easily with my view of how local authorities, and even the state more generally, should behave and interact with the people that we exist to serve. The idea of being corporate – distant, transactional – or even a parent feels me with, a worry that we can be at best paternalistic and at worst, patronising, of the young people who are in our care.
"Parenting in any circumstances is a responsibility and a challenge. But to become a parent to young people who have lived through often extraordinary trauma, to begin that relationship in circumstances which are often chaotic and institutional at the same time, and to co-parent with colleagues, some of whom are perfect strangers to us, is a challenge unlike any other.
"But, as the cliché goes, every challenge or difficulty is an opportunity, and every opportunity is a privilege. To be a corporate parent is to play an even tiny, fractional role in supporting young people in our care to achieve enormous potential.
"To nurture them.
"To make sure they know what it feels like to be safe.
"And to prepare them to be capable and resilient adults.
"Making experience of care a protected characteristic helps us improve the way that we approach this challenge. It helps us to honestly acknowledge the additional barriers that being part of the care system can throw up.
"It recognises that it does take a town to raise a child, and that's as true – if not more so – in the care system as it is anywhere else. And it challenges us to continue to be more ambitious for the young people in our care. And challenge each and every one of us, right across the public sector and beyond and into our communities, to do the same.
"Our aspirations as corporate parents, as a council and for every organisation involved in raising the young people in our care, is to be a modern parent. To make sure that young people have their practical needs met, yes, their emotional ones too.
"But to do this, we have to listen to young people. We have to empower them to make sure that their opinions and insights will not only be listened to but acted upon also. This has to build on the work that we have already done on the Corporate Parent Panel, where young people themselves have selected councillors to take on those responsibilities.
"By making experience of care a protected characteristic will help us embed this approach right across the council and with our partners. It is the next step in our work to ensure that every child and young person in Ealing has a fair start in life, where they can lead happy and healthy lives, or purpose and belonging and pride.
"And just as we were told in the poem, ensure that their past does not define the greatness that they can become."
The poem and full debate can be viewed online.