Pupils in our borough were some of the UK's first 12-15 year-olds to receive their vaccine against coronavirus.
Last December, we reported the huge step forward in tackling COVID-19, when the borough's first patient was given his vaccine. Since then, all of the adult and late-teen age groups have been worked through. Ealing Council is now working with schools and the NHS to offer the vaccine to 12-15 year-olds. The aim is for every pupil of that age group to be offered the vaccine before October half-term.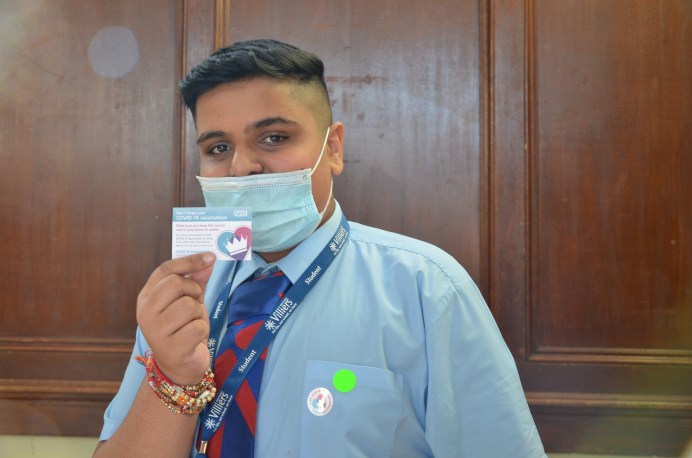 We visited Villiers High School in Southall this week to see the vaccination programme under way there.
Parents will be contacted directly by the school their child attends to let them know the dates that the vaccine programme will take place there, and they will be asked if they give consent to their child having the vaccine.
Councillor Kamaljit Nagpal, Ealing Council's cabinet member for a fairer start, said: "Less than a year ago we started vaccinating clinically vulnerable and those over 80 years of age.
"12-15 year-olds will be offered the vaccine in the coming weeks through their school.
"This is our next step in the direction of some form of normality.
"Thank you to all of the NHS staff who have worked in very difficult circumstances, and all the amazing teachers and support staff who have helped to make this happen.
"Say yes to the vaccine. And encourage others to get theirs."
Pippa Nightingale, chief nurse for North West London NHS Trust, said: "It's really exciting, it is like the final cog really, of this wheel, it is all coming together and this is the final piece to really stop the spread of this virus."
"These children have had so much disruption these last 18 months and this is the one things that would stop schools closing, having to isolate children, not only for their school but also for their home life. Many of these children live in multi-generational households, so they are doing it to protect their family. Which is really important."
A number of government guidance documents regarding the vaccine aimed at schools and parents as well as 12-15 year-olds are available online including: