Today (Friday), the NHS started to deliver the COVID-19 vaccine in Ealing, in line with the government's priority list of which people will get it first.
The first patient (pictured) to receive the vaccine in Ealing today (Friday) was Ruy Silva, 88. It was administered by nurse Julie Belton, and you can see the moment captured in the video above.
People over the age of 80 and those on the government's priority list will be directly contacted with the details of how they can receive the vaccine. The vaccine is free and is delivered by trained staff. If you are contacted, please do attend the appointment.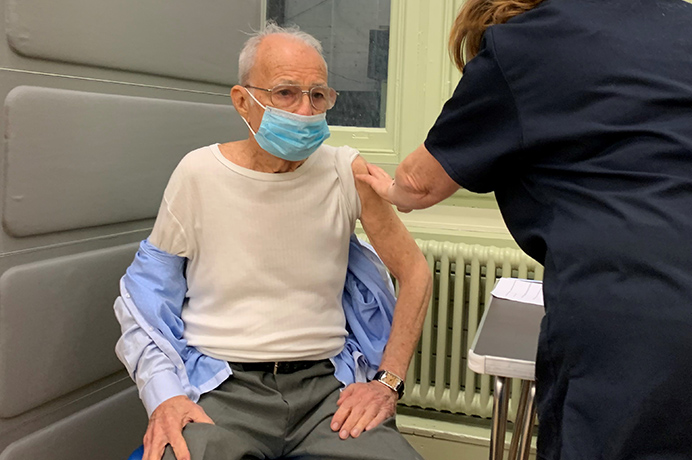 Silvana Neves, Ruy's next of kin, said: "He feels great. He's so happy about that. He's got a little bit of Alzheimer's, but he understands what is going on.
"It means for us that we are feeling a bit safer. We were worried because he has got so many limitations. And we are trying to make it better for him. After that [the vaccine] we feel more confidence.
"This year was difficult because we were locked in the house, my father-in-law, my father, my husband and I. We are always at the home to avoid any contact with family members so they don't get any problems.
"Next year we might be able to stay together again, to enjoy things with our family – his great grandson, his great granddaughter – because he is missing them."
You cannot book in advance for a vaccine, so do not contact your doctor or the NHS to ask about vaccination.
In advance of your appointment, you may want to read the COVID-19 vaccination guide for adults leaflet. You can also hear local Harrow GP Genevieve Small talk about her own experience of having the vaccine.
Phased delivery
It will take time to vaccinate everyone in this first group. The phased vaccine supply means the bulk of vaccinations for high risk groups will take place between January and April – so please be aware you may not be called until then.
Councillor Binda Rai, Ealing Council's cabinet member for health and adult services, said: "This is a very exciting development for us all and it's great news that the vaccine has arrived in Ealing. Some of our most vulnerable residents will be getting protection against this dreadful disease, although that protection will not be in place until they receive the second of the two vaccines required.
"With the Christmas period almost here, please remember that the risk of catching COVID-19 is still high. So, do follow the national public health guidance: Wash your hands regularly, wear a face covering in enclosed spaces and maintain safe social distancing. I personally know of cases where social distancing has helped to keep people safe, who otherwise may have been infected.
"So, this year, as we get together with loved ones in our Christmas bubbles, please do think about the choices you make and the impact they could have on the health of the people you love. The risk of catching COVID-19 is the same as ever for all of us, so please do stay safe."