A pioneering project based at Blondin Park has been bearing fruit for an astonishing 25 years. It is now providing a blueprint for an ambitious programme of greening and growing across the entire borough.
The park, in Northfields, has an apple orchard planted in 1997 – which was the borough's first community orchard. It has been able to grow and mature in the two decades since thanks to the work of local volunteers and the council's park rangers. The orchard, and parkland beyond, provide not only a valuable green space for people and nature-rich landscape for wildlife – including kestrels and woodpeckers – but regular harvests of fresh apples, available to the community.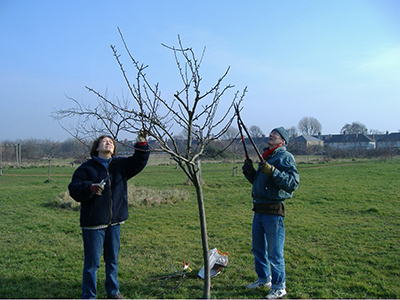 Now, as the council's ambitious programme to plant 50,000 new trees takes shape, the aim is to expand the number of orchards, so that each of the borough's seven towns has at least one.
'A valuable space for local people'
Jamie Passmore has seen the orchard at Blondin Park grow and grow over his time as a park ranger. Residents started things off by planting those first young dwarf stock apple trees – and Jamie was instrumental in helping them set up the Friends of Blondin Park group, the following year, to help care for it.
Since then, the dedicated work of the Friends and rangers has seen the orchard bloom, with a pond, hedgerows, new paths and trails all introduced to over the years, ensuring that it now enjoys Local Nature Reserve status.
Jamie explains: "This project started 25 years ago with around 50 Old English apple trees – we helped choose this type because they originally grew locally a century before. The area was known for its market gardens, so we thought it would be a lovely nod to our history and a good way of honouring what had come before.
"Over the years we have hosted many 'apple days' where the local community comes together to harvest the fruit. It is one of the borough's very first community orchards and it is a great testament to the volunteers of the Friends group, which is now the Blondin Consortium, that it remains such a valuable space for local people.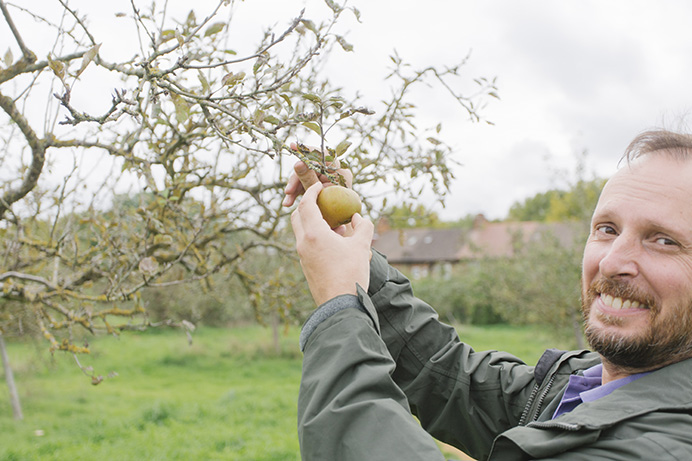 "At the moment we work day-to-day with volunteer groups to manage the orchard and nature area. We have got a lovely pond and we've been able to improve for wildlife such as newts and frogs and we now have a forest school area for local pupils to learn about the orchard.
"We now have numerous orchards in locations across the borough and we are working to help support local people manage these vital spaces and expand so more people than ever can benefit from having them on their doorsteps."
'Wonderful green spaces and locally harvested fruit'
The council is committed to expanding the tree canopy across parks, neighbourhoods and streets to ensure that it covers 25% of the entire borough by 2030 – and to plant more orchards for the benefit of the local community.
Councillor Deirdre Costigan, cabinet member for climate action, said: "We are planting 50,000 new trees across our borough because green spaces and biodiversity matter to us.
"The council has a wide-ranging programme to fight the climate crisis. This includes expanding the number of orchards across the borough so that, across our seven towns, we have wonderful green spaces and locally harvested fruit that is accessible and free for the local community.
"I'd like to thank everyone involved with the long-lasting success of Blondin Park, which acts as an inspiration for the future."
Why plant trees?
The tree planting programme is central to the council's biodiversity action plan (BAP), which it announced last year. The BAP aims to increase and preserve the diversity of local wildlife and plant life – from the canopy cover of trees to the creatures living beneath. This is not just to help nature thrive, but also to keep our ecosystems healthy.
Achieving a 25% tree canopy would not just offer wildlife shelter and habitats, but it would also help to filter and clean the air we all breathe – as well as to keep climate change in check – by 'capturing' or absorbing harmful carbon dioxide from everyday activities like driving. But that is not all. Tree root systems play a role in our water systems and can also reduce the risk of flooding in winter by sucking up excess water – and, of course, everyone knows the benefit of the shade their boughs lend us on blisteringly hot summer days.