The hugely popular Hanwell Hootie may not have been able to take place fully since 2019 because of coronavirus, but a special Hootie in the Meadow will take place on Saturday, 18 September.
It will give you the opportunity to experience some excellent live music and comedy in Viaduct Meadow, opposite Ealing Hospital and next to the Viaduct pub.
It will all be outdoors, featuring a double big top with two stages, plus an igloo stage, and a whole host of bars and food vans.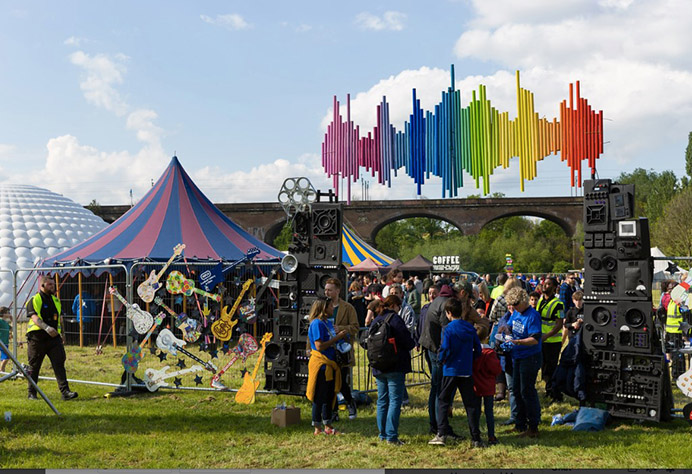 Numbers have to be controlled, so access will be granted via buying a Hootie in the Meadow T-shirt for £10. There will be two different sessions, each one with its own T-shirt: Afternoon 12noon-5pm and evening 6-11pm. You can buy two T-shirts and attend both sessions, or just one and go to one session. An adult T-shirt allows one child (under 16) to go along free of charge. See the bottom of this story for a link to buy yours in advance.
The Hanwell Hootie celebrates the birth of the mighty Marshall guitar amplifier in Hanwell in 1962 by Jim Marshall (aka 'the father of loud').
Now in its ninth year, the Hootie has always been a free event and it gained the title of the UK's largest free one-day music festival. In a normal year the Hootie would be spread across 14 venues with more than 100 bands playing. Thousands of Hootie goers would flood the streets, bars, and parks of W7 hopping from venue to venue for 10 hours.
Although a small online event was held in 2020, the traditional Hootie May weekend passed by altogether in 2021 because government COVID-19 guidelines still restricted gatherings.
'We were desperate to put on a show'
However, the team behind the event met in July, and determined that 2021 would not pass without any Hootie at all.
Co-founder Andy McRobbie explained: "We were desperate to put on a show to lift the spirits of Hanwell and also give a paid gig to up-and-coming bands who have not been able to play during the pandemic. However, our numbers have to be reduced because of the pandemic and, as businesses have also suffered, it has been a struggle to get the sponsorship we were lucky to have when it was a larger event."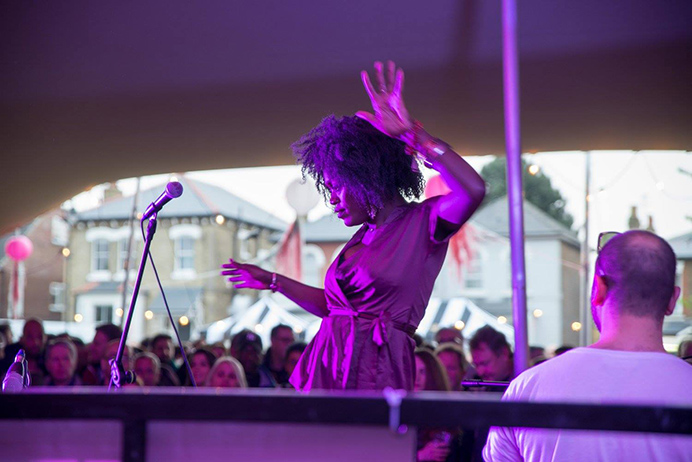 Fellow co-founder June Martin added: "We introduced a novel way of keeping the free Hootie spirit alive. To gain entry festival goers simply purchase an official 'Hootie in the Meadow' t-shirt. Free music and comedy are then yours."
Andy continued: "We have three stages outdoors featuring a double big top, the igloo, and a whole host of bars and food vans. We have a healthy dose of local homegrown talent alongside bands from different parts of the UK. This year we can promise a fantastic show as always but with a bigger and better show for our 10th anniversary to come in 2022."
HEADLINERS
The evening session features:
Goth rockers Saint Agnes – described as 'A grinding splurge of defiant rock'n'roll graffiti' by Q Magazine; and 'Stomping, snarling psych rock' by CLASH magazine
Avalanche Party, which Andy described as 'A band that make you feel alive, one of the best live performances I have seen in many years'; while BBC Radio 1 called them 'The most exciting rock & roll band in the UK right now' and NME wrote this about them: 'A tsunami of mega riffs and eardrum-popping bass lines. Definitely don't want to wear your Sunday best to one of their raucous gigs.'
Headlining the afternoon session are Gen and the Degenerates, a band recently signed to Marshall records and making serious waves across the country.
BUY ENTRANCE IN ADVANCE
You can buy tickets/T-shirts online.
Find out more on the Hanwell Hootie website.