Meet Mah-jabeen and Sophie. They have both changed their careers – and their lives – and are now award-winning apprentices. They are among hundreds of local people who have benefited from apprenticeships arranged by the council and its partners.
Ealing Council recently celebrated the milestone of 750 local apprenticeships since 2018 – in roles ranging from education and childcare, to construction and engineering. There are varying levels of apprenticeships, from intermediate to degree level.
'YOU DON'T HAVE TO BE 16-18 TO DO IT'
Planning apprentice Sophie Hennessy was crowned as the council's 2021 Apprentice of the Year after working in the planning department and studying to become a level 3 town planning technical support officer.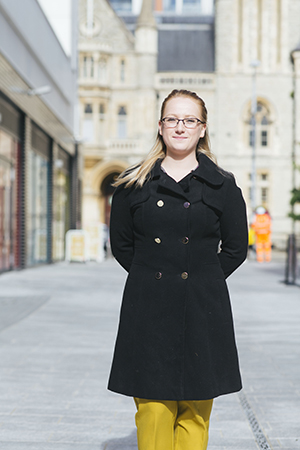 Among the reasons for her award were the excellence of her work and the high volume of work she got through despite being a junior member of the team.
She had previously been working in a different industry where she found the job unfulfilling and stressful. Everything changed when she spotted information about the apprenticeships at the council and decided to apply.
"I would definitely recommend an apprenticeship," Sophie said. "You don't have to be 16-18 to do it. I'm 25 now and it shows that if you want a different career path, you can do it if you truly want to.
You don't have to be pre-qualified."
Sophie used to work in a recruitment company for the construction industry, but it was very commission-based and not what she wanted to do long term.
"When I was in my last job," said Sophie, "I was aware that, to really understand and comprehend a new job role and its industry, I would need to learn from the beginning – and the apprenticeship was an opportunity to do that, while earning money at the same time.
"Working for a council, and especially within the planning department, allowed me to learn about the local community and appreciate its surroundings. And it was great becoming part of a team where everyone is all working toward the same outcome."
The two-year apprenticeship may have already been successful because it ended in employment, but it has also started Sophie on a clear career path in planning. She has a five-year university degree next in mind, while working for the council, to lead her to become chartered in town planning and a fully-fledged town planner for Ealing. She also hopes to study a masters degree in urban planning.
'I HAD BEEN OUT OF WORK FOR 20 YEARS'
Mah-jabeen Bhatti's story is even more transformative. She also won an award at the recent council ceremony.
"When I applied for an apprenticeship at the council, I had been out of work for about 20 years," she said. "I was falling into a routine of depending on others – comfortable at home, not wanting to leave home much. This apprenticeship helped me to build the confidence to get back to work, develop my skills and get the knowledge and experience in an area I am interested in."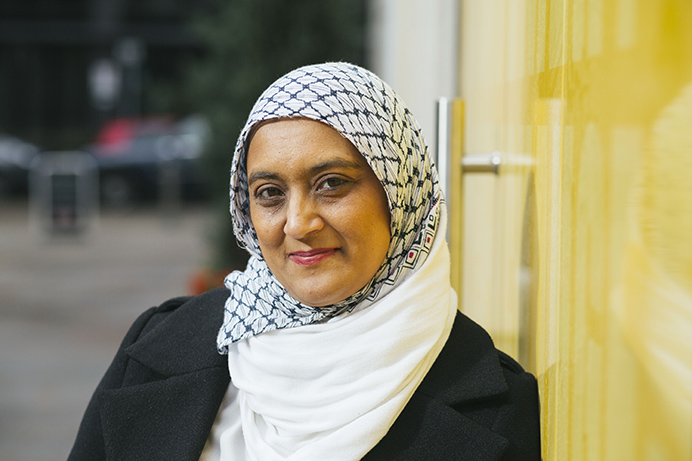 Mah-jabeen first completed her level 2 business administration apprenticeship with the Let's Go Southall team, which was set up to encourage and support Southall residents to get more active. She was the team administrator. She has since progressed to working in the council's housing team, working in the Copley Management Hub where she is doing her level 3 apprenticeship in business and administration.
"I now have knowledge, experience and am building qualifications to find work suited to my skills, where I could progress if I choose to," Mah-jabeen added. "I have also become more independent and active thanks to the team at Let's Go Southall.
"I would recommend apprenticeships to anyone thinking about applying. Changing careers or getting back to work is great in building confidence, learning transferable skills and meeting new people."
TAKE A STEP TO A BETTER CAREER
Would you like to join Ealing Council and start a rewarding and satisfying career in the public sector? We are currently hiring for a few exciting apprenticeship vacancies:
WANT TO FIND OUT MORE?
The council's' dedicated apprenticeships team can help you find the right role for you – just email apprenticeships@ealing.gov.uk or visit the new Work Ealing website.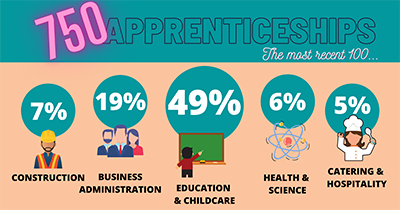 WHY HIRE AN APPRENTICE?
"Apprenticeships are not just good for the employee, they are good for your business, too," said council leader Peter Mason. "They can bring new ideas, creativity and vibrancy. "Ealing Council's apprenticeship team can help you to hire an apprentice, so why not find out more?"
Apprentices can:
Boost productivity – according to the Centre for Economics and Business Research, on average each apprentice brings a gain in productivity of more than £10,000 per year for their employer, with even higher figures for some sectors
Help you to compete in the modern marketplace – in industry research, 77% of employers agreed that apprentices helped to make their organisations more competitive while more than eight out of 10 customers preferred to buy from companies employing apprentices.
For more information, email apprenticeships@ealing.gov.uk or visit the Work Ealing website.