Councillor Mohinder Kaur Midha was inaugurated as the new Mayor of Ealing at the council meeting held on Tuesday, (24 May).
The new mayor was warmly welcomed by the leaders of all political parties, with council leader Peter Mason saying: "It is with much pleasure that I congratulate and welcome Councillor Midha as the new Mayor of Ealing.
'Kind-hearted and cheerful'
"Mohinder is kind-hearted and cheerful in equal measure. As we emerge from the pandemic and head in to celebrate Her Majesty the Queen's Platinum Jubilee, Mohinder is just the right person to spread some fun and joy in the months ahead.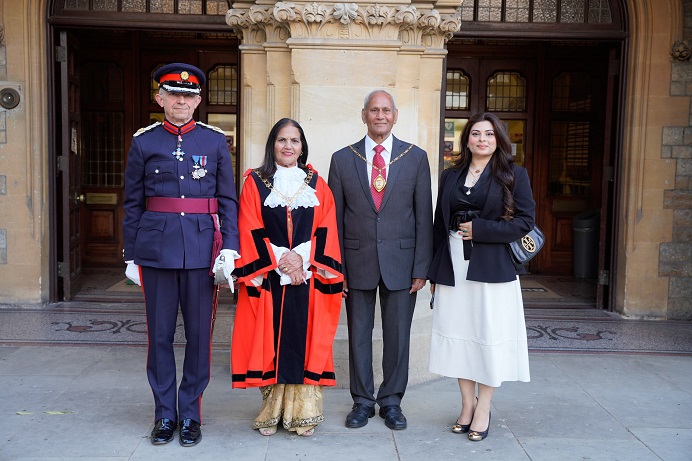 "The residents of Dormers Wells, the ward she represents, as well as her colleagues on the council, have come to love her dearly since her election, and I know the people of Ealing will come to love her too over the course of her year as Ealing's first citizen.
"I would also like to congratulate Councillor Munir Ahmed, our outgoing mayor, for being such a fantastic mayor for the borough for the past year."
New cabinet
Councillor Mason also introduced his new cabinet, listed below, saying: "At the recent local elections, the residents of Ealing gave us a clear mandate to deliver on the priorities we set out: creating good jobs; fighting inequality, crime and antisocial behaviour; providing genuinely affordable housing; taking firm climate action; ensure every young person gets a fairer start in life; and thriving communities in which everyone can enjoy long and healthy lives.
"Working with residents and communities across our seven towns, with hope, creativity and energy we want to continue building an open, transparent, and inclusive council and start work immediately on what we know are your priorities as well as what you have told us needs to change for the better."
The cabinet positions are:
Deputy leader and cabinet member for climate action: Councillor Deirdre Costigan
Cabinet member for decent living incomes: Councillor Bassam Mahfouz
Cabinet member for thriving communities: Councillor Jasbir Anand
Cabinet member for inclusive economy: Councillor Steve Donnelly
Cabinet member for healthy lives: Councillor Josh Blacker
Cabinet member for genuinely affordable homes: Councillor Lauren Wall
Cabinet member for good growth: Councillor Shital Manro
Cabinet member for a fairer start: Councillor Kamaljit Nagpal
Cabinet member for tackling inequality: Councillor Aysha Raza
The mayor's chosen charity for the coming year is Heart-link Ealing Support Group
The deputy mayor of Ealing for the coming year is Councillor Hitesh Tailor.