The much-loved Hanwell Carnival returns to its usual place in the calendar for 2022, with the big day approaching fast: Saturday, 18 June.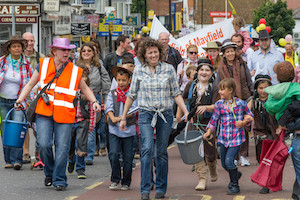 It is regarded as one of the longest-running community carnivals in the country, and certainly has a long history.
The great news is that, after a two-year interruption caused by COVID-19, the parade is back. It will start from Hanwell Community Centre at 11am and reach Elthorne Park in time for the official opening of the carnival by the mayor of Ealing, Councillor Mohinder Kaur Midha.
Local schools, scouts, musical acts and, of course, the Hanwell Ukelele Band (HUG) will all feature in the parade and it should build the carnival mood as people come out to watch the parade and then follow it to down to the park.
The fun of the main event all then starts in Elthorne Park at 12noon. What can you expect to find?
Music extravaganza
Ralph Brookfield, member of the carnival committee, said: "On the music stage we have assembled a great line-up featuring several local bands. The Volted Hearts offer a mix of 60s garage pop, 70s new wave, Motown, Stax and soul, while the Hornets focus on 60s R&B with a mixture of covers and originals. Branwell Black brings electropop and glamour – on the dot at 3pm. And, of course, we have the irrepressible HUG on stage as well as many others.
"The Westside Radio Community Stage was a great success last year and it is back again, sponsored by Turtle Bay. Hosted by Fee Mak and Issra with DJ D-Zine, Westside bring you a fantastic mix of entertainment including Irish dance, taekwondo, bhangra, breakdance, Ealing Rock Choir, Zumba and DJ jam sessions."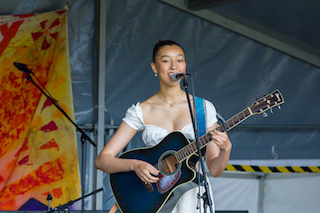 Stalls with goods galore – and furry friends
"A big part of Carnival is the charity stalls and this year we have over 30 local charities present," added Allison Coles, another committee member. "For many of them this is the biggest fundraising event of the year, so we encourage all visitors to support their causes. We also have the trade stall section where – amongst other things – you can pick up original works of art, rum punch, jewellery and speciality cakes and pastries.
"In the Craft Tent there is a heady mixture of products all made by local crafters – ceramics, woodcraft, skincare, prints, silk scarves etc etc. All items are sensibly priced so you may find some unexpected bargains in there.
"The dog show is one of the most popular attractions. This year the classes include scruffiest dog and Hanwell dogs have talent. Owners can enrol their dogs for the various classes on the day. Close by is the Animal Zone (sponsored by Ealing Farmers' Market) offering donkey rides and a petting farm featuring Shetland ponies, sheep, goats and rabbits."
Sporting chances and kids' fun
And that is not all, as Helen Papadopoulos explained: "In the sports zone we are delighted to welcome Hanwell Town FC to the carnival. The London Geordies had a fantastic season in 2021/22, culminating in promotion to Step 3 of non-league football for the first time in their history. Together with Ealing Eagles Ball Hockey Club they will be giving people a chance of a spot of physical exercise and fun if they wish.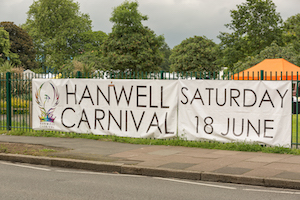 "We will have all the usual attractions for the young at heart – face painting, funfair, go-karts and inflatables. Many of the charity stalls will offer the chance for the kids to win a prize to remember the day by."
Food, drink and treats
"It's a long day so there are plenty of refreshments to keep you going," added Colin Iles. "Food is available from the Caribbean, west Africa, Germany, Greece, plus burgers, hot dogs, vegan options and ice cream. And there's a licensed bar to quench the thirst as well as teas, coffees and sweet treats from many of the charity stalls.
"18 June will be a great family day for Hanwellians and all people from the borough of Ealing so please make sure you are there."
This year, the carnival's principal sponsor is Hanwell Square, a new development in the heart of Hanwell where apartments, shops and businesses come together, centred around a village square. There will be a Hanwell Square gazebo near the main entrance to Elthorne Park.