Growing something from nothing can bring a real sense of achievement and there is great pleasure to be had in sharing with others. Nothing goes to waste on allotments, especially with food prices on the rise.
Many allotment holders in the borough have begun to share surplus food that they have grown with each other, and the wider community.
Paul Carter, chairman of the Ealing Allotments Partnership, said: "There are lots of people who benefit from the borough's allotments. Many plot holders give to one another, as well as friends and family, and we tend to make sure that surplus produce is made available for others including local organisations and places of worship. We don't want to see food go to waste."
Fresh and nourishing
Community-minded tenants at Village Park allotments in South Ealing are just one of the groups regularly making donations from their plots. They give produce to The Store Cupboard, a charity supporting families in need.
One of these Village Park tenants is Goli Mohtadi. She said: "With all the saddening news coming in from the Ukraine last year, I found myself really wanting to take some kind of positive action. I'd been concerned about everyone's access to fresh, nourishing food for a while, so thought why not just grow as much as I can, and share it with organisations who can distribute it?
"Thanks to the solidarity and warm support, and the thoughtful and practical help of Glendra, the allotment's manager on behalf of Ealing Transition, and the steering group, we've collectively been able to grow food to share. I've grown what I could, and grower friends' surplus produce has meant that we could make a weekly contribution to a wonderful organisation in West Ealing, who are doing great work."
Other allotment sites have also set up ways to donate to gurdwaras, churches and local hospices, including at Bixley Fields in Southall; Ascott in Ealing; and Horsenden in Greenford.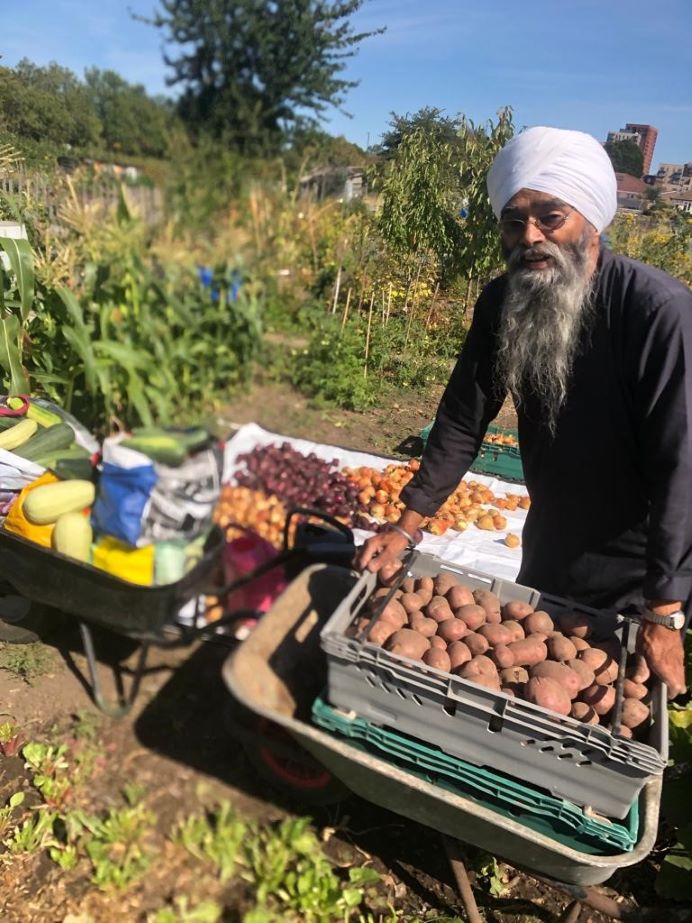 Councillor Deirdre Costigan, Ealing Council's deputy leader and cabinet member for climate action, said: "It's really encouraging to see the community coming together in this way, reducing food waste and helping others. It's one of the things that makes me proud to live in Ealing.
"As well as developing community spirit, allotments have significant environmental benefits. Growing your own, eating locally and seasonally, helps to reduce your carbon footprint and environmental impact.
"As a council, we are committed to supporting Ealing residents who want to grow their own fruit and veg, and we plan to deliver 10 new community growing spaces in our housing estates and on new developments in the next couple of years."
Start growing
There are more than 50 allotment sites in the borough, and a total of nearly 3,000 plot holders. If you aren't fortunate enough to have a plot already, but you would like to, you will probably have to join a waiting list. Having a plot requires time and commitment, but if the seed has been planted and you do want to get your hands dirty while you wait, there are mini-plots that are a bit easier to come by.
But you don't need to have an allotment or a garden to harvest fruit or veg, there are many easy to grow items that can be nurtured from your windowsill at home – or in a community garden.
A hive of activity
Gardening can be physically exerting for the most hardy of people but despite the challenges of being a wheelchair user, one allotment holder shares her experience and the joy she gets from tending to her plot.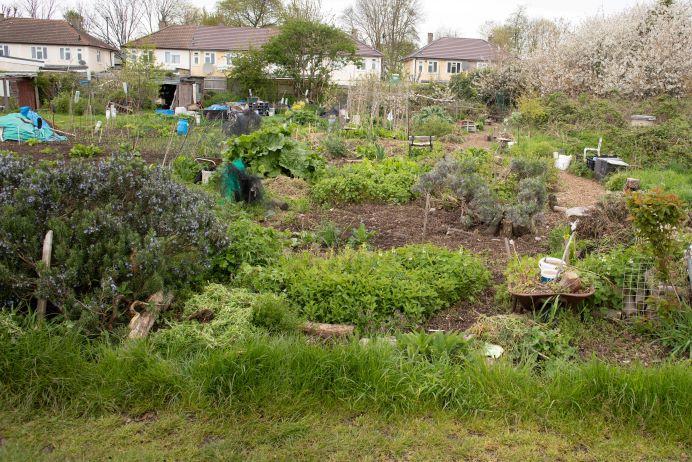 Matwinder Randhawa has maintained a site at Bixley allotments in Southall for more than 20 years and even though she became an amputee 13 years ago after a cycling accident she has not let this get in her way.
She said: "I get so much joy from my allotment, no obstacle is going to stop me from enjoying it. It can be difficult but the other people at the site are extremely supportive, it is a wonderful community that wouldn't be there if it wasn't for these allotments.
"When I first started the grass was about three feet tall but it just needed some love and care. Now I have a bee zone, a fox run, gooseberries and raspberries growing, all sorts of flowers – I love it. It smells good, feels good and helps me to stay positive."