Autumn celebrations like Halloween, Diwali and bonfire night are all coming up and many people will be planning parties and celebrations involving delicious food.
But we can all do our bit for the planet by minimising the amount of food waste produced during this time.
And with COP-26, a vital international summit on addressing climate crisis, getting underway on 31 October, there has never been a better time for people to think about changes they can make to help address the critical problem of climate change.
The council is taking urgent action achieve net zero carbon emissions for the borough by 2030 and is supporting residents as we work together to achieve this goal. Local climate action hub, ActForEaling, has ten top tips to help us all contribute to a more environmentally friendly future -which is a great place to get started.
A scary Halloween fact is that around 10 million pumpkins are grown in the UK every year with 95% of these carved into hollowed-out lanterns and then thrown away. Sadly, only the remaining 5% is used for cooking.
Rather than throwing away the contents of your Halloween lantern, why not turn them into a delicious soup, stew or pie?
Any pumpkin scrapings or carvings that you do not manage to turn into a tasty seasonal dish can be chopped up and recycled via your green food waste bin. Alternatively, you could compost them at home.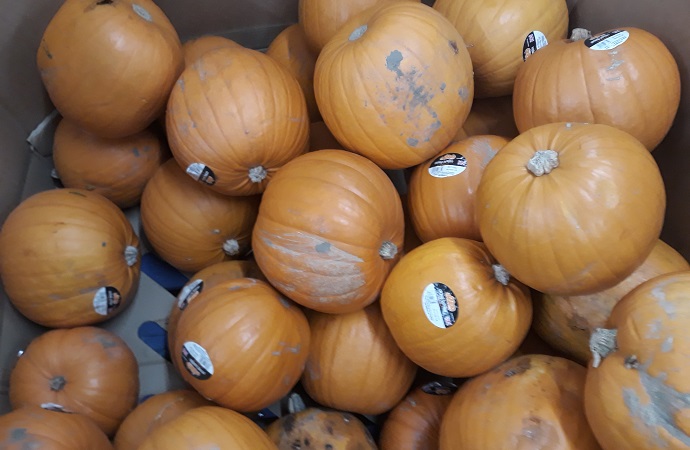 Recycling as much of your culinary leftovers as possible via your green bin helps minimise the amount of food waste that ends up in landfill alongside non-recyclable household rubbish.
Food recycling collected by the council is taken to a special processing plant – where it is broken down and gets converted to methane gas which is used to power turbines to produce electricity, to heat and light homes and for fertiliser. None of it goes to waste.
Find tips on saving on your food scraps courtesy of Love Food Hate Waste.
Celebrating safely
Diwali and bonfire night both see lots of celebrations involving fireworks. If you are thinking of holding your own display be considerate and conscious of safety for yourself and those around you.
Remember, dogs and cats should be kept inside and have a hiding place. There are lots of simple things that pet owners can do to help their animals cope with fireworks better.

Before lighting fireworks, always read the instructions carefully. Read all the safety warnings on the box so you know important information like how far away people should stand from the firework.

Lastly, the clocks are due to go back on Sunday 31 October 2021 from 2am and we will revert back to Greenwich Mean Time, this means it gets darker earlier. Make sure you continue to be aware of your surroundings when walking alone.

At home, if you are not expecting any visitors, do not open the door to strangers. Check on older neighbours and friends nearby during the day, they may not go out during the evening now that it gets dark early.
Councillor Deirdre Costigan, Ealing Council's deputy leader and cabinet member for climate action said: "I hope everyone celebrating this autumn has a wonderful time, but I do urge them to think of the planet this year and do whatever they can to cut back on food waste.

"We are making it easy and simple for residents to recycle as much as possible as part of our ambitious climate strategy, which is delivering a greener future and ensuring we achieve net zero for carbon emissions for the borough by 2030."