"You never know, we might discover a future Tiger Woods," said one of the trustees of a new charity running a golf academy for local teenagers who might never have previously considered playing the game.
The Brent Valley Golf Academy is the brainchild of members of the Brent Valley Golf Club, including local man Richard Gray, who is now the chair of the academy's trustees.
It was an idea inspired after seeing the funding for community projects being offered by Ealing Council last year. Now renamed the Ealing Together Fund, the council offered a pot of money to local people looking to make a positive impact in the community.
From getting started, to a long-term future
After successfully receiving money from the council and crowdfunding the rest with the help of the same scheme and donations from organisations and residents, the new academy got to work.
It linked up with four local high schools to identify 16 children, aged 14-16, to be given bursaries for a year. It meant they would be given a set of golf clubs, equipment and professional coaching for that period. They were all pupils who might otherwise have never picked up a club.
So successful was the first year's intake that 11 went on to join the Brent Valley Golf Club as juniors and two have obtained their official golfing 'handicaps'.
In fact, the academy proved so successful that it was able to run for a second expanded year, with additional funds from the council, and is now preparing for a long-term future – and relationships with more local schools.
Richard said: "The two streams of funding from Ealing Council allowed us to set up our golf academy last year and expand it this year to a point where it will be self-sustaining in future years.
"Last year was a great success with many of our children going on to play golf regularly. And we received great feedback from everyone about the sessions – the children got to know a sport they wouldn't normally play and made many friends on the course.
"And, thanks to the success of the first year, we registered the academy as a charity."
Overcoming barriers to the sport
The sport offers a sociable, outdoor experience, with fresh air, company and exercise – which Richard points out is all good for both physical and mental health.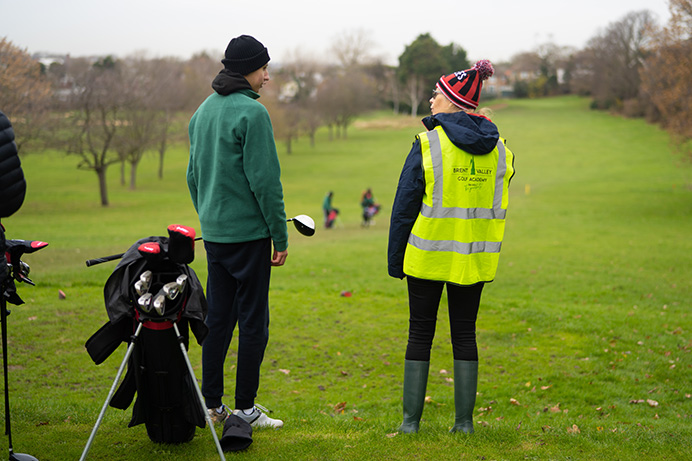 He said: "There are two main barriers that often prevent youngsters from trying out golf: The cost of the equipment and course fees; and an ignorance about the sport because most golfers are introduced to the sport by friends or family who already play, and there is also a stereotype out there that golf is a sport only for white middle-aged men.
"The academy programme overcomes the first of these barriers by giving them a set of clubs for the year, shoes to keep, unlimited balls and everything else they need to play the sport, and by giving them free unlimited access to play on the course.
"Most of them come from backgrounds with no connections to golf. And, as a group, our first year's intake represented nine different cultural heritages.
"Brent Valley is different to a lot of other golf clubs, because it's public, not private. This means that we can keep our subs low and we're very much a community golf club. It is very inclusive and has members from a wide range of demographics and communities, so we provide a welcoming and friendly environment."
Interested in joining the academy?
The academy is now looking to get young people in for its third year.
Richard said: "To find out more about signing up next year and getting free coaching and equipment, email brentvalleygolfacademy@gmail.com or visit the Brent Valley Golf Club Facebook page."