If you are heading out to the high street this festive season, make sure you take time to visit the Walking Gallery in Acton.
Comprised of artwork from six local artists, the Walking Gallery pieces are on display in the windows of vacant shop units around Acton Town centre.
Delivered by Your Acton BID in partnership with Ealing's High Street Task Force (HSTF), the Walking Gallery is part of the Love Ealing, Love Local campaign which celebrates the local businesses in Ealing's high streets and town centres.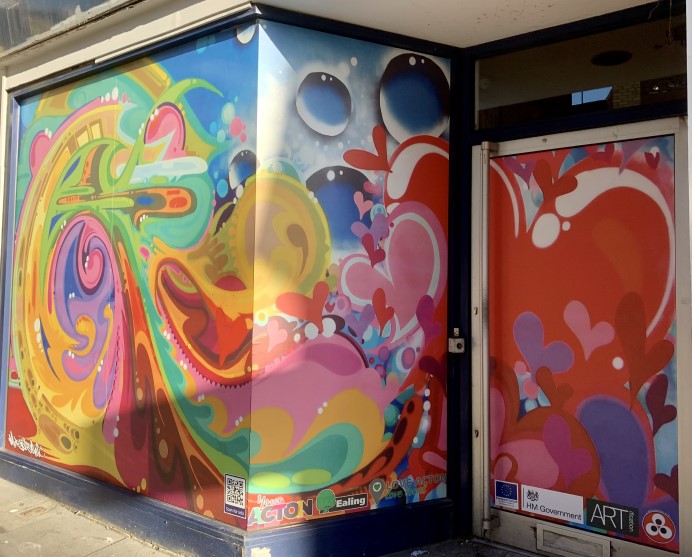 Local community groups and businesses Artification, Acton Unframed and JG Contemporary helped to select the local artists who created the artworks for the Walking Gallery, which can be found at the following locations:
320 Uxbridge Road, W3 9PQ
6 Market Place, W3 6QS
98 Churchfield Road, W3 6DH
131 High Street, W3 6LY
152 High Street, W3 6QZ
1-3 High Street, W3 6NG
For more information on each of the artworks and the artist visit Your Acton's website.
Need ideas to help plan your day out and support local businesses? Look no further than Your Acton BID's Digital Christmas Guide.
Welcome back funding
The Walking Gallery has been created thanks to funding that Ealing's High Streets Task Force has received from the Reopening High Streets Safely Fund and the Welcome Back Fund from the England European Regional Development Fund, as part of the European Structural and Investment Funds Growth Programme 2014-2020.
The Ministry of Housing, Communities and Local Government and the Greater London Authority is the Managing Authority for European Regional Development Fund.
Established by the European Union, the European Regional Development Fund helps local areas stimulate their economic development by investing in projects which will support innovation, businesses, create jobs and local community regenerations.