Four local community groups, including some that played a key role in providing support during the COVID-19 pandemic, have been recognised with a coveted national, royal award for volunteering services to the community.
The Queen's Award for Voluntary Service – regarded as the equivalent of an MBE for a group or organisation – was awarded to The Charity of William Hobbayne, Southall Community Alliance, Spice Village Uplyft and Youth Engagement Programme Ealing.
The awards were established for the late monarch's golden jubilee in 2002 to recognise outstanding work by volunteer groups to benefit their local communities.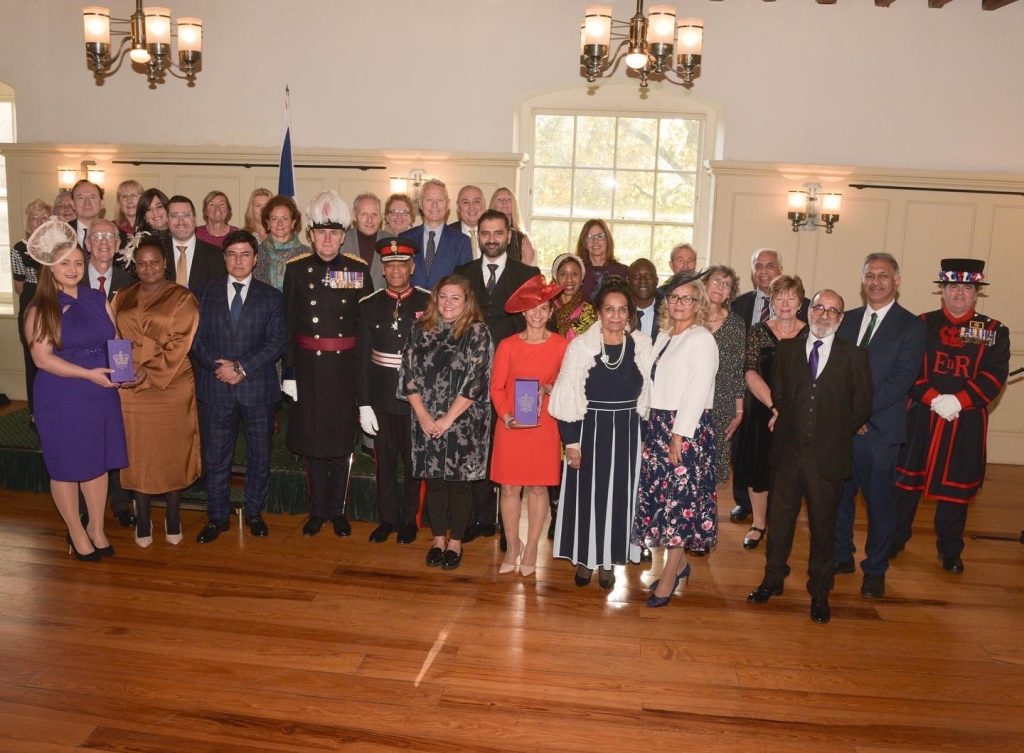 All four groups discovered they had won the awards earlier this year, but they became 'official' on Friday (18 November) when representatives went to the Tower of London for a ceremony, along with 13 other organisations from elsewhere in London.
Each was presented with an award crystal and certificate from the Lord-Lieutenant of Greater London Sir Kenneth Olisa OBE, the Queen's regional representative. In addition, two volunteers from each group are expected to attend a garden party at Buckingham Palace in May 2023, along with other recipients of this year's awards.
The Charity of William Hobbayne
The Hanwell charity has worked with volunteers since its inception more than 500 years ago in 1484 and, more recently, its volunteers worked closely with the Ealing Together team at the council supporting the community through a food hub at the community centre and using referrals from Ealing Council for food deliveries to residents and schools. Volunteers also made weekly calls to the most vulnerable, collected prescriptions and medication. The charity's volunteers were key to the local success of the Ealing Together project throughout the pandemic.
It has been quietly making a difference supporting those in need, hardship or distress for hundreds of years. Volunteers contribute to the charity's work in many areas including activities and groups at the community centre, maintaining green spaces and providing outreach services supporting residents, schools and organisations.
Deirdre Higgins, trustee of The Charity of William Hobbayne, said: "We were delighted that our committed volunteers received the Queens Award for Voluntary Service. We see first-hand the difference their volunteering makes, helping those in need who are experiencing hardship and distress. They really are the lifeblood of the charity and we are so pleased all their hard work has been recognised."
Southall Community Alliance
Southall Community Alliance's (SCA) manager Janpal Basran and its chair Harsev Bains went to the Tower of London to collect the award.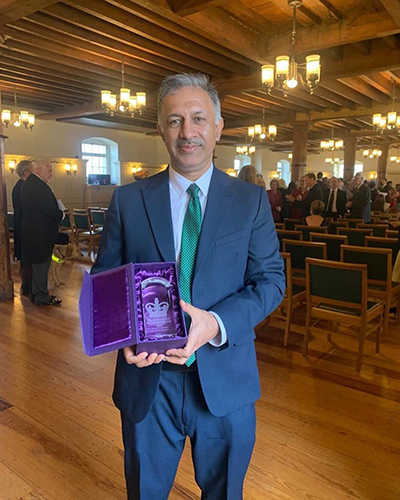 Mr Bains said: "This recognition of Southall Community Alliance is a reflection of all the collective efforts of community voluntary sector organisations, faith groups and businesses with a social conscience.
"The Queen's Award for Voluntary Service, the equivalent of an MBE, is the pinnacle of achievement for SCA and all those who selflessly served the Southall communities since 1981.
"To receive the award from Sir Kenneth Olisa OBE, on behalf of the unsung heroines and heroes of Southall, was humbling and exhilarating. It felt euphoric that finally our collective hard work as volunteers, trustees and staff was being acknowledged. The value we have all added to the quality of life of people in Southall has been noticed.
"We congratulate our fellow recipients and thank all those who nominated Southall Community Alliance, your support means the world to us."
The SCA was established as a registered charity in 2000 and is based at Southall Town Hall. It operates a community resource centre that provides meeting rooms, free hot desks and office support and it also acts as a voice for Southall, arranging regular community forum and partnership meetings. The charity has acted as an incubator for significant numbers of new ideas and projects in Southall over the last 20 years.
In 2020 it jointly established the successful Southall Food Hub during the early days of the pandemic, linking into the wider Ealing Together efforts to help the community in need.
Many of its day-to-day services are delivered in partnership with other groups at a range of Southall venues – providing training, befriending, luncheon clubs, exercise activities for inactive residents, volunteering and in tackling the 'digital divide'.
Spice Village UpLfyt
Spice Village UpLyft is completely volunteer-led. Initially, it was set up in 2008 to provide career guidance and opportunities for young people and, since then, it has assisted hundreds.
In 2015, in response to a growing need for food support in the community, the group began to offer more support to food programmes and foodbanks. It now provides a much-needed channel to reach vulnerable people in the community and, since 2015, it has helped provide 12,000 free meals on Christmas Day for disadvantaged, homeless and vulnerable people. It also supported NHS staff and keyworkers during the pandemic, with 100,000 free meals provided.
The organisation's vision is to form an inclusive society with equal opportunities, through food donations and by providing training and on-the-job placements and opportunities such as job fairs, recruitment festivals and interviews.
Youth Engagement Programme
Supported by Heathrow Community Fund and Ealing Council, the Youth Engagement Programme (YEP) was established in 2016.
Based in Hanwell, YEP works with young people, especially those who are vulnerable, to build their confidence and life skills so they can become independent and widen their opportunities.
As well as helping those aged 16 and above transition into adult life, YEP also works with teenagers from 13 upwards to help them socialise and discover new ideas and opportunities. This includes holiday schemes and day trips.
YEP aims to awaken a community spirit in all of the young people it supports, to help create social change and a better society for all.
About the Queen's Award for Voluntary Service
The Queen's Award for Voluntary Service by Groups in the Community was established in 2002 in celebration of Her Majesty's Golden Jubilee. Each year, its purpose is to recognise groups of individuals who are giving their time freely for the benefit of others. It is the highest honour that can be bestowed upon groups of this kind and is equivalent in status to the MBE. As such, the Queen's Award not only serves to provide recognition of volunteer groups, but also demonstrates the high respect in which volunteering is held. The Award is overseen by the Civil Society Honours and Awards team at the Cabinet Office.
Animation video above is from QAVS.