Ealing Council is reminding residents that, as in previous years, there will be changes to recycling and rubbish collections over the Christmas and new year period.
These changes are because of the bank holidays taking place over the festive period. Local people and businesses are encouraged to check their revised schedule to ensure that their bins are collected as part of the regular service.
Visit the council's website to search your address and download a calendar for your amended schedule, or check the simplified table on the council's website or see below.
If you live on a red route or live in flats and have access to communal bins, your collection days will not change over the festive period.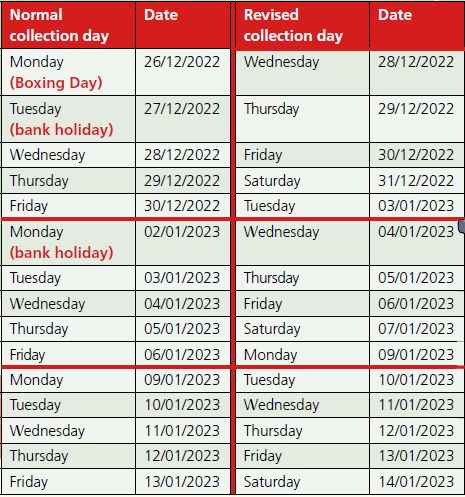 Rubbish and recycling should be left at the front boundary of the property, not on the pavement, by 7am on the collection day. Refuse and recycling collections will change from Christmas Day and return to normal service Monday, 16 January 2023.
You can also recycle your Christmas tree in a quick, easy and environmentally friendly way, by leaving it out as part of your kerbside rubbish and recycling collections, or by dropping it off at a local park or reuse and recycle centre.
Until 29 January 2023, you can leave your tree on the front edge of your property, to have it taken away for recycling. Trees will be collected on the same day as your refuse collection (black bin) each alternate week.

Tree trunks must not exceed 20cm in diameter or be more than six feet tall (taller trees can be cut in two) and please ensure all decorations are removed. The service is in place for real trees only, not synthetic ones.

Full information on recycling and rubbish collections is available via the council's website.