A local doctor, inspired by a recent story about a fellow GP who had suffered domestic abuse, has been working to raise awareness of how we can all try to help.
Dr Vasu Siva, of Hillview Surgery in Perivale, is primary care clinical lead for adult mental health in the borough. As part of her role, she is currently working on an initiative to help domestic abuse become one of the borough's key care concerns for 2023/24.
If you, or someone you know, might be experiencing domestic abuse, help is available.
Jump to a list of where you can find more information.
Cruel and often hidden
Dr Siva said: "Such true stories like the recent one involving a fellow GP emphasise the importance of raising public awareness and breaking the code of silence in our society whilst increasing the visibility of support services.
"Recently, for the first time ever, a coroner in the UK declared domestic abuse as having a causal role in death by suicide, stressing the impact it has on the state of mental health.
"It is cruel, complex and often hidden from view. It can happen to anyone, and anybody can be an abuser, leaving physical and emotional scars lasting a lifetime and causing untold harm."
'About having power'
"Domestic abuse is about having power and control over another person and usually starts with unhealthy controlling behaviours," said Dr Siva. "Every situation is unique.
"As a GP, I have had conversations about domestic abuse with my patients and acquaintances during my working life.
"Notably, some victims do not realise they are experiencing abuse to begin with. And, many fail to seek help because of a myriad of barriers including stigma, shame, fear of reprisal, fear of loneliness, financial implications, staying for the children, believing the abuser will change and perceptions that support may not be available or adequate.
"The abuse we see is only the tip of the iceberg. Everyone has a social responsibility to end domestic abuse. Together we can create a society that no longer tolerates abuse."
According to the Crime Survey for England and Wales, around 1 in 5 adults aged 16 years and over had experienced domestic abuse at some time. And, even though it affects all walks of life, there are some groups in our society who are at higher risk of abuse than others, namely women, young people, pregnant or new mothers, people with chronic illness, disability or isolated for cultural or language reasons, or previous experience of abuse.
Being vigilant for signs
Dr Siva said it is important to be aware of possible signs of abuse in friends, family or work colleagues.
She said: "Domestic abuse affects everyone differently, but it impacts everyone physically and psychologically. Many people try to cover up the abuse for a variety of reasons, and learning the warning signs of abuse can help you help them.
"It is common for victims to cover up physical signs of abuse with clothing, such as wearing long sleeves or scarves in summer or wearing heavier than normal make-up.
"In the case of emotional abuse, you may notice behavioural changes in people you care such as being overly apologetic, and fearful, signs of anxiety or agitation, low self-esteem, changes in eating habits or sleeping, substance abuse, loss of interest in once enjoyed activities or talking about suicide.
"Children who witness abuse may show emotional symptoms such as aggression, anxiety, depression and withdrawal. They may report physical symptoms such as bed-wetting, stomach ache; or may display anti-social behaviour, animal cruelty, self-harm, and abuse of drugs or alcohol.
"The workplace can be a lifeline for survivors of abuse because it offers an opportunity to seek help. Employers have a duty of care to their employees and a legal responsibility to provide a safe and effective work environment."
How can you help?
"Helping someone who is the victim of abuse is a delicate matter," said Vasu. "For many victims, the world can be lonely and filled with fear. If you are worried that someone is being abused, here are some steps that you can take to support and encourage them to receive help.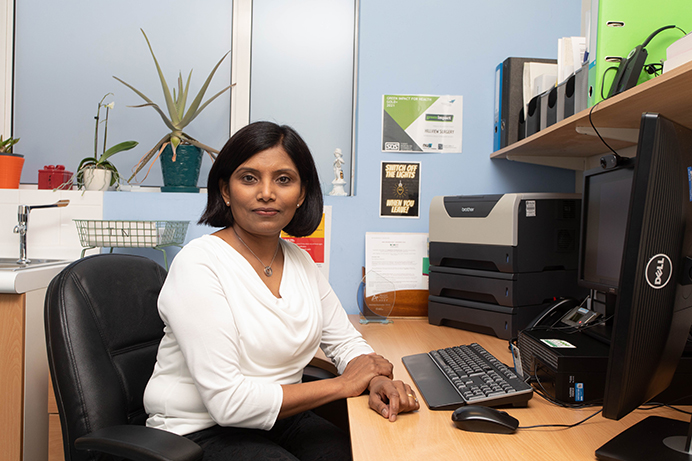 "Reach out and let them know that you have noticed something is wrong and that you are there for them. Be mindful that they may not be ready to talk. Be patient and be there when they are ready to talk.
"Once they confide in you, offer a sympathetic ear, make time to actively listen, acknowledge and be non-judgemental. Offer assurances (e.g. 'this is not your fault', 'I believe you') and validate their feelings, especially when they have conflicting thoughts.
"Take care not to blame them. Reiterate that abusive behaviour is not OK and is not part of healthy relationships, and one should not live in fear of being abused. Raise your concerns about their safety and they are not alone and that help is available. Allow them to make their own decisions and don't tell them to leave the relationship or home.
"You can also provide information about support and resources (e.g. Safe Spaces, helplines, social services) that can offer help to stay safe and get the support they need. If the individual has suffered physical harm, advise them to seek medical help or even offer to go with them to the GP or hospital. You could even offer moral support to report the assault to the police should they wish.
"The police take domestic abuse seriously. Should there be any situation in which you felt abuse is actively occurring, you should contact the police. In an emergency, always call 999 and ask for the police."
Finding help
More reading
Dr Siva's surgery has been leading the way for turning local GP practices 'green'.