A local doctor is trying to help more people connect the dots between health and climate action – and her GP practice in Perivale is winning awards and inspiring others.
Ealing Council has declared Dr Vasu Siva as one of its local 'climate leaders' for the work she has been leading on.
She is a partner at Hillview Surgery in Perivale, where staff have been showing other local surgeries how to become much 'greener' in the way they go about things; and also helping to explain to patients how 'sustainable' healthy living can help to minimise their carbon footprint, and why that is a good thing for everyone.
It has led to two awards: In 2021, Hillview was the first GP surgery in London to achieve the Gold Plus Certificate by enrolling the Green Impact for Health Toolkit created by the Royal College of General Practitioners (RCGP) and run by the National Union of Students; and then, in 2022, it was awarded the Inaugural PROactive Practice Award, accredited by the RCGP .
"I am now determined to get all the Ealing GP practices on board to work towards improving their carbon footprint," said Vasu. "There is a lot more we can do in Ealing to make it a cleaner, healthier and safer place to live in."
She is also encouraging patients to do their bit as well – as you will read in the story below. And she has put together a top 10 tips of things we can all try to do at home.
Getting started
It all began during the early part of the COVID-19 pandemic when Vasu, who was already very environmentally conscious at home, began to question why the same things were not being done at work. It led to her becoming a member of the national Greener Practice network.
She said: "I was already very conscious about recycling. I did it at home but not really at work. I read an article on how one could make your practice greener and thought 'that sounds interesting'. It made me think, and the more I read about what you could do, the more I wanted to do something in my practice. It made me realise that being conscious of the climate crisis is a part of what we already do – it's primary care, with prevention and health promotion.
"I first tested the water with nurses at the practice and then the receptionists. They were all very positive, so I had a full staff meeting to discuss it and everyone was 'in'.
"Then it became a matter of 'where do we start?'. I felt a bit overwhelmed with everything I read and I thought 'if I'm feeling like that, how will the staff feel?'. But then I saw the RCGP's Green Impact for Health toolkit, which broke it down to actions and potential starting points."
Step by step
"So, we decided to start with active travel," continued Vasu, "which is already part of the NHS long term plan for national health any way. It is a part of self-care and wellbeing.
"We worked out ways to incorporate active travel and physical activity into our working day in a practical way. That ranged from a cycle-to-work scheme to help those who might like to use a bike rather than a car; to encouraging other staff to walk in, especially many of our staff live nearby. It also included encouragement to wear comfy shoes so they can be active and feel OK to move around freely, rather than wearing high heels, for example. And we allowed 10minutes paid active break to get staff to get exercise and fresh air, which is good for mental wellbeing as well as physical health. And the overall message was to improve our carbon footprint.
"One by one, I went through the actions in the toolkit. It included simple energy saving activities like not filling the kettle with water when you only want one cup of tea, only running the dishwasher when it is full, turning off light switches, printing only when absolutely necessary, photocopying double-sided. That kind of thing. We also reminded staff about dual flushes on the toilets and put posters up around the practice to raise awareness about it all, too.
"At the end of the day, most of these things are what a lot of us do at home anyway, so it is not asking people to do anything difficult.
"We started small, and then built up. We started to have a green agenda at every staff meeting and set ourselves a target to make it fun and motivational."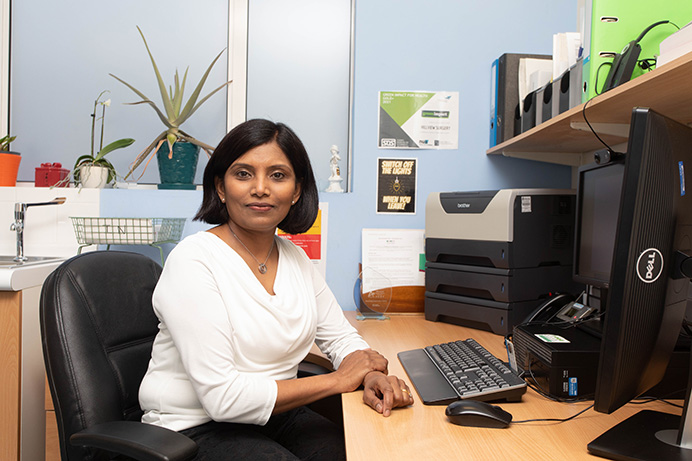 Making progress
Things started to take off, as Vasu explained: "The toolkit has a green impact for health scoring system which gives you a point for each activity you achieve. There are various awards you can get – bronze, silver, gold and then gold plus – and we were the first GP practice in London to achieve a gold plus certificate, which was very exciting and a boost for our team. And then we got the PROactive practice award as well. We were very proud.
"I started writing articles and hoping others would pick up what we were doing too. And then I applied for the Primary Care Clinical Lead for Green Agenda for the borough to give me more opportunity to communicate with other GPs and their team in the borough, including through a weekly newsletter. I like to give simple, bitesize practical tips that I hope they might try to do – and a couple of practices have since been in touch to say what they have achieved, which gives the chance to celebrate each other's successes and to learn from each other. By sharing what other practices are doing, hopefully the message will spread further."
'Addressing climate change isn't an additional job'
"I also feel there is a lot more that we can do with our patient population," added Vasu.
"When we talk about health care, we need to talk about it through a sustainable lens. Addressing climate change isn't an additional job, it is an everyday part of primary care – it is part of the same thing. It is about making small cultural or behavioural changes in people's everyday lives that are good for their health, and for others'.
"For example, if someone has asthma, we discuss how we can help to prevent it being exacerbated. We increase awareness of things such as air pollution inside the car being worse than if you walked on the pavement alongside. So, by walking to school with your child you would help to prevent their asthma symptoms as well as causing less pollution yourself – but you are also increasing both of your physical activity levels, increasing the amount of meaningful time you spend with your child, helping to improve their concentration for school and it is just generally better for your all-round health. At the same time, we explain how you can recycle and return your asthma inhalers. So, just in that one little example, we have active travel, less air pollution and also reuse or recycling."
Help your health – and the planet's
"In primary care, we see many people, so we have a lot of opportunity to talk about this kind of awareness," continued Vasu. "We don't ever want to scare people, but we do need to talk about these things and most of our patients love these chats. It is all about small positive changes you can make to your everyday life – nothing scary.
"It can have a ripple effect because patients talk about it to their friends and family, too.
"By doing these things and making little changes to our behaviour, you do not just help yourself but also your friends, family and society in general, not to mention the planet. And once people know they can do something, and how they can do it, and you explain why it makes a difference, they are usually happy to do it."
Feel inspired? Try Vasu's top 10 tips
As we mentioned earlier, Vasu has put together a top 10 tips of things we can all try to do at home.
Got a business? Try Greener Horizons
Do you run a business in the borough? Ealing Council has started Greener Horizons, a programme for up to 200 small and medium sized enterprises in the borough, to help you get on board with the climate agenda.
The programme will provide free access to a carbon reduction toolkit to help you understand your business's current environmental performance and create an action plan, alongside bespoke professional advice to help you see your changes through.
Why sign up?
Measure and track your organisations carbon emissions across scope 1, 2 and 3
Access a tailored carbon reduction dashboard
Receive a personalised company report outlining your emissions and reduction strategy
Learn top tips from climate scientists and other micro businesses.
Benefits of Greener Horizons could include:
Improving your reputation
Growing your customer base
Safeguarding your business against rising energy costs.
Criteria for Greener Horizons:
Under £100,000 turnover
Up to 10 employees
Based in borough of Ealing.
For more information and to sign up for one of the limited spaces, visit Ealing – Climate Essentials Access – Climax Community.