Four community hubs have been set up across the borough by Ealing Council – offering advice, internet access and a family-friendly place to relax.
If you do not have access to the internet at home or need additional help in accessing support, you are welcome to drop into your nearest community hub, where the council has trained advisors who are there to assist you. They are in Acton, Northolt, Southall and Ealing – see below for details.
You will be able to find advice on financial support, benefits and council tax, as well as being able to recommend local community organisations who may be able to offer you other help, depending on your circumstances.
Councillor Bassam Mahfouz, the council's cabinet member for decent living incomes, said: "At a community hub, you can find out what support you are entitled to, get advice and be shown how to use the web to find information or make applications.
"You can also find out how to sign up for the council's My Account service online to make it easier for you to manage your transactions with the council.
"We want to do everything we can to support our residents through this cost-of-living crisis and making sure there is easy access to council services is just one way we can help."
The council's website has been updated with useful information and advice around how to access support for the cost of living. Whether at home, or at one of the community hubs, you can see more there.
For further advice, you can also call 020 8825 7170.
A place you can relax
Each of the community hubs is based in a library and, like all of our borough's libraries, there is plenty for you to do there – sit and read a newspaper or magazine, browse the internet, little ones can enjoy the children's corners with books (and often story sessions) and there is often lots more besides. Northolt even has a sensory garden, and Southall has a rare collection of Martinware pottery to view.
It is easy to sign up for a library membership, too. So, while you are there, why not ask a member of staff about joining for free and being able to borrow books, audio books, DVDs, use digital services and more?
Where are the hubs?
Visit the community hub closest to your home:
Acton Library, Everyone Active, Acton Centre, W3 6NE
Ealing Central Library, Ealing Broadway Shopping centre, W5 5JY
Northolt Library, Church Road, UB5 5AS
Southall Library, The Dominion Centre, UB2 4BQ.
All the community hubs are open Monday–Friday, 10am-5pm (closed 1-2pm for lunch) – except for Northolt, which is only open as a hub on Tuesdays and Thursdays.
Ealing Central Library is the busiest hub and you may find you have to wait in a queue. The community hubs based in Acton, Southall and Northolt offer the same level of service and are usually much quieter.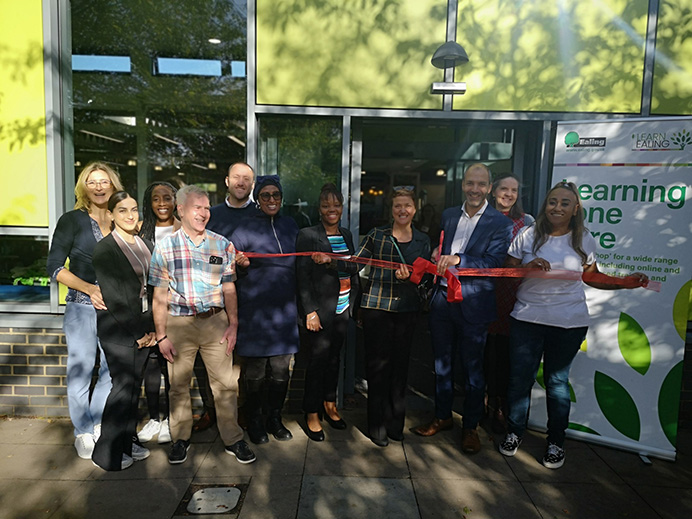 Training and learning
A new 'Learning Zone' has been set up at Northolt Library, offering training and learning opportunities – including staff from Work Ealing offering career support every Thursday. Similar zones are due to be set up at another five libraries located across the borough from the new year.
Councillor Mahfouz was at the opening of the Learning Zone earlier this month, which included a Maths Fun Fair. He said: "As part of our Plan for Good Jobs, we know how important it is for residents to have a good understanding of maths as a key skill to get a well-paid job. Our Maths Fun Fair and new Learning Zone at Northolt are fantastic ways of helping residents make the progress they want in a friendly and easy way."