"It's such a joy to be able to spend Christmas together this year," said a worker at a local mental health service which has been providing a lifeline and fun for its users throughout the pandemic and keeping the Christmas spirit burning bright.
Facing loneliness and preserving your mental health are challenges faced by many, and it has been made particularly hard in the coronavirus-hit times we have all been living through.
The Solace Centre, part of the Equinoxcare charity, helps to combat loneliness and isolation through social inclusion – connecting people with mental ill-health. It has become a vibrant and popular community of its own, funded by Ealing Council and working in partnership with West London NHS Trust.
For 26 years, it has run an out-of-hours service that is available year-round for more than 100 members. It has previously been described to us as a safety net by those who use it.
Staff staying in touch with the members has been vitally important during the pandemic, through all the social distancing, lockdowns and other complications.
At the most challenging times, staff were giving each user twice-weekly calls, providing advice and referrals for help, as well as a chance for a chat. The centre also produced a regular newsletter to share important information and to help members interact.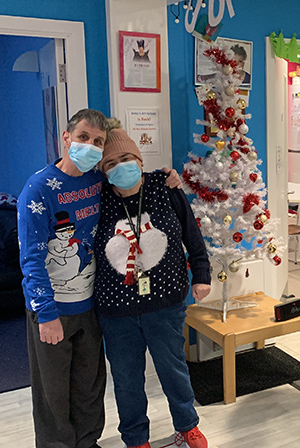 This Christmas…
Natalie Mower, a Solace recovery worker, inspired members to create 12 pieces of art to decorate the centre's windows, themed around the song 12 Days of Christmas. The creations were then also used to create a Christmas card.
Meanwhile, members got together at the centre with Christmas jumpers, chat and a festive sing-a-long.
So, out came the Christmassy outfits, laughter and some freshly prepared homemade muffins before the group sing-along of the 12 Days of Christmas.
Natalie said: "It's such a joy to be able to spend Christmas together this year. I wanted to celebrate this by getting as many members as possible involved in an activity to bring empowerment, creativity, individuality and, most of all, to brighten up the centre and bring Christmas cheer.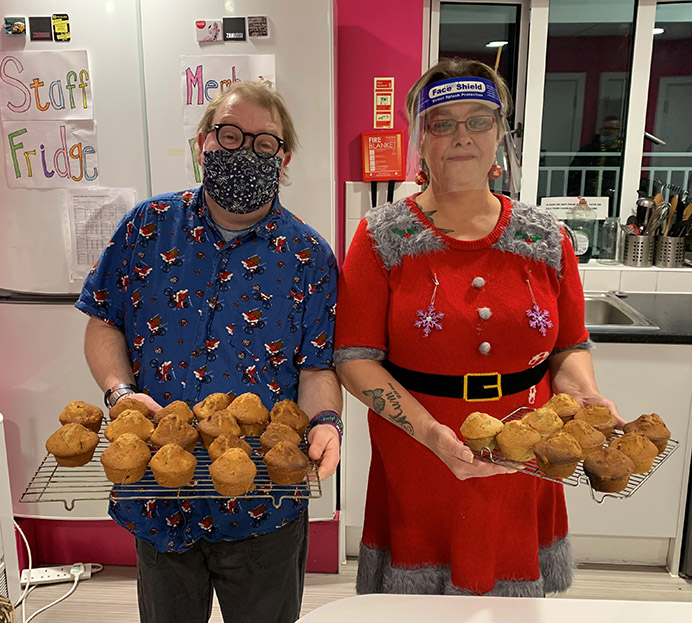 "It was spread over the week because of COVID's capacity limits and 20 of our members got stuck in, either in small teams or on their own, and their enthusiasm shone through. The centre is now glowing with the Christmas spirit, we have our very own Christmas card and have had plenty of sing-a-longs. It's a real pleasure working in this environment in the run-up to Christmas."
'It lifted me out of the slump that I had been in'
The activities proved a hit with members. Dympna Bolger designed two of the pieces of art and said: "I'd forgotten just how much I enjoy being creative. I was really pleased with my partridge idea and my six geese.
"I was fully absorbed with my creating and sewing. It lifted me out of the slump that I had been in and reminded me that I can do things. I was so happy with everybody's reaction at Solace; it really boosted my self-confidence."
Another member, Jill Kelly, said: "I am so proud of myself for coming up with the idea for the Monopoly 'lords are leaping'. Usually, I'm too anxious to begin a project but I surprised myself. I am over the moon and feel really good that I contributed to making the centre look so festive."
Staying in touch and Christmas Day
Catherine Bingham, a senior recovery worker for Solace, spoke to us last year about the challenges they had all faced at the centre because of coronavirus and the lockdowns placing restrictions on face-to-face member contact. She said: "Preparing and supporting one another to keep safe was our priority, ensuring members had enough medication, food supplies, friends and emergency service numbers which might be needed, as well as setting up twice weekly individual support calls from our Solace staff team."
For the 21st year in a row, the Solace team, led by manager Mirna Scholey, will be helping to keep the festive spirit alive by preparing and hand-delivering Christmas Day meals to those members who would otherwise go without. Their efforts are being supported by the West Ealing branch of Waitrose.
'A shining light'
Councillor Josh Blacker, Ealing Council's cabinet member for healthy lives, said: "It's lovely to see everyone enjoying themselves and being so creative. The staff at Solace provide such an important service to the community. It is not just somewhere to go, but a home from home and a vital social connection for its users. Isolation and loneliness are terrible things, and incredibly harmful to mental health. Solace is always there for its users and is a shining light for them – not just at Christmas but throughout the year."
Supporting Solace
Many members at Solace have various barriers to using technology and the internet in a way that most of us take for granted every day. If you would like to help Solace buy tablet devices and IT training, anyone who shops in Co-Op and has (or signs up for) a membership card can vote for Solace as a beneficiary of the supermarket's Co-Op Local Community Fund. The centre would use the money for equipment and training to help break down those barriers. You you can also donate directly to the Solace Centre by getting in touch with Catherine on 020 8567 6189 (after 3pm).