Buskers, let your music be heard by hundreds of new ears in the heart of Ealing town centre during a Summer Live season.
It's a collaboration between Ealing Broadway Shopping Centre and the popular local music festival, The Hanwell Hootie, which has long been supported by Ealing Council since it began in 2012. This year, the Hootie took a break after last year's 10-year anniversary extravaganza, but its team is as active as ever in the community.
The Hootie has linked-up with the shopping centre before to hold live music events and, this summer, it is holding Sunday sessions open to local musicians keen to showcase their talent by busking in a public arena and get heard. It starts on Sunday, 29 July and continues until Sunday, 3 September.
There will be a full PA set up for musicians to play through, a stage to play on, and a team from the Hootie and centre to support you. To get involved, you just need to contact the Hootie team (see below).
'Sessions are open to everyone'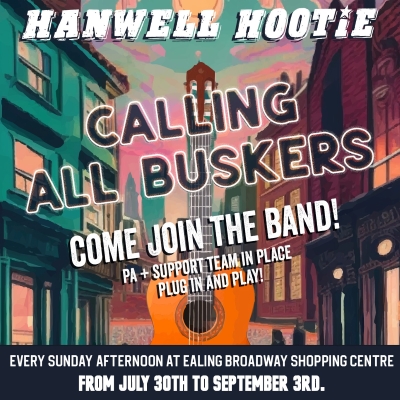 June Martin, of The Hanwell Hootie Music Festival CIC, said: "We are again collaborating with Ealing Broadway Shopping Centre to give artists an opportunity to perform in its town square. There will be an interesting mix of young and emerging talent, established performances and community groups entertaining the crowd from 29 July until 3 September.
"Each Sunday, buskers will have an opportunity to perform and the sessions are open to everyone. We encourage and support those who are in the early stages of their career or would just like the opportunity to showcase their talent."
Want to get involved?
Simply send an email with the subject 'Ealing Busking' to ealing@hanwellhootie.co.uk
Cultural manifesto
Earlier this year, the council announced its cultural manifesto to help support the arts, music and more. And we have been running a series putting the spotlight on some of the local creative talent in our borough – visit our leisure and culture section for more.