Bike riding is becoming bigger in Southall thanks to an award-winning project using cycling to help more people get active. And their new love for pedal power is also helping the environment.
The Let's Ride Southall project won the award for Best Sustainable Travel Initiative – Community at the Modeshift National Sustainable Travel Awards ceremony in Leicester.
Let's Ride Southall is part of the Let's Go Southall scheme run by Ealing Council and community groups, and funded by Sport England and the council.
It has brought together a range of cycling activities and made them easily accessible in the town: From free riding lessons to four new cycle hubs being set up in Southall.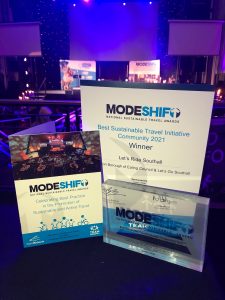 And 2,500 new bikes were going to be given away to residents committed to health improvement through the project.
Physical inactivity levels in Southall (43%) are significantly higher than the average nationally (25%) and in the borough (24%). By encouraging the option of cycling as an alternative mode of transport to driving, Let's Ride Southall has enabled people to become active as part of their everyday lives, with many pledging to make it a long term lifestyle change.
'A huge success'
Councillor Deirdre Costigan, the council's cabinet member for climate action, said: "The Let's Ride Southall project has been a huge success and this award is well-deserved recognition of that fact.
"The way it has promoted cycling within the community, and made it so accessible, has seen local people take ownership of the project and really get stuck in. The community is now becoming the solution and pioneering long term change to more sustainable, healthy travel.
"They have seen the benefits first-hand and, longer term, it can help to improve the wider health of the community – both in terms of exercise and in terms of better air quality by reducing the number of short car journeys in the area."
Getting on your bike
The team behind Let's Ride Southall, including volunteers, went into local groups to speak to residents and encourage them to take up, or rediscover, cycling.
With the help of Cycle Instructor and British Cycling, the team also held a wide range of cycling activities – including riding challenges for residents, daily rides led by instructors and rides especially for women, who are often least confident about cycling on our roads.
Dr Bike mechanics started a project to refurbish abandoned bikes collected by the council to sell on to the community at affordable prices. Dr Bike has also been running cycle maintenance sessions to repair and service residents' bikes – and made some bikes available for people to try out, too.
'Long term health benefits'
One of the members of the Modeshift judging panel Steve Glazebrook, account manager at Joju Solar, said: "It is a very good example of providing active travel opportunities for the community covering a wide audience. The project allows the community to participate and engage in a number of cycling initiatives and will provide long term health benefits to the community."
Mark Cook, Sport England's local pilots and priority places manager, said: "As part of our local delivery pilot programme, we are pleased to be supporting Let's Go Southall to develop the Let's Ride Southall approach with residents and partners to reduce inequalities and build sustainable community participation in all forms of cycling."