Ealing Council continues to rapidly expand its School Streets programme to ensure that children across every part of the borough have opportunities to travel to and from school in a safe, fun and active way.
More than 8,000 pupils at 17 schools are benefitting from the schemes currently in place. In fact, the council is investing half a million pounds to deliver at least four new School Streets every six months, taking the total to 50 by 2026.
They work by temporarily closing roads to traffic around a school at its opening and closing times. This ensures a safer and more pleasant place for children to walk, cycle and scoot, and give parents the perfect opportunity to ditch the car for the school-run.
As well as cleaner air at the school gates, there is overwhelming evidence that active forms of travel have a hugely positive effect on pupils, both for physical and mental wellbeing, as well as on learning in the classroom.
Last week, Councillor Deirdre Costigan, cabinet member for climate action visited Vicars Green Primary School in Perivale, to meet pupils and teachers.
She got a first-hand look at how its new School Street is helping to create a safer and more pleasant place for pupils to travel to class.
Watch the full video of Councillor Costigan's visit.
Councillor Costigan said: "School Streets are a great way to make our children healthier, happier, and to help improve their wellbeing and learning. A large part of the aim of these schemes is to help cut air pollution, both around the school gates and across the borough as a whole. That is why we are supporting people to get out of their cars and to walk, cycle and scoot wherever possible.
"For children at local schools like Vicars Green, safety is also really important, and this scheme is giving children a bit of space with cars and traffic as they travel to school, hopefully giving them added confidence to walk, cycle or scoot.
"As part of this programme, we have also identified some parking spaces within a ten-minute walk to the school that are being used for what we are calling 'park and stride'. It gives parents the opportunity to park up and then make that final ten-minute walk to school which is boosting active travel really helping make the School Street here a real success."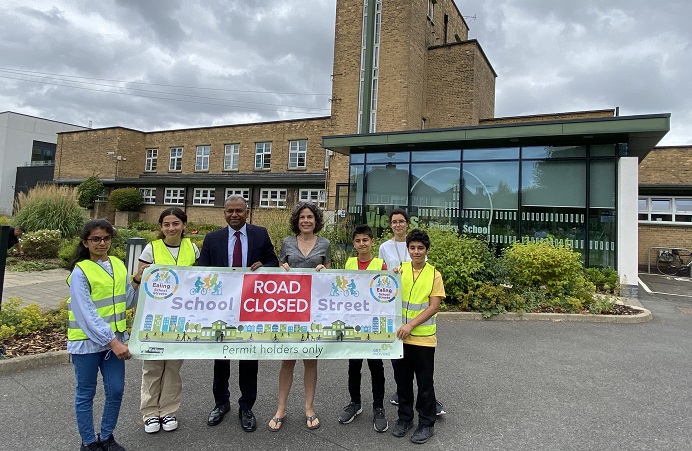 Expanding the number of School Streets is a vital part of the council's commitment to fight the climate crisis, cut air pollution and support active forms of travel for residents of all ages.
Councillor Costigan continued: "We have got 17 School Streets in place in Ealing already, there are plans to introduce many more until we have at least 50 in place across the borough.
"This is part of a £10 million investment in active travel – all to help fight climate crisis and at the same time have a positive impact on the health of local people.
"We have been able to work with schools and local people to make amendments to these schemes where needed, so they work for everyone.
"I'm delighted to say that here at Vicars Green everyone is really happy with their new School Street. We want to expand the programme hugely and ensure we have many more success stories like this one at Vicars Green – and that is exactly what we are going to deliver on."