Improvements to North Acton streets and spaces have taken a step forward as the second round of consultation gets underway.
Your views can shape how the streets and open spaces in the area can become more enjoyable, better connected, accessible and welcoming.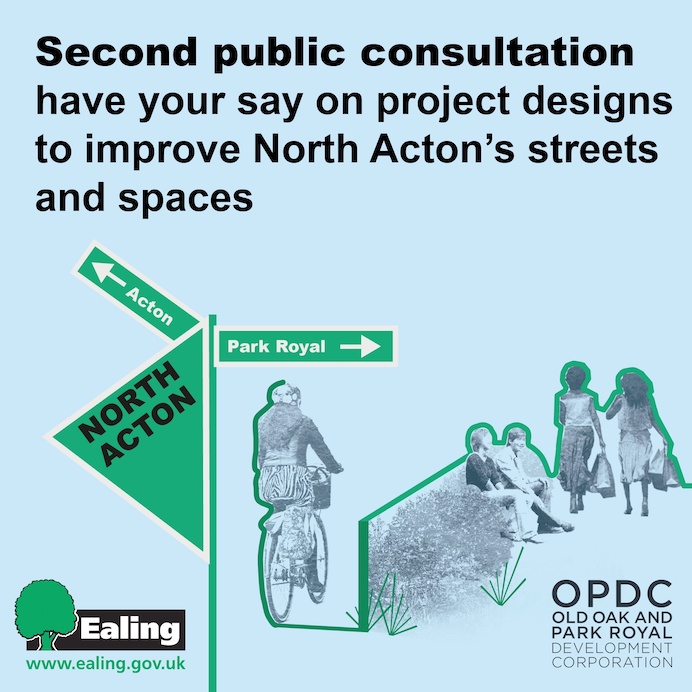 From Monday 23 May, Ealing Council and Old Oak and Park Royal Development Corporation (OPDC) have launched the next phase of its consultation to contribute to developing designs for a number of public realm improvements in the area, such as more planting, trees, seating areas and improved lighting. 
The council and OPDC have secured £3.7 million from local developers to make these changes, with the aim of making North Acton more appealing for residents and to encourage more visitors to the area.
The plan is to deliver five initial projects in the next few years and provide a list of longer-term projects to improve the street environment to be tackled over time.
OPDC and Ealing Could held an initial consultation in April to understand local people's ideas for the type of improvements they wanted to see. Before any projects can be put forward however, your views are wanted to help shape these designs.
From now until Sunday 12 June, there will be a number of ways you can share your suggestions:
Join our online Zoom consultation event on Thursday 26 May from 6pm to 7pm. You can register for that here.
Visit our drop-in event in North Acton Station Square on Saturday 11 June between 10am and 1pm.
Email the team at info@opdc.london.gov.uk.
Call 020 7983 5732.
Write to North Acton Streets and Spaces, OPDC, Brent Civic Centre, Engineers Way, Wembley Park, Wembley, HA9 0FJ.
Pop into Deliish Café opposite Tesco to fill in a feedback form and leave it in a secure box.
Councillor Shital Manro, Ealing Council's cabinet member for good growth said: "This is a really important and exciting time for North Acton and we encourage as many people as possible to get involved and have their say. There are various ways to take part in the conversation from online activities to in-person events.
"We've secured almost £4 million from local developers to make these improvements and it will be great to receive ideas from local people as they'll know the area better than most and we'll be able to develop the designs for these projects based on their suggestions."
David Lunts, chief executive of OPDC said: "We're pleased to be working with Ealing and look forward to bringing forward these exciting improvements for everyone to enjoy. Our plans will make North Acton a much more lively, accessible and welcoming place, complementing the area as it's regenerated and creating more opportunities for local people.
"First, we need your help to shape the proposals, so that they best serve local needs, so we're inviting everyone take part and have their say." 
To find out more visit the OPDC consultation website.