A ground-breaking Ealing Council project to relocate, reconfigure and refurbish modular housing for homeless families has been recognised with a high-profile industry award. 
Chris Payne House in Hanwell won the Housing award at the AJ Retrofit Awards 2022, with judges praising the council's "ground-breaking" approach.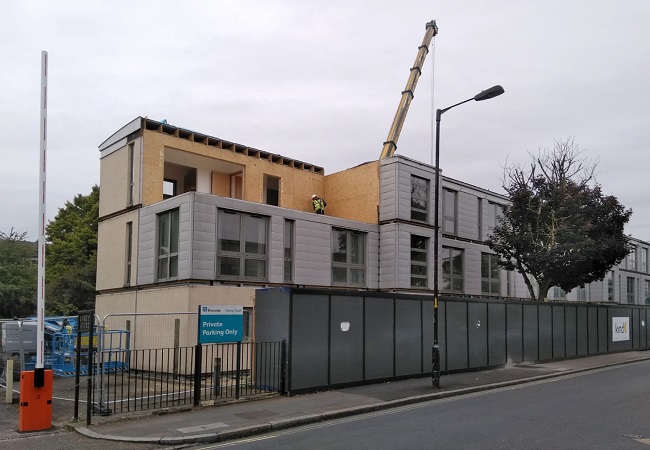 High-quality temporary accommodation
The building is a set of apartments, purpose built as modular housing, which was moved from Southwark to Hanwell in 2019 and now provides high-quality temporary accommodation for 16 local homeless households. The project was one of the first demounting and remountings of a modular residential building to ever take place in the UK.
The original building, completed in 2005, was owned by a housing association in Southwark. When the housing association decided to redevelop the land the building sat on, the council bought the building for just £110,000. The homes were designed to enable the option of substantially changing them and/or moving to a new site if required – which enabled the council to save a reusable resource from demolition.   
"A great achievement"
The layout has now been modified to create two much-needed four-bedroom family apartments, as well as fourteen one or two-beds. Chris Payne House underwent a comprehensive refurbishment programme before being let to its new tenants.
"They could just have easily taken the building down," said the award judges, who praised the cost efficiency and the huge carbon savings in materials. 'They've avoided so much waste. It's a great achievement – a lot of projects talk about this sort of thing and rarely do it. It demonstrates how flexible and adaptable modular housing can be."
The project could not have been completed without the help of a series of expert contractors. AHR was the architect throughout the lifecycle of this project. McGregor White Architects acted as contract administrator on behalf of Ealing Council. Kind & Company was the principal contractor managing and delivering the contract to relocate and refurbish the buildings from start to finish.
The building is named in tribute to the former Ealing councillor who died suddenly in 2014. Chris was a councillor from 1994 to 2006, representing the Perivale and Elthorne wards.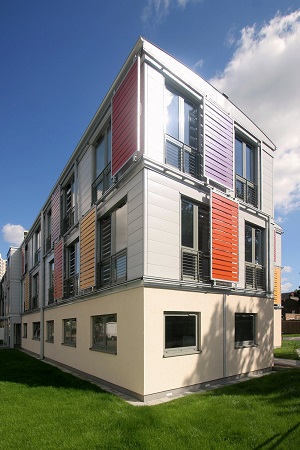 "Praised by industry experts"
Councillor Lauren Wall is Ealing Council's lead member for genuinely affordable homes. She said: "We're delighted that this innovative project to move and refurbish Chris Payne House has won this award and has been praised so highly by industry experts. Reusing a perfectly good building that would otherwise have been scrapped means we're getting excellent value on our investment.
"Buying, moving, reassembling and renovating the existing building was around £1.5million cheaper than it would cost to build the same number of flats from scratch. Rental income means that the project will pay for itself in just over eight years, and for decades to come it will offer homeless families who have no other options a safe, comfortable roof over their heads."
"Addressing the climate emergency"
Councillor Deirdre Costigan is the council's deputy leader and lead member for climate change. She added: "Tackling the climate emergency is one of our top priorities, and with projects like this we've put our money where our mouth is. About 95% of the material in the original building was re-used in the relocated scheme. By reusing an existing structure, we saved the substantial amount of energy and materials that would have otherwise been required to build from scratch. And with solar panels installed as part of the project, we're generating clean electricity at the site too."