Borough archivist Dr Jonathan Oates looks back at the best-known visits to our borough by Her Majesty, Queen Elizabeth II.
The first known occasion on which the Queen visited was in fact when she was Princess Elizabeth, coming here with her younger sister Margaret Rose, on 26 June 1946, aged 20 (see picture above). This was an informal visit to Ealing Studios. The sisters were met by Michael Balcon, the studio's head of production. They signed the visitors' book and then toured the studios. They saw the set of the film Nicholas Nickleby and then saw the actor Jack Warner in a fight scene in Hue and Cry. They then saw the make-up and hair styling department. Finally, there was tea in the studio canteen. There was no prior announcement of the visit, but rumours spread and so the children at local schools lined the route near the film studios.
Better known was the official visit on Thursday, 8 March 1985. This was when the Queen officially opened the Ealing Broadway Shopping Centre. Despite the overcast skies, there were about 3,000 people there, including children from some local schools and a number of disabled residents. The Queen wore an orange coat and hat and unveiled the plaque to officially declare the centre open. She also unveiled the statue of the horse that still stands.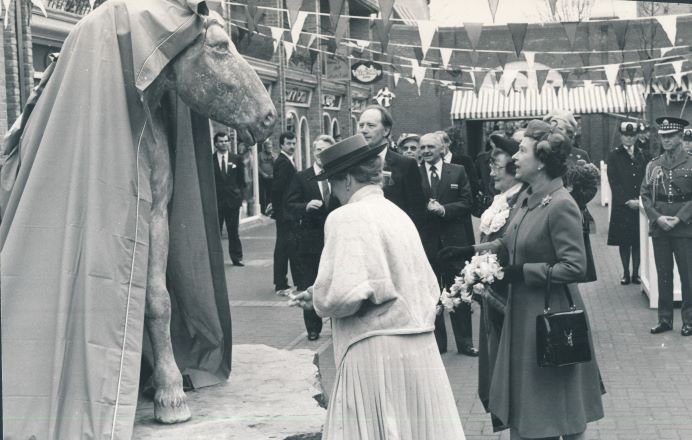 'It was my joy to show her around'
She was met by the mayor at the time, Councillor Mary Heywood, whose granddaughter presented the Queen with a bouquet. On a walkabout, a resident in one of the new flats in the centre told the Queen that her new home was good but rather small and Her Majesty replied: "That is sometimes an advantage."
A paralympic athlete there was asked by the Queen about the adequacy of the facilities at the new centre for the disabled and was told that they were excellent. The Queen also had a look at a new book shop. There was also a meeting for the Queen with various officials and councillors.
The mayor, who had shown her around, said: "She was a completely charming person – take away the royalty and she remains a charming lady…It was my joy to show her around and she asked some very pertinent questions. She was very interested in everything and obviously approved of the centre."
Want to know more?
You can watch a video of Dr Oates giving a talk on the Queen's 1985 visit, that was made in June.
Were you there?
If you were there in 1985 and have memories of the Queen's visit you would be willing to share with us, or even a photo you are happy to scan and send by email, please do get in touch and we might publish them. If so, email press@ealing.gov.uk and use the subject line Memories of the Queen's visit.