The council has released a report that provides information on how COVID-19 has impacted the lives of local residents.
The reports aim is to highlight how the world has changed for Ealing residents and to seek to address underlying causes of inequality that the pandemic has highlighted.
The annual public health report (2020 – 21) includes findings and conversations over a 14 month period, with experiences from Ealing residents, community, faith and voluntary groups, local businesses, and health and care delivery partners. It illustrates some of the ways the pandemic affected people in Ealing during 2020-21. Building on the local community networks and ties that grew during the pandemic, this report aims to help guide future ways of working with partners across Ealing.
Councillor Josh Blacker, cabinet member for healthy lives said: "The COVID-19 pandemic has had a significant impact on people's lives, on our families, our communities, our wellbeing, and on our ways of life. As well as, our local economy and how we live our daily lives.
"The pandemic has highlighted that as a borough we are very resilient and residents will come together to support one another when in a crisis. I am really proud of that and welcome the findings in this report."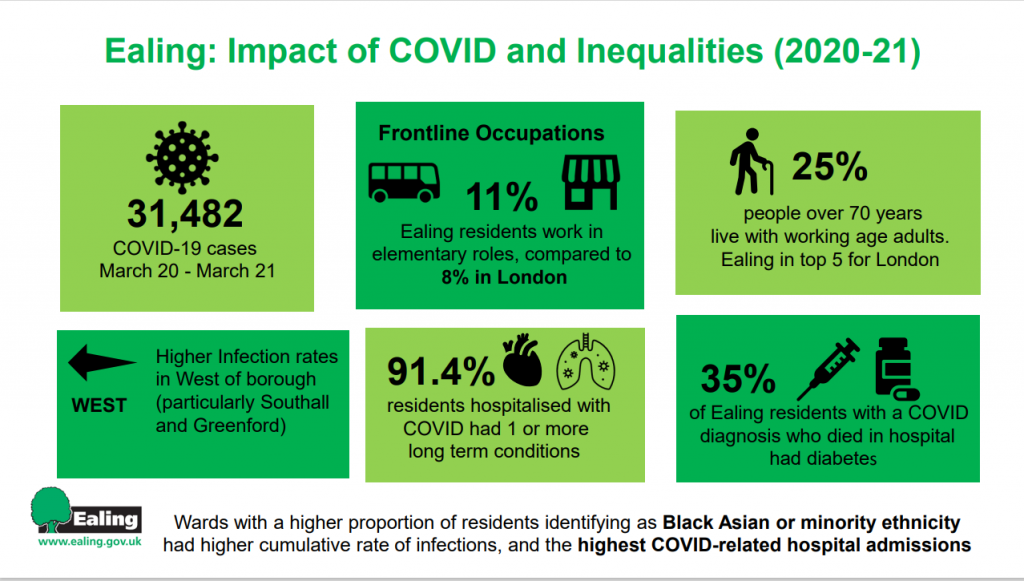 Councillor Aysha Raza, cabinet member for tackling inequality said: "The last two years have made inequality really clear, shining a light on how different communities are disproportionately affected by things. We know that the impacts of COVID-19 were felt hardest by those that live in poorer communities, BAME groups, and those on lower incomes.
"We welcome this report, as it seeks to find, short, medium, and long-term strategies to try and address inequality. I would like to thank all of the residents and groups who took part in giving feedback for the report.
Read the annual public health report in full.
Public health guidance
Please remember:
Hands – wash your hands regularly
Face – wear a face covering
Space – keep a distance between yourself and othes
Fresh air – ensure good ventilation when indoors with other people
Keep up to date on the latest data on COVID-19 in Ealing.
Information on changes to testing can be found on the Around Ealing website.
Keep up to date with national guidance by reading the Government's most up to date COVID-19 advice.