Ealing Council, together with Sport England, is making cycling accessible to Southall residents, promoting an active and healthy lifestyle while also making the air cleaner.
From speaking with and listening to Southall residents, we know that they face too many barriers to cycling. Those barriers include not having a sturdy or good quality bike, the confidence to cycle on the roads, or even someone to cycle with.
The leader of Ealing Council, Councillor Peter Mason and Councillor Jasbir Anand, cabinet member for thriving communities, visited Villiers High School in Southall during the school's active travel week on 11 May to give away 10 new bikes to children and talk to them about the benefits of active travel.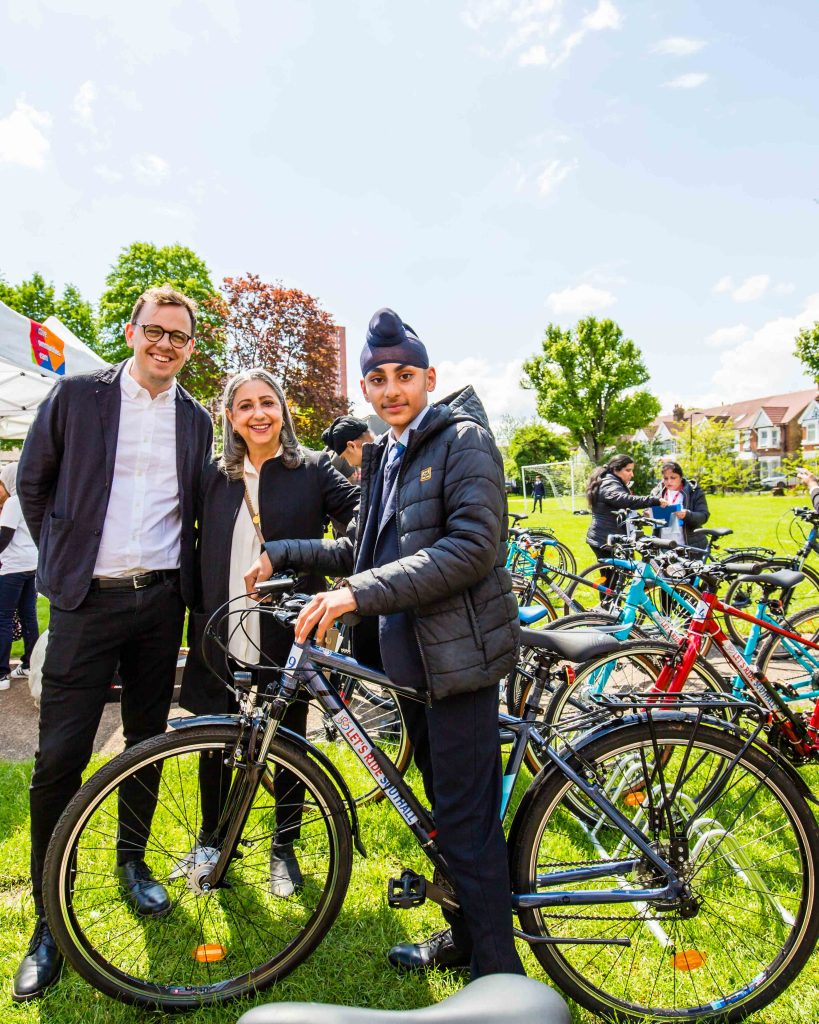 Councillor Peter Mason said: "Let's Ride Southall is a unique programme which gives people the confidence to cycle regularly. In fact, it's the first of its kind in London. Ealing is leading the way in active travel."
Councillor Jasbir Anand added: "It was great to see the smiles on children's faces when they received their new bikes. Working with our schools and young people to encourage them to get active and improve their health and wellbeing is so important to us."
The council has already given 281 free bikes to children and adults in Southall and is planning to give away over 700 more. That's a total of 1,000 free bikes in the next year. Residents receive not only a new bike, but also training, daily cycle rides for people of all ages and abilities and a community of friends to cycle with.
Working with residents to cultivate healthier habits
Let's Ride Southall wouldn't be a local movement without the community at its heart. The programme is supported by a team of fully trained cycling ride leads and mechanics who are all Southall residents. Who knows, before you know it you might also become a cycling ride lead or mechanic.
London's largest community cycle centre also lies in the heart of Southall, next to Gurdwara Sri Guru Singh Sabha. There you can borrow a bike for free and join the free daily cycle rides. For more information a timetable is available on Let's Go Southall website. Please book in advance by emailing activity@accteams.uk. The council is planning on creating up to four new local cycling hubs in Southall.
Saving bikes and the environment
Reducing the number of cars on Ealing roads in favour of bikes can help in cutting the harmful emissions that contribute towards the climate crisis and dirty air. Cycling is not only key in helping to fight the climate crisis, but also in improving the quality of the air that all of us breathe.
Some of the free bikes are brand new while others are adapted or recycled and refurbished by the West London Waste Authority.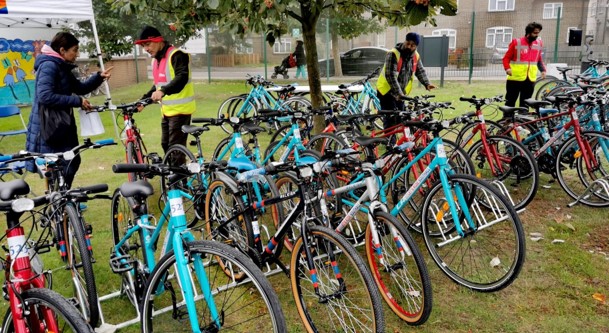 Get your bike repaired for free
Dr Bike is the council's much-loved free service where mechanics carry out minor repairs on the spot and give advice on how to look after your bike to keep you riding all year round. Dr Bike sessions take place every month across the borough. See upcoming Dr Bike sessions on the council's website. Most Dr Bike sessions are drop-in with no need to book. However, due to popular demand if you want to have a reserved slot for the Southall Manor House and Southall Square sessions, please email Let's Go Southall at activity@accteams.uk.
Join in the Let's Ride Southall movement and cycle with confidence in Southall.
Related read