A derelict piece of land that was once a thriving allotment site is being brought back to life and being
transformed into an urban space for local people to get involved in growing and sharing fresh food.
Southall Community Alliance (SCA), a registered charity, is leading on this transformative urban garden project in Western Road, along with the help and support of other local groups and organisations. This includes Ealing Council, Southall Transition, Ealing Allotments Partnership, Feeding Ealing
and LAGER Can.
The charity has great aspirations for bringing the site, owned by the council, back into the heart of the community. A vast amount of dumped waste and fly-tips have been removed from the site and volunteers, including the council's park rangers, have been working hard to prepare the ground
and source materials. But there is still plenty of work to be done.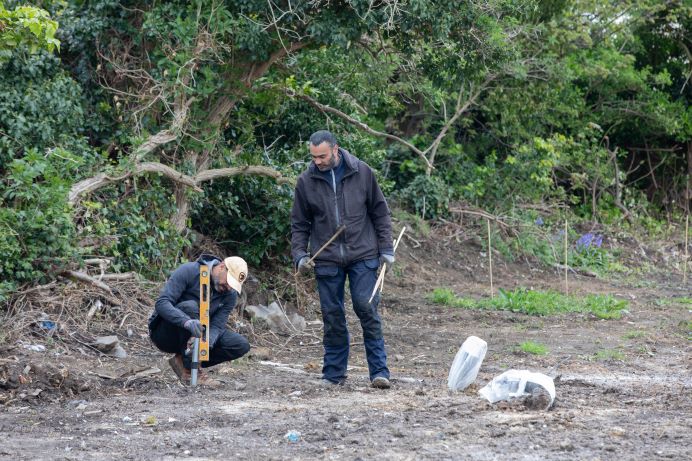 Community member of the urban garden ground force team Janpal Basran, director of SCA, said: "We want to turn this site into a place that will be enjoyed and used by local residents for decades to come. What we need are volunteers to help us do this, to get involved, grow produce and help us to alleviate food poverty."
The vision is to create an environmental hub that will help educate people about improving their environment, learn about food growing and gain the skills to look after a large green space.
Councillor Polly Knewstub, Ealing Council's cabinet member for thriving communities, said: "This piece of land has been out of use for far too long. I am pleased that we, in partnership with the Southall Community Alliance, are taking steps to bring it back into community use. I strongly encourage local residents to come along and volunteer their time, enthusiasm and expertise to help make this a great
space for everyone to enjoy."
Councillor Deirdre Cositgan, the council's cabinet member for climate action added: "We know that more and more people are getting stuck into growing their own fruit and veg, and we are really pleased to be providing more community growing spaces across Ealing – just as we said we would in our manifesto. It's not only fun and a chance to meet new people, growing food locally is also a way that we can help tackle the climate crisis."
Lend a hand
If you would like to get involved there is a regular volunteer drop-in session every Wednesday from 11am-2pm. And if you have a particular skill, such as carpentry or joinery that you could offer the project, your help would be gratefully received. Email Janpal at manager@southallcommunityalliance.com or call him on 07958 499222