School pupils have been learning about children with special needs, with the help of two local mums who have published a book about a baby with superpowers. Oh, and his furry, faithful but fearful dog.
And you have the chance of winning a copy.
Author Kavita Sedov lives in Ealing and has three sons, the youngest of whom – Joshan – was born prematurely and suffered severe brain stem damage. When the family were finally able to take him home, he needed the support of oxygen for two years.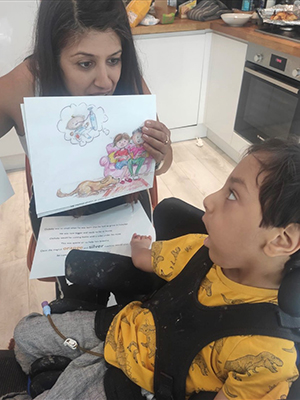 "Joshan is four now and, although he is still non-verbal and unable to sit up, he is cognitively excellent," said Kavita. "There is a lot of misunderstanding and not much awareness of children and babies in situations like his.
"And, for many parents like me bringing home a baby on oxygen can be daunting. The questions and stares, which no doubt I too would have done in their position, are hard. So, to write a story full of positivity despite a medical challenge for the baby has been an honour."
'Why not create a hero with superpowers?'
The book came about one afternoon when Kavita's friend Nutun Huq Ahmed had come over to chat (they are pictured above at Northwick Park Hospital Radio, where Nutun has a show). Nutun is an illustrator.
"A coffee and baking afternoon between two friends can lead to many wonderful things," remarked Kavita. "In our case, a discussion unfolded about babies on oxygen and why not show this off in a positive way? Why not create a hero – a superhero baby on oxygen – Oxibaby."
The result was a magical tale of superpowers with Oxibaby and his pet Molly the dog, and friend Oxim – a cute silver and orange machine that helps to check that Oxibaby is breathing well (an oximeter).
"As a special needs parent, I don't have the power to make life fair, but I have the power to make it joyful," said Kavita.
'All children are children, irrespective of their needs'
Taking the message to local schools has involved giving a reading of the book to reception and Year 1 children, followed by questions. A recent visit is captured in the photos here. And a visit to North Ealing Primary is arranged for the new year. Kavita and Nutun are available to do workshops at other local schools, too.
"There are so many nice questions," said Kavita. "We talk to the children about oxygen and the story explains how Oxibaby was born very early so needed time to grow in hospital. He has come home on oxygen. This will help him grow and become stronger. In the story, Oxibaby has superpowers and can fly. Molly the doggy is scared of many things, so she is grateful to have such a brave baby brother return home from hospital.
"We felt that there was a gap in the market for children to learn about children with different needs. We wanted to make the book inclusive for all children aged three-five years old and not just for the special needs world. After all, all children are children, irrespective of their needs.
"It makes our experience more familiar to mainstream schools and children out there and, hopefully, the book also helps other parents.
"Following Joshan's premature birth, at just 25 weeks, my eyes were truly opened to another world. He is my greatest teacher. Full of bravery and strength. He inspired me not just to write books but, since his birth, I have also been writing and sharing my poetry. And I'm looking forward to writing more Oxibaby adventures."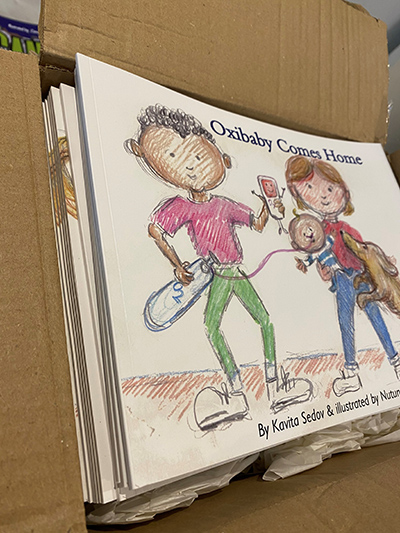 'I've enjoyed bringing characters to life'
Illustrator Nutun has lived in Ealing her whole life and has two well-known sisters: Local Labour MP Rupa Huq and Konnie Huq, ex-Blue Peter presenter and now author. Nutun's sons both attended schools in Ealing and she used to be an architect, before giving it up to look after elderly parents.
She said: "My first love has always been art, painting and drawing. I would have done that if I hadn't been pushed into doing something more academic. I am now pursuing that and I've enjoyed collaborating with Kavita on this project and bringing the characters to life."
Does your school want a visit?
The author and illustrator are visiting local schools with Oxibaby's storytelling superpowers and you can contact them via the Oxibaby webpages for more information.
Buy the book
Oxibaby is on sale at the following bookshops:
The Pitshanger Bookshop, 141 Pitshanger Lane, W5 1RH / 020 8991 8131
Mooch Ealing, 90 Northfield Ave, W13 9RT / 020 8932 1745
Mooch Fulham, 666 Fulham Road, SW6 5RX / 020 7736 2288.
A percentage of proceeds from the book will be donated to the Small Steps charity.
Win a copy of the book
With Kavita, we are offering readers the opportunity to win a copy of the Oxibaby book, so you too can benefit from his superpowers.
To be in with a chance of winning it, you need to live in the London borough of Ealing – and must enter the competition below by email:
Firstly, see how many words you can come up with, using the letters contained within the word oximeter
Secondly, once you have come up with as many words as you can, send your entry by email to aroundealing@ealing.gov.uk by the closing deadline of 23.59pm on Monday, 10 January 2022 – and make sure you include your postal address in your email in case you prove to be the winner
The entry with the most words (which all must be words able to be found in the Oxford English Dictionary) received by the closing deadline will win the book. In the event more than one entry has the same top-scoring number of words, the winner will be drawn out at random from those top-scoring entries
Only the winner will be contacted, and the book will then be posted out as soon as possible. You must have put your postal address in your emailed competition entry (and that address must be within the boundaries of the London borough of Ealing) to be considered. No monetary alternative will be offered in place of the prize.
Good luck.