Ever wondered if you can recycle a Pringles® tube or your toothbrush? Well, you now have the chance to recycle everyday items that typically leave you scratching your head and are often hard to dispose of in a 'green' way.
In a six-month trial, Ealing Council has teamed up with TerraCycle, a leading organisation dedicated to boosting recycling rates. The trial scheme has provided facilities to recycle a wide range of items not currently suitable for your blue bin.
Residents are being encouraged to take everything from biscuit wrappers and Pringles® tubes, to plastic toothbrushes and coffee bags to Greenford Recycling Centre, in Greenford Road, where they can be taken away and recycled at a specialist facility.
These types of items are not usually included in council kerbside recycling collections across the
UK because they are comprised of complex materials that make the recycling process far more difficult.
But, in this trial, TerraCyle will collect and recycle the waste by shredding and cleaning it before turning it into plastic pellets which can then be used by manufacturers to create new plastic products, reducing the demand for new products and materials.
How does it work?
1. Collect product packaging at home
2. Request free recycling labels using a quick and easy online form.
3. Stick your label to any plastic bag of your choice (preferably a clear one, but any will do)
4. Book a time slot for your visit to Greenford re-use and recycling centre
5. Drop off the full plastic bag at Greenford re-use and recycling Centre.
'Making it easier for residents to recycle'
Councillor Deirdre Costigan, Ealing Council's cabinet member for climate action said: "Ealing is one of the top performing boroughs in London for recycling household waste. But we want to achieve even more so we are making it easier for residents to recycle.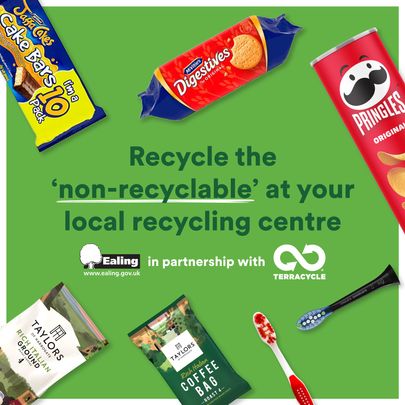 "This ground-breaking trial, in partnership with TerraCycle, will give local people the opportunity to recycle items that cannot be disposed of in blue bins, like tooth brushes, coffee pouches, Pringles® tubes and snack wrappers. Working together we can reduce the amount of household waste ending up as landfill and help drive up rates of recycling across the borough.

"TerraCycle is also based in Ealing which helps us deliver on our commitment to good jobs in the green economy for our residents.

"We will continue to focus relentlessly on implementing our ambitious climate action strategy as we deliver on our commitment to re-grow, recycle and re-wild in our borough."
The trial begins today (23 May 2022) and will run until 30 November 2022. Visit the council's website for full details.