Neighbours in a street in Ealing held a party to celebrate the way everyone had come together to help each other through the pandemic – while raising money for charity.
The 'Lockdown Lift-Off Neighbourhood Street Event and Fundraiser' took place in Ainsdale Road in the Hanger Hill ward. Ealing Council had given permission for the road to be closed to traffic, which enabled the residents to arrange for all sorts of activities. People living in the surrounding streets were also invited to come along, along with local ward councillors.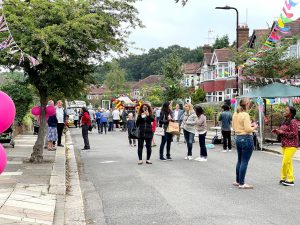 Rupa Huq MP opened the party and also helped judge a bake-off competition. There was live music, an entertainer, a fire engine, local police PCSOs, bingo, face painting, a piñata and plenty of food and drink. An auction and raffle were also held.
'It brought together the whole community'
Stephen Balogh, one of the residents in the street party's organising group, said: "We were able to put on a good programme of varied activities and live music that created a great atmosphere for the whole age range. Children loved the freedom to run around and play in the closed section of road in between the organised events, and the grown-ups enjoyed the catering, drinks and the chance to meet and chat in a way that hasn't been possible for so long. Most importantly, it brought together the whole community in the area, allowing people to reconnect after a long period of time under various lock-down conditions."
After event costs were covered, the residents managed to raise an impressive £2,400, which was then given to three charities: A local one, Meadow House Hospice at Ealing Hospital; a national one, The Captain Tom Foundation; and an international one, the World Health Organisation's COVAX.
It went so well that the organisers are considering doing it again next year – and recommend that other residents should give it a go. You can find out more about organising a street party on the council's website.
But what gave them the idea?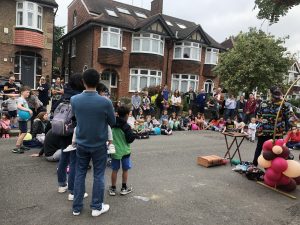 Stephen explained: "At the start of the pandemic, the Hanger Hill East area came together, led by local Neighbourhood Watch lead, Andy Oliver. Similarly to many other neighbourhoods, he and other volunteers wanted to ensure that each road had people able and willing to help out in any way possible, practically and in terms of moral support.
"The informal network that was assembled, and the many acts of generosity shown where there was need, was one of the two influences on a small group of us, made up of Seema Banerjee, Claude Simpson, Arthi Anand, Jackie Toogood and myself, coming together to organise our neighbourhood celebration. The second influence was the highly successful 2012 Jubilee street event held in the area, which people were still talking about years later."
'A tangible sense of community building'
Seema Banerjee added: "The feedback at and after the event has been hugely positive, whether giving the chance to meet and talk to neighbours or to enjoy the activities and there is already talk of similar event for next year's Jubilee, all being well. There has been a tangible sense of community building that reinforces the solidarity shown throughout the pandemic. This particular neighbourhood, like Ealing as a whole, has a wonderfully diverse mix of people. By creating something from nothing, our little organising group can take satisfaction in the increase in positive spirit and goodwill across the entire neighbourhood and there is no reason why it couldn't be replicated anywhere in the borough and beyond."