Ealing Council and local groups have been awarded prestigious Green Flags for 24 parks and open spaces, further enhancing the borough's reputation as one of the greenest and most beautiful in the capital.
Keep Britain Tidy's Green Flag awards recognise and reward the best parks and green spaces across the country. A Green Flag flying is a sign that that a park keeps the highest standards, is beautifully maintained and has excellent facilities.
Councillor Peter Mason, leader of the council said: "24 Green Flags flying over our parks and beautiful green spaces is a new record.
"Our parks are at the heart of communities throughout the borough. They provide so many benefits, not just for people, but for wildlife and biodiversity too. They are also there for residents of all ages and backgrounds to use to stay active and healthy or just to enjoy and relax in.
"It is clear that quality green spaces contribute to our health and wellbeing in a significant way – which is exactly why we are committing to opening ten new parks in the coming years.
"This will mean everybody in the borough has the opportunity to visit an amazing green space in their local area, as well as ensuring we do what we can to fight climate change."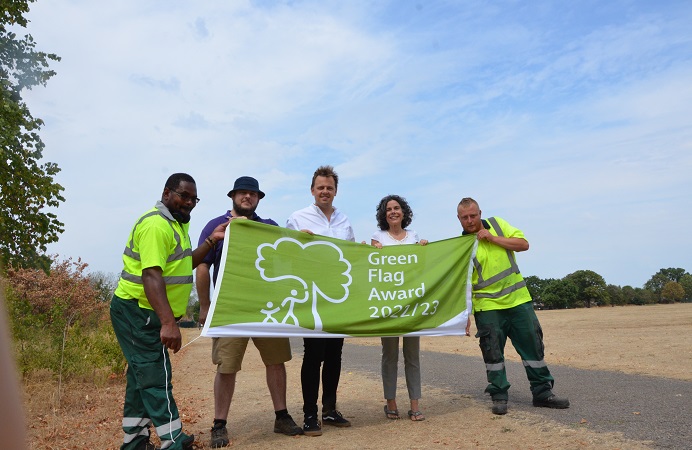 Councillor Deirdre Costigan, cabinet member for climate action said: "You only get a Green Flag if your parks are well managed and have great facilities and that's what we've got – not just here in Perivale Park, but across the length and breadth of the borough.
Everyone will have noticed that we are going through a period of really dry weather and you can see that affected our parks – it is a really good reminder of why fighting the climate crisis is so important to us.
"We want local people to come and enjoy our parks this summer, but please make sure you help us keep them safe and clean.
"We do not allow disposable barbecues at any time due to the serious fire risk and anyone planning a visit must take all rubbish and packaging home – and never leave it on the ground or piled up in and arounds bins in public areas.
"I'd like to thank vast majority of our residents do their bit to keep our parks and green spaces clean, tidy."
The borough's 2022 Green Flag Award parks are:
• Acton Green Common
• Acton Park
• Blondin Park
• Bollo Brook Park
• Bramley Road Open Space
• Brent Lodge Park & Churchfields
• Heathfield Gardens
• Islip Manor Park
• King George's Playing Fields (Poor's Piece)
• Lammas Park
• Montpelier Park
• North Acton Playing Fields
• Northala Fields
• Perivale Park
• Pitshanger Park
• Ravenor Park
• Southall Manor House Grounds
• Southall Park
• Southfield Recreation Ground
• Spikesbridge Park
• Three Bridges Park
• Walpole Park
The borough's 2022 Community Green Flag Awards are:
• Katherine Buchan Meadow in Hanwell
• Litten Nature Reserve in Greenford
The Green Flag Awards are run by the environmental charity Keep Britain Tidy. They are judged by more than 700 green space experts who assess using eight strict criteria including horticultural standards, cleanliness, sustainability and community involvement.