The borough's programme to tackle climate crisis is taking shape and last week, two elements of its ambitious strategy achieved national recognition.
Ealing Council was praised for its leadership in the 2022 Every Mouthful Counts report for how it is supporting and creating more sustainable ways for growing, selling and delivering food across the borough.
The report calls on local government across the country to do more to tackle climate change through food and sustainable growing, including allotments and community gardens in urban areas like Ealing.
The report showed that whilst most councils in the UK failed to work food commitments into their responses to the climate crisis, Ealing was in a minority of pioneering organisations leading the way in their planning to support sustainable farming, tackle food waste and push for higher standards of food in schools.
Councillor Deirdre Costigan, cabinet member for climate action said: "Raising awareness about how food choices relate to our carbon footprint is vital as we work to tackle the climate crisis and continue to make Ealing a better place to live for residents.
"It is hugely encouraging to be recognised as one of only 21 councils in the country – 12% of local authorities – leading the way in how we are aiming to cut food-related emissions.
"Food systems in the UK create a third of domestic emissions and are the main cause of biodiversity loss – the UK will not meet its climate commitments without taking strong action at every level, including locally.
"Councils' services and food production are already being disrupted by extreme weather, and food price rises caused by climate change could already be costing the average household up to £170 per year.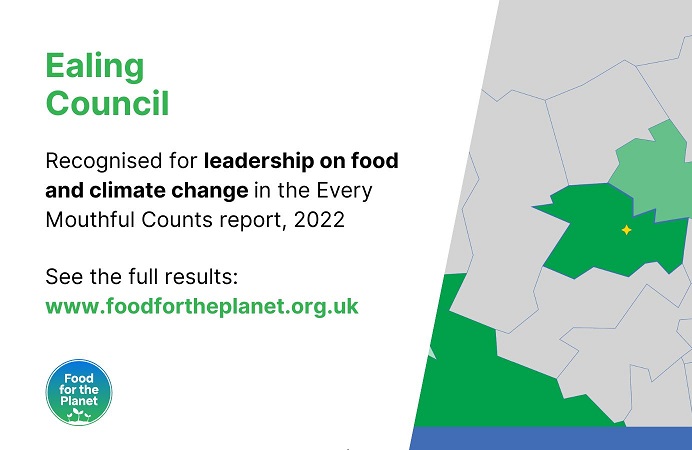 "The way our food is grown, sold and delivered has become more important than ever as we look to address this huge challenge.
"We are backing national campaigns across local schools to increase the amount of vegetables in school dinners, getting pupils eating more healthily and reducing our local carbon footprint at the same time.
"We are supporting local initiatives such as Horsenden Farm, as it works to market amazing products such as honey, and even gin.
"There is also the amazing Cultivate project in Acton, a group of volunteers who are working with everything from allotments and community gardens, to shops and cafes, to make local food more accessible and available for people to enjoy."
"The council will always look to support and work in partnership with food growing communities and businesses to create further opportunities to support locally grown produce and seasonal eating wherever possible as we work to create a more sustainable borough for our residents long into the future."
You can read Ealing's climate action strategy online at the council's website.
'People of all ages supported to choose active travel'
The Ealing School Travel team has also been recognised for its work supporting and encouraging active travel at the prestigious Modeshift National Sustainable Travel Awards last week (10 November).
Active Travel Elves Advent, a collaboration between the council, Living Streets and Derbyshire Council, won the award for Best Project Under £1,000.
Running through December last year, the project worked to support and promote active travel such as walking, scooting and cycling to and from the school gates. Pupils were involved at the heart of the project, helping spread the word about how a bit more active travel can help everyone to stay healthy and help the planet at the same time -and Elthorne Park High School even recorded a 'TwELF Days of Christmas' song to help raise awareness.
The campaign launched across social media, running on each day of school through December like an advent calendar, in the lead up to Christmas – all to encourage everyone to join in walking, scooting, cycling and exploring the local parks and areas near them. The campaign gained a lot of attention with children and families getting involved, having fun and staying active and healthy.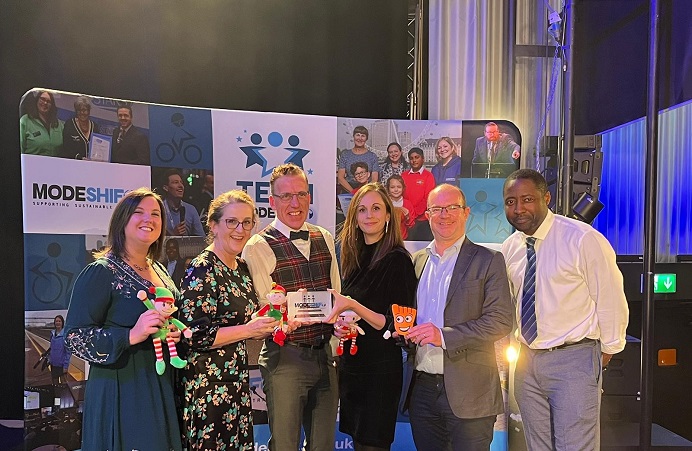 Councillor Costigan said: "Congratulations to the Ealing School Travel team and the children, staff and parents who all worked together to make this innovative project such a success. National recognition from these awards is well deserved.
"It is vital local people of all ages are supported to choose active travel to get around as we look to fight the climate crisis, protect our children's' lungs by cleaning up the toxic air, and reach our ambitious goal of net zero by 2030.
"That is why we are rapidly expanding our School Streets programme – supporting 17 schools so far and a commitment to continue working with schools and residents to ensure we reach 50 by 2026."