The borough's libraries have a become home to a group of friendly digital champions, on-hand to help you get to grips with everyday technology.
While some people are excited by new technology, the rapid move to doing more things online is a worry for others. It can leave some people feeling isolated or vulnerable.
The team of trained, dedicated digital champions will be based in six of the borough's libraries. The aim will be to have one in each library by the end of the year.
For now, a digital champion will be available at various times throughout the week at Ealing Central Library, Greenford Library, Northfields Community Library, Northolt Leisure Centre library and Woodend Library. Check with your local library for availability.
Getting you online
Rabin Bose has worked for the Ealing Library Service for 17 years. He only started learning the basics of IT and computers himself when he was 40 – "So, anyone can do it, I guess," he said.
"Digital champions help people get online," said Rabin. "Many of whom may already have some experience, but they might have some fears or might not know certain skills. We disperse those fears, give them confidence and the ability to do what they want. You don't have to learn everything – just what is relevant to you.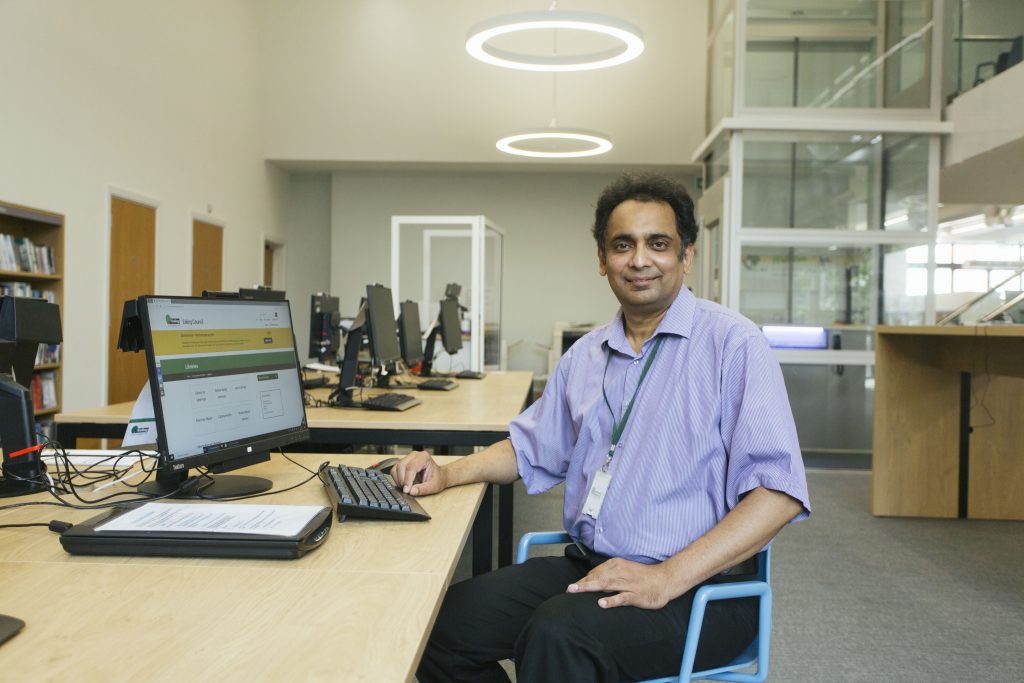 "We like to engage everyone with the internet so they can do whatever they like – it could be social media or to get in touch with your friends and family; it could be banking, because many banks are only online these days; it could be shopping, given these COVID times online shopping has become very popular; and it could be even filling out forms. We are here to help you, guide you and give you the skills you need so that, in future, you can carry on doing it on your own.
"Not a long time ago I had a lady come in and she wanted to fill in these forms online for a Freedom Pass. So, this was the right place to come. We could help her. She didn't have an email address, so I started off with that – I explained what an email address is and why she'd be needing it. And then we went on to the TfL website and we got a Freedom Pass. She was very happy and it gave her the confidence to progress to other things as well. She was very thankful and very pleased and she wasn't as fearful as she was when she started."
'It's up to you – how you want to learn'
"I encourage everyone to come," continued Rabin. "Even if you think you have no skills at all it doesn't matter – we start right from the basics. We have online courses we can introduce you to which you can do in your own time as well to give you the confidence. We have people coming in who don't know how to use a mouse, that's not a problem. They might have their own device at home and we can give them guidance on how to do that as well – they can bring their own devices here and we have free WiFi here in the library.
"The learner can go at his or her own pace. We don't rush you; we take one topic at a time. If you finish early, if you want to you can start again – we'll give you courses which can develop your confidence. You can come back in a week, or two weeks, you don't have to attend regularly. It's up to you – how you want to learn, what you want to learn, and at what pace."
You can see Rabin in the video above.
Building skills and confidence
Councillor Steve Donnelly, Ealing Council's cabinet member for inclusive economy, said: "Using the internet can be nerve-wracking for some people, especially if it is their first time. We are working with Citizens Online, a national digital inclusion charity, to improve residents' basic digital skills and to build their confidence to use the internet to access opportunities and services – or even just to stay in touch with friends and family.
"By giving residents the skills needed to digitally empower themselves, our aim is to build more resilient communities while also reducing the reliance on face-to-face public services."
Digital help at home
Anyone living in the borough can also call a free helpline on 0808 196 5883. You will be put in contact with one of the digital champions, who will be able to train you remotely, either online or via the telephone, whichever is most appropriate. The training is completely free.