Do you know a young person or youth worker who has achieved something that deserves recognition? Will their story inspire and encourage others? If so, you should nominate them for new local awards.
The first ever Young Ealing Foundation Awards on 21 July will bring the local community together to recognise and celebrate the borough's young people and those who serve them.
Nominations for the awards are currently open on the Young Ealing Foundation (YEF) website. You have until Sunday, 5 June 2022.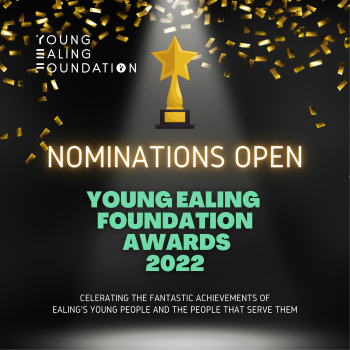 There are 10 awards split into two different categories. The first is for young people aged 11-25 who live, work or study in the borough. The second is for the organisations, projects and individuals who support children and young people, whether in the voluntary or statutory sector.
For young people aged 11-25 who live, work or study in the borough:
Overcoming Adversity
Green Champion
Community Champion
Young Leader
Young Volunteer.
For youth providers:
Positive Opportunities Award
Online & Physical Safety Award
Mental Health Award
Volunteer of the Year
Youth professional of the Year.
Nominations can come from young people, professionals, parents, guardians, carers and residents. The deadline to submit is Sunday, 5 June 2022.
Actor, comedian or musician? Young performer of the year?
A Young Performer(/s) of the Year Award will be voted for on the night of the awards by the live audience.
YEF is inviting local young performers, from across any entertainment category/discipline to apply to perform on the night and enter into this award category.
You must be free to perform on the evening of 21 July. Simply send a video of you performing (no longer than three minutes) to Yevgeni@youngealingfoundation.org.uk or via WhatsApp 07375076718 by Sunday, 5 June. Entries are open to young people aged 11-25 either living, working or studying in Ealing. Got a question? Get in touch with Yevgeni@youngealingfoundation.org.uk who will be happy to help.
The Young Ealing Foundation
It is an independent, registered charity set up in 2017 in response to the ongoing challenges to the children and young people's sector. Ealing Council is one of its key supporters.
Its mission is to ensure all young people in Ealing can access the opportunities and support they need to grow up and lead happy and safe lives, fulfil their potential and become a valued and listened to part of the local community.