Councillor Hitesh Tailor was inaugurated as the new Mayor of Ealing at the borough's annual council meeting, held on 23 May 2023.
Councillor Tailor said: "The role of Mayor brings with it tremendous responsibility and a huge sense of pride for communities across the borough and I fully recognise the importance of the role as the face of the borough.  I look forward to visiting each of our seven towns and celebrating our borough's diversity. I'm particularly proud of my British Indian heritage and of being the first Mayor of Ealing of Hindu Gujarati heritage."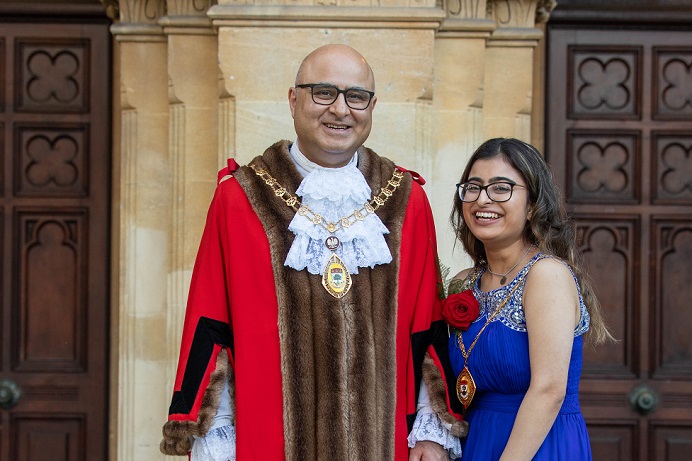 Councillor Tailor will be supported in his role as Mayor by Miss Chaitali Tailor.
Councillor Peter Mason, leader of Ealing Council, was the first to welcome the new Mayor, saying: "I warmly welcome Councillor Tailor in his new role as Ealing's first citizen.
"I know that he will carry out his duties with pride and dignity throughout the year and look forward to many occasions when we can come together and celebrate the achievements of the residents of Ealing.
"I would also like to thank Councillor Mohinder Midha for her service throughout her successful year as Mayor. She has been our rock through an eventful year that saw both Queen Elizabeth II's Platinum Jubilee and, sadly, her funeral, as well as the coronation of King Charles III. Cllr Midha has always displayed her pride in Ealing's communities, her resolve and she embodies the spirit of public service."
The Mayor has chosen Apple Play as his first charity for the year.  Apple Play are a charity working with children, young people and families, based at the ARTBLOCK in Acton Park.  It provides out-of-school activities and events and supports those who are experiencing disadvantage or difficulties in their lives.
Councillor Charan Sharma, councillor for Perivale ward, will be the deputy mayor for the year.
Ealing's reshuffled cabinet was also noted at the meeting.